Explore the delicious vegetarian & vegan recipes...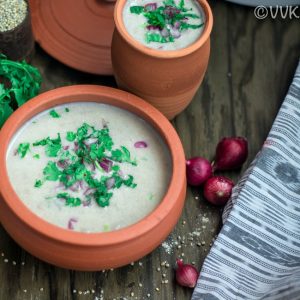 Let's get back to our roots and make this healthy and filling breakfast from scratch which is perfect for the summer. It is the Pearl Millet gruel or as we say in Tamil Kambu Koozh. Learn how to prepare this humble millet gruel right from roasting to milling with step-wise pictures below.
A delicious and easy eggless mango cake with the hint of turmeric and cardamom powder made in Instant Pot. Yes, you read it right – a pressure cooker/instant pot cake filled with the sweetness of mangoes. Check out this soft and oh-so-good eggless mango cake recipe with step-wise pictures.
An empty fridge without veggies? Fret not – try these delicious garbanzo beans stir fry instead of dry vegetable curry. A perfect side for your rice and a perfect mid-morning or mid-afternoon snack. This garbanzo beans sundal is an easy-to-make stir-fry which is full of vitamins and proteins. Check out the video recipe and how…
Back To Shool | Lunch Box Recipes