Explore the delicious vegetarian & vegan recipes...
Check out the Indian Vegetarian Meal Plan Series on my YouTube Channel - Click here to Subscribe.
Sneak in some carrots and make this delicious carrot sauce pasta from scratch in Instant Pot/Pressure Cooker. This vegan and kid's friendly carrot sauce pasta is a perfect lunch box recipe as well. Check out how to make the carrot sauce and how to cook the pasta in Instant Pot with detailed instructions and step-wise…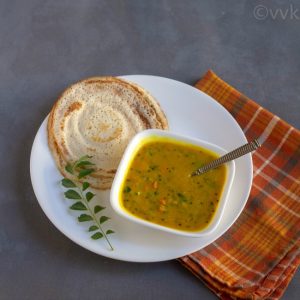 Manjal Sambar aka Turmeric Sambar – A quick and an instant sambar prepared with chickpea flour or besan with a lot of turmeric and fennel seeds and it is a perfect side for idli, dosa, upma, and even roti. Check out this simple yet flavorful recipe with a detailed video.
I am happy to announce the next kid's delight event. In 2015 I picked pasta for kids as the theme, in 2016 it was cakes and cookies, and last year it was soups and stews. This time I went with a broad category and, the theme is "Kids friendly recipes with veggies sneaked in." Check out the…
Back To Shool | Lunch Box Recipes