Explore the delicious vegetarian & vegan recipes...
Check out the Indian Vegetarian Meal Plan Series on my YouTube Channel - Click here to Subscribe.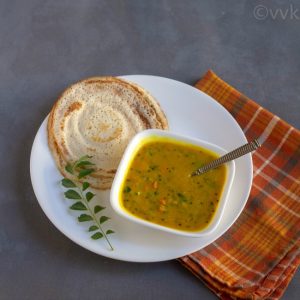 Manjal Sambar aka Turmeric Sambar – A quick and an instant sambar prepared with chickpea flour or besan with a lot of turmeric and fennel seeds and it is a perfect side for idli, dosa, upma, and even roti. Check out this simple yet flavorful recipe with a detailed video.
I am happy to announce the next kid's delight event. In 2015 I picked pasta for kids as the theme, in 2016 it was cakes and cookies, and last year it was soups and stews. This time I went with a broad category and, the theme is "Kids friendly recipes with veggies sneaked in." Check out the…
We all love quick and instant recipes. Today I am going to share one such recipe called the Raw Buttermilk Sambar or Patchai Mor Kuzhambu. It the instant buttermilk sambar with the mustard seeds flavor. Wondering why it got the name raw buttermilk sambar? Check out the post for the details and also for the…