As my last post was too sweet, I thought I will post something bitter. Obviously its something with bitter gourd. I may sound odd, but I love bitter gourd. I love bitter gourd chips, I love them in pitlai, I love the dry curry and what not. This recipe is a bitter gourd dry curry with shallots. You can use medium size onion instead of shallots, but if you can, try it with shallots, it adds unique flavor to the dish.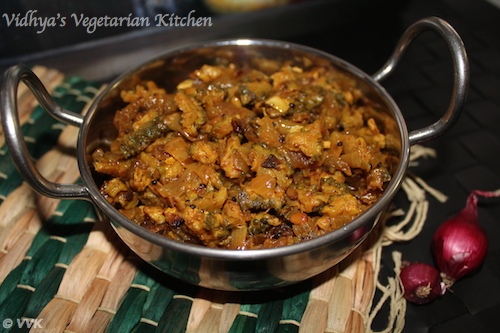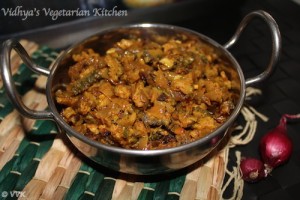 Ingredients:
Bitter gourd (medium sized) – 3
Shallots – 6
Sambhar powder / Red chilly powder – 1 tsp (adjust according to your taste)
Salt – 1 tsp (adjust according to your taste)
Turmeric powder – ¼ tsp
For tempering:
Oil – 2 tbsps
Mustard seeds – 1 tsp
Channa dhal – 1 tsp
Urad dhal – 1 tsp
Steps:
Chop the bitter gourd and deseed them and microwave for about 6-7 minutes. If using pressure cooker 1 whistle is enough. By this way, the bitterness is gone to some extent. You can save the water for soup or discard it. (I try to give 3 – 4 tbsps of this bitter gourd water to vaandu. They say it helps to helps to kill the germs in the stomach.)
Chop the shallots into small pieces.
Now heat the kadai and add oil.
Once the oil is hot, add mustard seeds, channa dhal and urad dhal.
As they start spluttering, add the shallots.
Add turmeric and let it cook till it turns translucent.
Now add the cooked bitter gourd, salt and sambhar/chilly powder and mix well.
In low flame, let it roast and you will notice that all the water gets evaporated brownish crust starts forming.
Once the crust is formed, that it turn off the heat and bitter gourd curry is ready.
Serve it hot with dhal or rasam rice.