When I cook or bake, Vaandu will be my sous chef. It's always fun to cook with him. We got him a small apron and cap and he always wears them and keeps asking me non-stop questions. During the April month baking marathon, he was helping me out with all the recipes. He was asking about the difference between conventional oven and microwave oven and how it works and OMG! This fella makes me read and research more. When we were trying our microwave Mysore Paahu (it's his favorite sweet), he was asking me to bake a cake in microwave oven.
I wanted to try single serving microwave mug cake for that marathon itself but then twice it turned out to be a disaster. First time it became hard and sweet was less and second time I added to much milk and it overflowed. But then this boy didn't let me give up. He was very patient and kept motivating to try again. Third time I got it correct but we didn't let the camera to eat first. We ate happily and then India trip came and I totally forgot about this.
Usually Vaandu will be with me when I write blog post and I need to show him once it's published. Yesterday I showed him the veggie dumplings and thanked him for asking me to make it. Suddenly he asked can you make the mug cake. That's when I realized that I completely forgot about that recipe. So prepared it right away and this time the camera tasted it first and Vaandu was waiting patiently.
Here is the one minute microwave vanilla cake recipe. Oh yeah, its halloween today. Happy Halloween. I am not tricking and here is the treat for you all. :-)
Ingredients : (Single serving)
All-Purpose Flour – 2 tbsps.
Sugar – 1 tbsp.
Milk – 1 tbsps.
Baking Powder – ¼ tsp
Vegetable Oil – 1 tbsp.
Vanilla essence – 2 drops (More essence gives a bitter taste to these mug cakes so few drops is more than sufficient)
Sweet condensed milk – 1 tbsp.
Steps:
Mix all the ingredients and transfer it to microwave safe coffee cups or bowls. I directly mixed in the ingredients in the microwave safe bowl.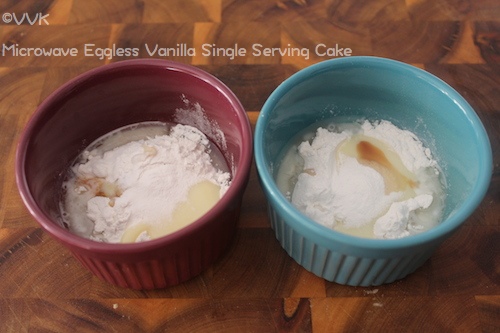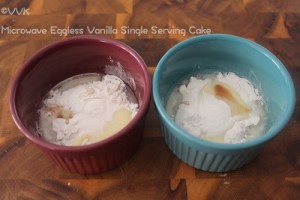 If you are mixing and transferring it to microwave safe bowl/mug, grease it lightly with oil.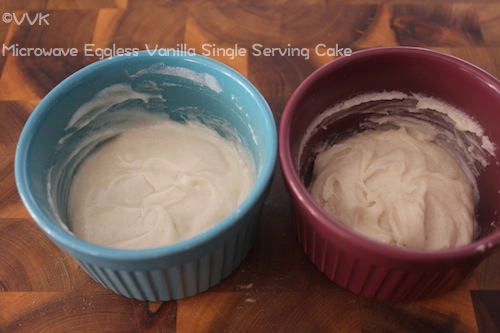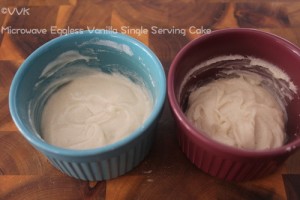 Microwave it for 1 minute.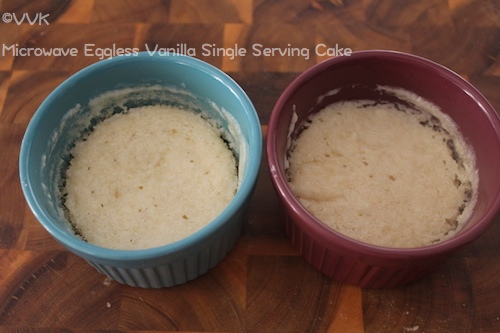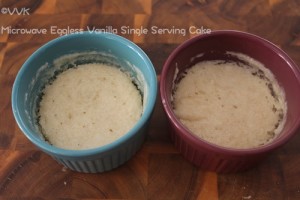 Check if the cake is done by inserting a toothpick. If it comes out clean, the cake is all done if not microwave it for 30 more seconds. (If your power setting is high, microwave it for 45 seconds first and then increment as needed)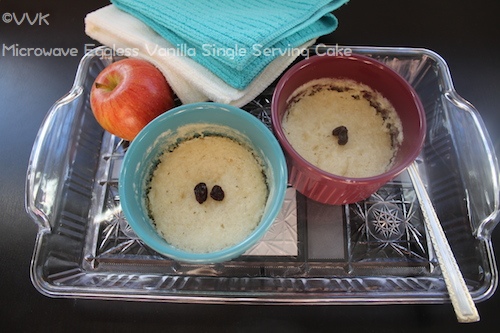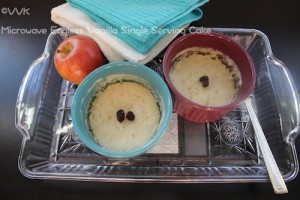 Timings:
Depending upon you power and heat setting in your microwave, the time varies. My heat setting is low so I microwave it for 1 minute. (Same like my appalam)
Do not microwave more than two minutes.
To this you can add any fruit flavors like pineapple or mango or strawberry and also some fruit purees to prepare fruit based cake.