A warm welcome to Vidhya's Home Cooking aka Vidhya's Vegetarian Kitchen – A vegetarian food blog with unique and interesting recipes from all over the world mainly focused on South Indian Cuisine. From traditional, authentic recipes to fusion and eggless bakes, you can find it all in Vidhya's vegetarian kitchen.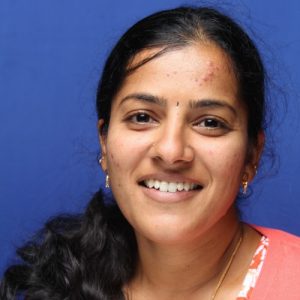 I am Srividhya Gopalakrishnan alias Srividhya Manikandan alias Vidhya alias Sri. (Too many names naa.) Basically, Sri without 'h' and Vidhya with 'h' and that's me :-). I am the owner, author, recipe developer of this blog. I am from Tamil Nadu, now living in the US of A. I am a software developer by profession but a chef by heart. I can't live without cooking, coding and oh yeah I forgot to add, Ponniyin Selvan and Harry Potter to that list.
I would like to thank my mom who is my inspiration for cooking and now my kiddo and my husband. Most of the recipes are handed down by my mom. Everyone in my family praises my mom's cooking skills and loves her food. She is my role model, but still, I look at her like a competitor. ;-) I know I haven't beaten her but will always try. :-) I have also learned and taken recipes from various members of my family.
More on blog history:
Cooking is like a therapy for me. I enjoy each and every moment in my kitchen lab. The successful experiments are here for you on my blog. Along with my recipes, you will find my kitchen disasters (Failure is the stepping stone to success), my experiences and some product reviews too. :-) Revathy Shanmugam and Meenakshi Ammal are our (me and my mom) favorite chefs. I strongly believe food as medicine and I am still learning more about Pathiya Samayal – a well-balanced diet. Never thought of writing and publishing a book and that dream came true via IMC. You can download my ebook on Pathiyal Samayal for lactating moms here. I would like to thank my MIL for this book and she was one who was guiding me with all these recipes and encouraging me.
Hope you all enjoy my recipes and thanks for stopping by. :-)
You can reach me at daffodilshree@gmail.com or at vidhya@vidhyashomecooking.com
You can also reach me via,
Disclaimer: I am not a nutritionist or dietitian.All these recipes are followed and passed on in my family generations after generations. Cooking is an art and I am still learning it. I am venturing out all the new procedures in cooking like microwave cooking, slow cooking, baking etc. My knowledge and information is based on my research and reading from different resources. I have provided all the references in their corresponding posts.
I am glad to hear your feedback and suggestions. You can contact me via the above social media or via this contact form.