Millets are small grains, as we say in Tamil it is called Siru Dhaniyangal. Millets are one among the oldest food known to humans and very popular in villages but in recent days because of high nutrition they are gaining popularity. This time when I went to Chennai to my mom's place I got a chance to visit restaurant called "Pasumai" and its close to Tambaram Sanatorium (Chitlapakkam). Its very small fast food joint but they serve only small grain foods. That aroused my curiosity and also recent posts by Mullai made search these millets in US. (I couldn't bring them from India) I thought being in BayArea it shouldn't be difficult and yes I found all the millets here in Bay. I didn't need to export it from there. For people in Bay Area, you can find all short grains in Madras Groceries in Sunnyvale. Not sure if they take online orders will check and update. In India it shouldn't be a problem as India is one of the largest producer of these millets.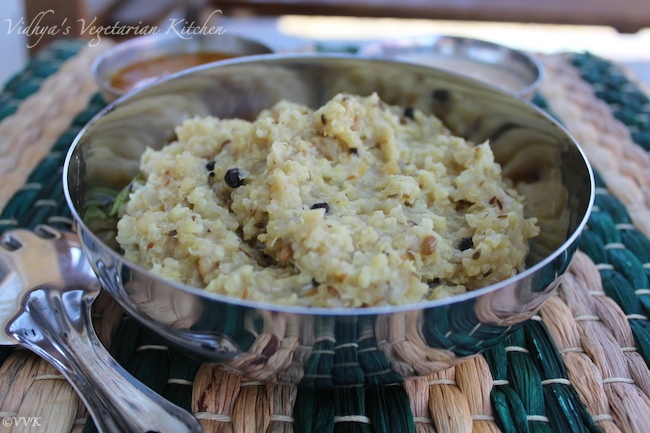 Today's theme is One pot meal and I wanted to try pongal with these short grains. So the first millet that I am trying here is FoxTail Millet / Thinai or Tenai in Tamil and Kangni in hindi.
I think I have written enough about quinoa so let me now write about Foxtail Millet. When I was surfing I came across this article from Hindu which talks about foxtail millet and diabetes. According to this article, "foxtail millet releases glucose steadily without affecting the metabolism of the body. The incidence of diabetes is rare among the population which consumes foxtail millet diet."
Crop / Nutrient
Protein(g)
Fiber(g)
Foxtail millet

12.3
8
Quinoa

24
12
Source : Wikipedia
For me this venpongal always reminds me the prasadam that we get in Venkateshwara/Perumal temples. IMO the hot pongal served in Dhonnai is the yummiest pongal. Nothing can beat that taste. I have stood in the queue multiple times for getting those prasadam. So what are these Dhonnai?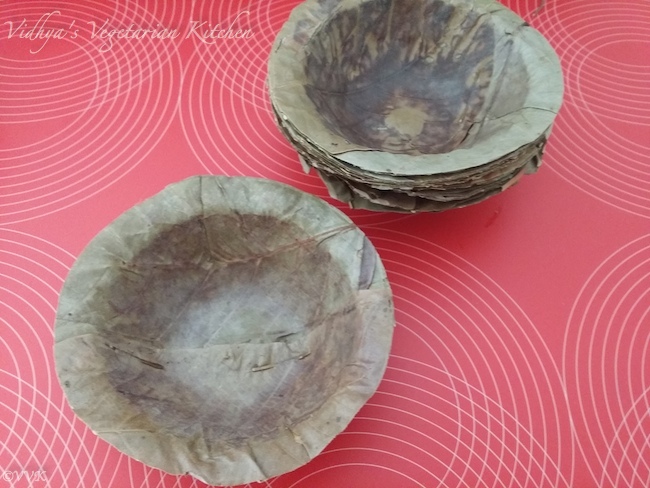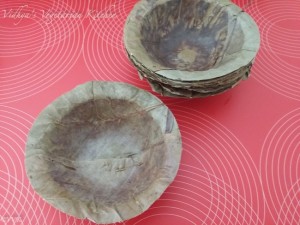 Dhonnai is an eco-friendly disposable dried leaf bowl which is mostly made up of dried banana leaf and these dried banana leaves are called as Sarugu in Tamil. They are also made of Mandara leaves. (I am still looking out for exact English name for the mandara tree)The prasadam are served in Dhonnai in temples. This time I got these dhonnai in bulk from Thaayar Diary in Ranganathan Street, T.Nagar in the effort of saving some trees and being more eco-friendly.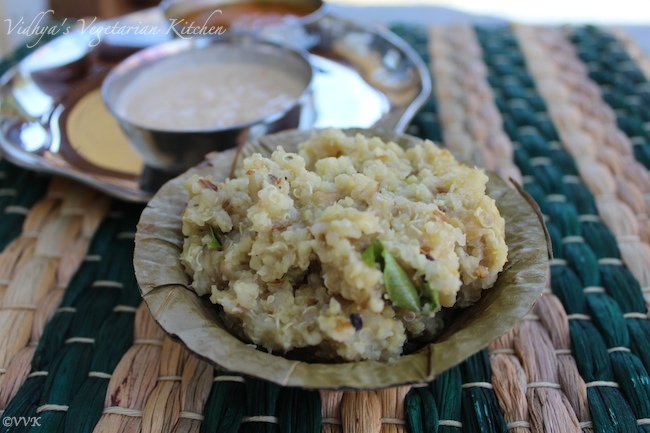 For this pongal I skipped rice completely and used ½ cup of quinoa and ½ cup of foxtail millet and ½ cup of moong dhal with loads of cumin seeds. So here is the protein loaded diabetic friendly ven pongal served in Dhonnai. Add everything to pressure cooker and pressure cook it with four cups of water. The serving size is 1 cup and it yields close to 3 cups.
Detailed recipe below: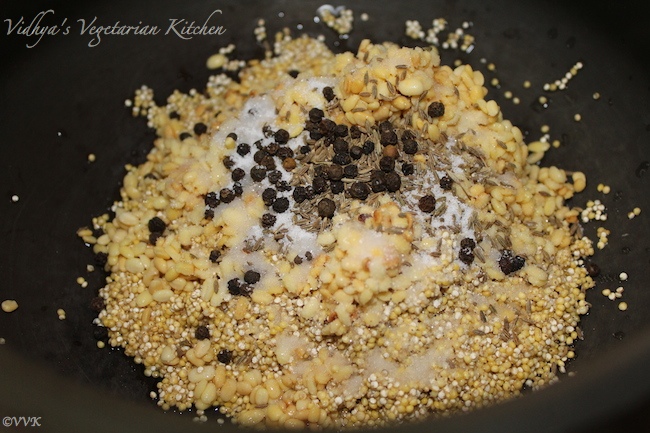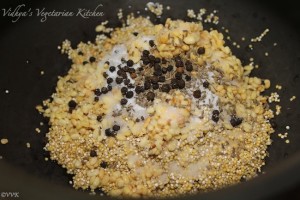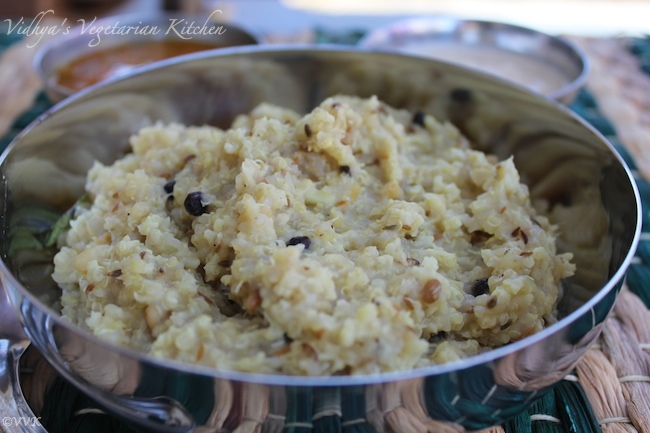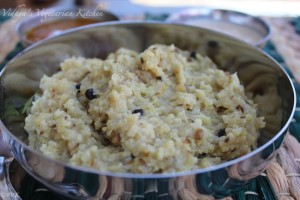 Print Recipe
Quinoa - Foxtail Millet Pongal
A popular South Indian dish with quinoa and foxtail millet replacing rice and making it light and protein filled dish.
Ingredients
Quinoa – ½ cup

Foxtail Millet – ½ cup

Moong dhal – ½ cup

Cumin Seeds – 1 tbsp + 1 tbsp

Black pepper corns – 2 tsps + 1 tsp

Salt – 1tsp

Oil – 1 tsp

Ginger – 1 inch piece finely chopped

Water – 4 cups

Curry leaves – 1 strand
Instructions
1)Wash the quinoa, foxtail millet and moong dhal nicely. If you can soak them for 15 minutes that's great if not that's fine too. Let it cook for couple more minutes.

2) Now in a pressure pan or handi or cookers add these washed grains and dhal. Add 1 tbsp of cumin seeds, 2 tsps of black pepper and salt.

3)Add 4 cups of water and mix well.

4) Now pressure cook this for up 4 to 5 whistles.

5) Let it cool and once the pressure is off mix the pongal well. It should be soft and mushy and sticky.

6) In a separate tadka pan heat 1 tsp of oil and once the oil is hot add the remaining cumin seeds and pepper, ginger and curry leaves. As they start to crackle add them to the pongal.
Notes
1) If you are not able to get quinoa you can ignore and use 1 cup of foxtail millet itself.
2) Or you can also use 1/2 cup of barnyard millet and 1/2 cup of foxtail millet. Mix and match with what you have.
3) You can ignore the tadka step and add all the cumin seeds, pepper and ginger in step 2 itself making it oil free. :-)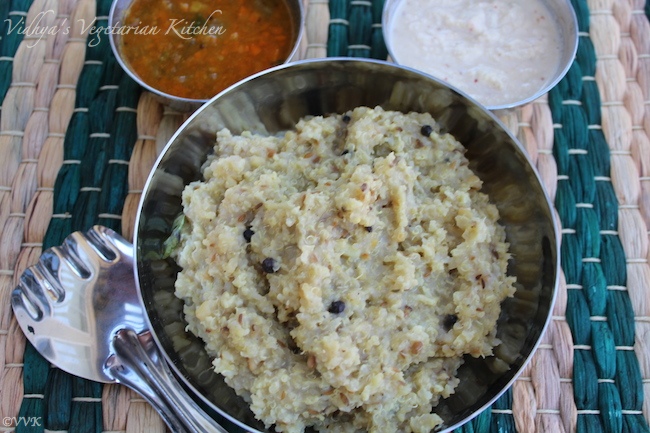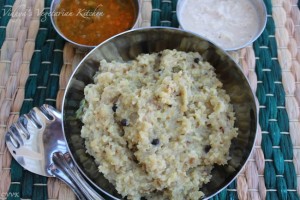 Sending this entry for Valli's breakfast event.