With Ugadi and Tamil year coming up I wanted to post some simple instant pot sweet recipes that can be offered as neivediyam on these auspicious days. I haven't posted any instant pot dessert recipe after my Walnut Kheer. So here I am sharing a simple dessert prepared with rice and sugar candy or kalkandu.
Before getting into the recipe, I wanted to share about Instant pot lid and the vessel cleaning. The sealing ring and cover retain the aroma/smell of the food. When you prepare recipes with strong spices, you won't feel the difference, but when you make mild ones without spices especially yogurt and dessert, you will smell the previous dishes. Here is how I clean the pot to remove the smell/aroma and this works like a charm. :-)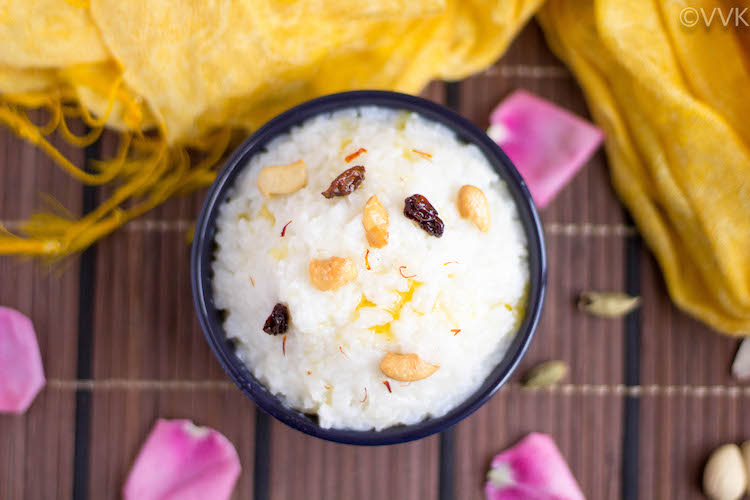 Cleaning the Pot:
Fill 3/4 of the Instant pot with water and add soap solution and add 1/4 cup of vinegar or 1 tbsp baking soda. Set this in saute mode and once the water starts to boil turn it off. Let it soak and when the water is warm and easy to handle scrub the vessel and clean it.
Cleaning the Lid:
Remove the sealing ring from the lid and wash the lid and sealing ring with vinegar and liquid soap or baking soda and soap. Wash it thoroughly and keep in under the sun. This helps a lot in removing the smell.
Back to the recipe. :-) It's a very simple recipe. All we need to do is cook the rice with milk until it's soft and mushy and then add powdered sugar candy and cook again until it mixes. Add the regular ghee tempering, and you are all set. When festive days falls during weekdays, this is my go-to recipe.
Here is how I prepared this Pongal,
Ingredients:
Rice – 1 cup
Water – 2 cups
Sugar candy – 1/3 cup
Milk – 1 cup + 1 cup
Cardamom Powder – 1/4 tsp
Edible Camphor – a pinch
Ghee – 2 tsps
Cashews – 1 tsp
Raisins – 1 tsp
Saffron (optional) to garnish
Prep – Work:
Wash the rice and drain the water.
Powder the 1/3 cup of sugar candy into a coarse powder.
Steps: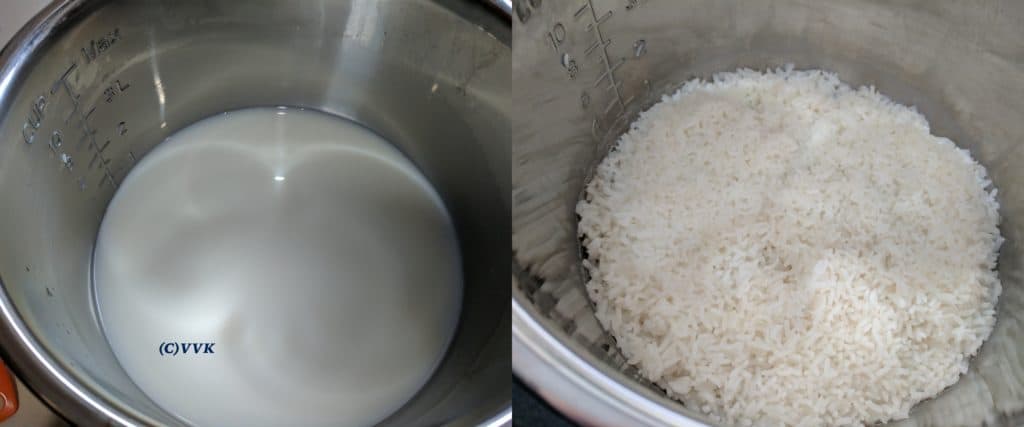 Add the washed rice and 2 cups of water and 1 cup of milk to the instant pot.
Set it in manual mode and cook for 5 minutes and let the pressure release normally.
Open the lid and mash the rice thoroughly. (Instead of IP, you can pressure cook rice with milk and water for up to four whistles)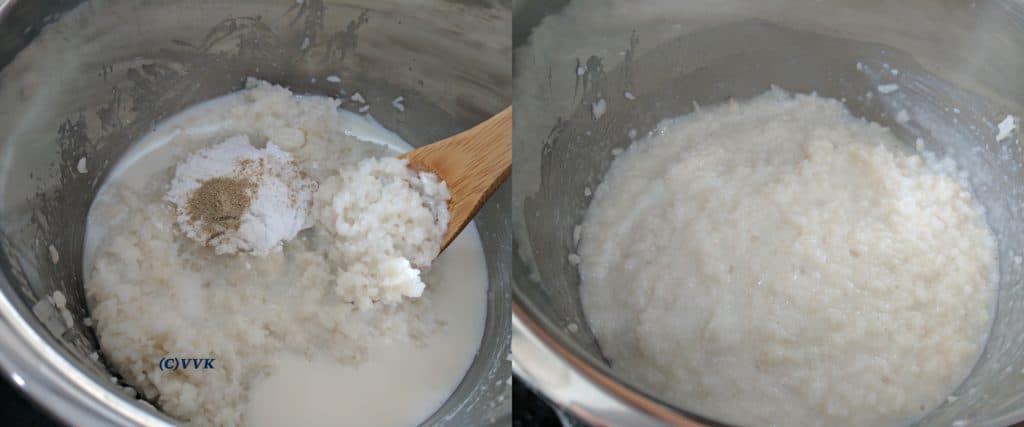 Now set the IP in sauce mode again and add 1 cup of milk, powdered sugar candy, cardamom powder and edible camphor.
Mix well and let it cook until sugar candy in well incorporated. It took me about 4 minutes.
Turn it off or set it to warm mode.
Now in a separate tempering pan, heat the ghee.
Once the ghee is hot, add the cashews, raisins and fry until golden brown.
Add this to the Pongal and mix well.
Garnish with saffron strands and serve hot.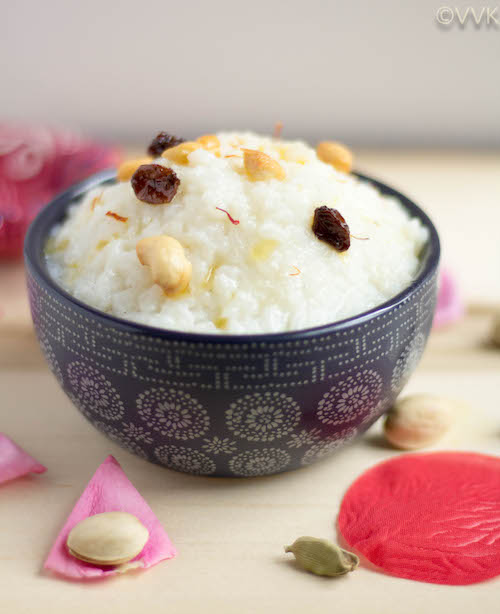 Notes:
I did not add moong dal. But 2 to 3 tbsps of moong dal can be added.
Edible camphor is optional, but that adds amazing flavors and tastes more like kovil Pongal.
Adjust the sugar candy amount as per your preference.
You can also add 1/4 cup of sugar candy and 1/4 cup of sugar.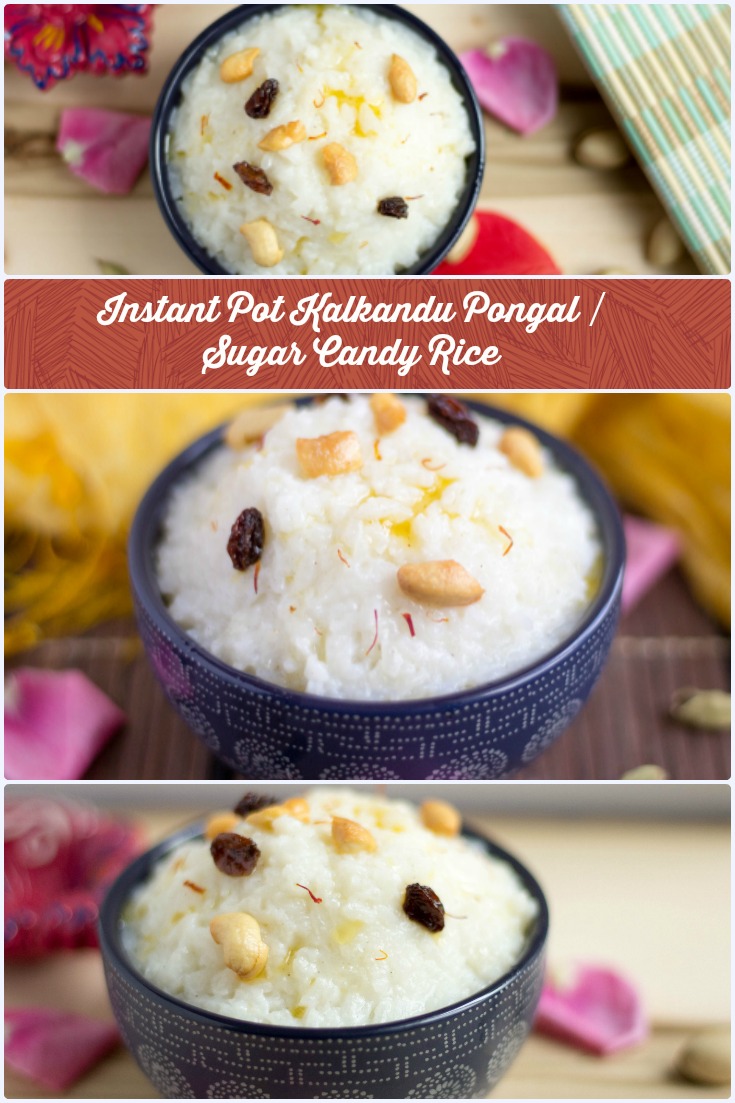 Keyword:
Instant Pot Kalkandu Sadam
0