Ven pongal or savory pongal is a meal by itself. It's a easy one pot meal and can be made in a jiffy. But one thing for sure, in my opinion nothing can beat the recipe of perumal kovil (Vishnu temple) ven pongal prasadam. Hot hot pongal in the month of Margazhi/December.. wow.. yum yum mouth watering..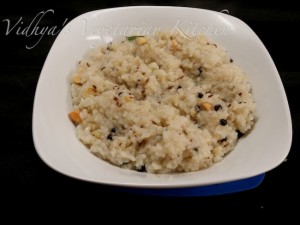 Here is my pressure cooker version which can be done under 30 minutes.
Ven Pongal
Ingredients:
Rice (raw rice) – 1.5 cups
Moong Dhal – 1/2 cup
Salt – to taste (approx 2 tsps)
Black pepper – 2 tbsps
Cumin seeds – 2 tbsps
Curry leaves – 2 strands
Ginger – 1 inch finely chopped
Cashewnuts – 2 tbsps
Ghee – 3-4 tbsps (It's a loot, but u need it)
Water – 6 cups
Hot water – 1 cup (If required)
Steps:
1)
Wash the rice and moong dhal and add 6 cups of water.
2)
Along with this add 1 tbsp of pepper, 1 strand of curry leaves and salt.
3)
Pressure cook this for up to 4 whistles atleast.
4)
Once the pressure is gone and when it is safe to open, take out the rice and dhal mixture and mash well.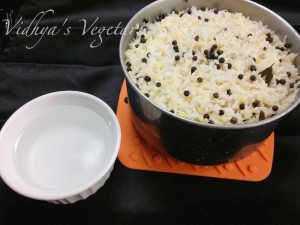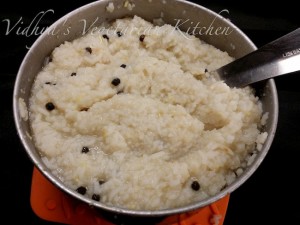 5) We don't want the pongal to be dry, so if required add the hot water and mash it well.
6)
In a pan/kadai, heat ghee and add remaining pepper, cumin seeds, curry leaves.
7)
Also add cashew nuts and ginger. Roast them till they turn into light brown color.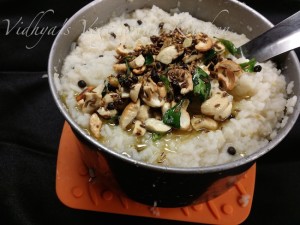 8)
Add it to the cooked rice and mix well.
Ven pongal is ready. Serve with chutney or
gotsu
.
Variations/Tips
If you are not big black pepper fan, instead of adding 2 tbsps of black pepper corns, add 1 tsp of black pepper and 1 tsp of grounded black pepper or adjust the pepper powder according to your taste.
If you are making ven pongal for a party or some potluck, you can also roast the rice and moong dhal with 1 tsp of ghee for couple of minutes before cooking them. (Make sure they are slightly roasted)
0