Onam Sadya Thali – a rich and royal feast, an insanely delicious thali, nobody can say "No" to. With a wide variety of dishes loaded with veggies and coconut, it is a must-try Thali.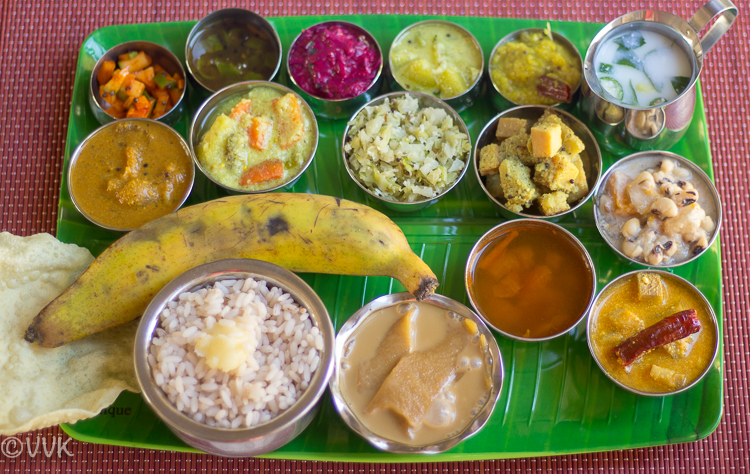 The Onam sadya dishes vary region-wise within Kerala. I did not follow any specific region and prepared the ones that my family loves instead. Check out the post for the individual recipes and how I prepared them.
Jump to:
Onam Sadya Thali
I always wanted to prepare an elaborate Onam sadya. I know it is doable but not quite easy though. When Valli announced the March themes and when I saw "Thali" in that, I made up my mind to prepare the sadya feast. My in-laws are here and MIL was excited too.
So last week, MIL and I decided to cook the feast. She helped me with chopping all the veggies and made her signature Avial and took care of Rhino. I made the rest and clicked all the pictures without a hurry. That's a big thing these days. :-)
Onam Festival
We all know that Onam is the annual Hindu festival celebrated in Kerala. The festival commemorates the Vamana avatar of Lord Vishnu and the homecoming of the emperor Mahabali. Mahabali is the grandson of Kind Prahalada. King Mahabali, who is also a devotee of Lord Vishnu comes to powder by defeating the Devas.
When they approached Lord Vishnu for help, Vishnu decides to test Mahabali's devotion instead of raising the weapon against him to get the lands back for Devas.
Vishnu takes the avatar of a dwarf boy, Vamana, and comes to King Bali. When the King does yajna (homa), Vamana approaches him and asks for property right over a piece of land that measures "three paces". Mahabali agrees. Vamana grew big and covers the entire land ruled by King Bali in just two paces leaving him with nothing.
Finally, the king offers himself for the third pace. Lord Vishnu reveals himself and grants him a boon that he can visit the land he ruled every year. This revisit of King Mahabali marks the festival of Onam, and this delicious vegetarian feast called Onam Sadya celebrates the last day of his stay.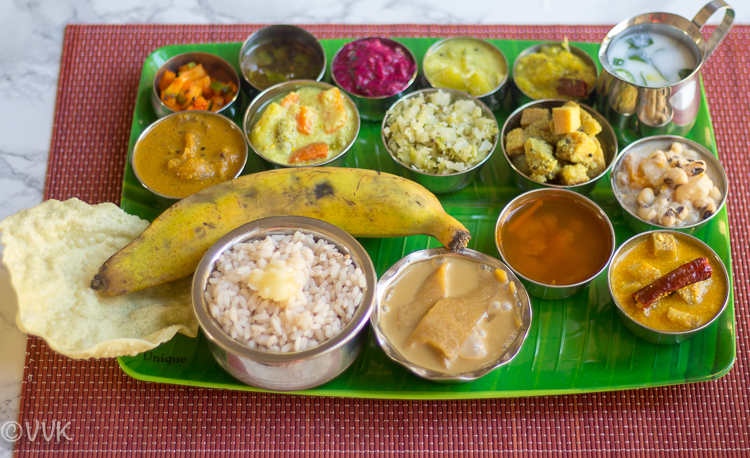 Ona Sadya
Ona Sadya is traditionally prepared with seasonal veggies and it mainly includes Yam, Raw Plantain, Ash gourd, Pumpkin, Cucumbers, Nendram banana variety, etc. I prepared everything except one item – upperi. Upperi is chips that can either sweet or salty.
The popular one is Sarkara Upperi which is nendram chips with jaggery. I got the nendram only at the last moment so I skipped making upperi with it. So I served it as is in the Thali instead. :-)
I have to post quite a few from my Onam Sadya Thali, Kerala Sadya Recipes list, so stay tuned for the updates. And today as part of the Thali, I posted the Beetroot Kichadi recipe. :-) The other recipes that are on my blog are linked below.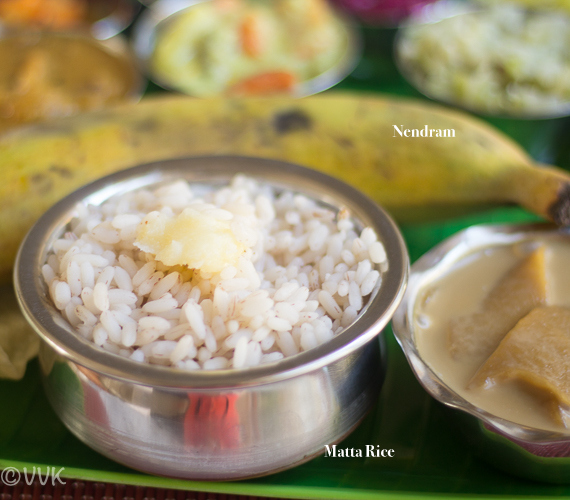 Onam Sadya Thali 1st Group
Ada Pradhaman – A delicious coconut milk kheer prepared with jaggery and rice noodles called Ada.
Matta Rice with Ghee – An earthy red parboiled rice native to Kerala.
Kerala Style Tomato Rasam – A bit spicy but a comforting rasam with garlic, pepper, and tomato flavor.
Cabbage Thoran – Kerala style cabbage stir fry with coconut. I prepared it like my Jackfruit seed thoran but without shallots.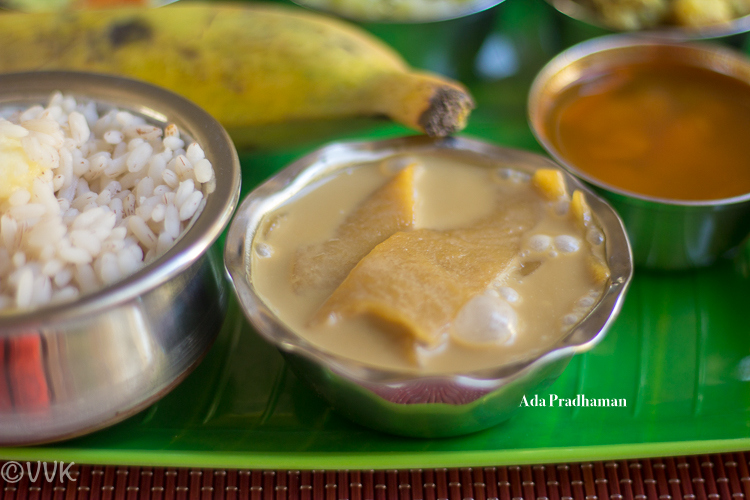 Olan – Kerala Sadya special recipe Olan – the rich, mild and creamy coconut milk stew with the goodness of black-eyed peas/cowpeas, red and white pumpkin.
Eriserry – A medley of yam and plantain in coconut and pepper gravy. There are different eriserry varieties. The red pumpkin one is quite popular. But this yam and plantain version is equally popular as well which is more like Kalan but not Kalan. :-)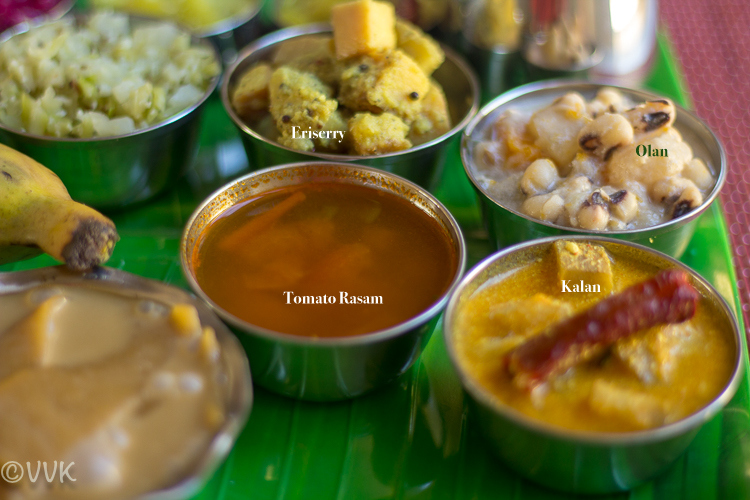 Onam Sadya Thali 2nd Group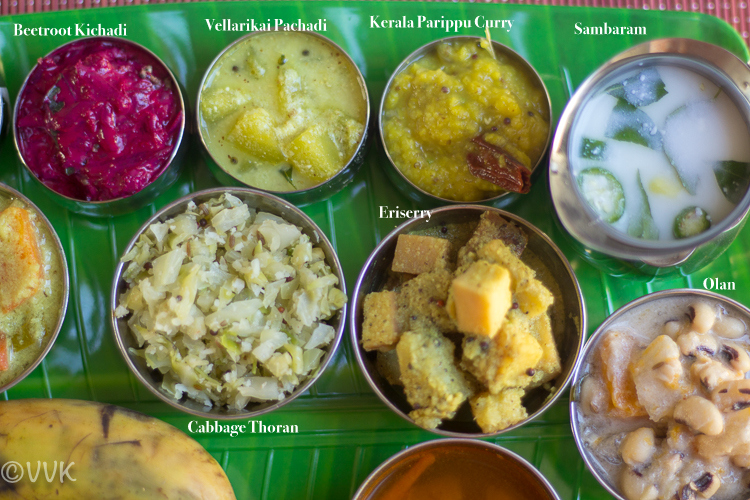 Onam Sadya Thali 3rd Group
Kalan – Kalan is prepared with yam or plantain or with both. Delicious gravy simmered in the coconut-yogurt sauce.
Puli Milagai – This version of puli milagai might not be an authentic one that they prepare in Kerala. But it is adapted from the puli inji recipe. I learned this from my mom and ours usually has more chilies than ginger.
Parippu Curry – Kerala style moong dal tadka with coconut and shallots.
Pacha Manga Oorugai / Instant Mango Pickle – Instant cut mango pickle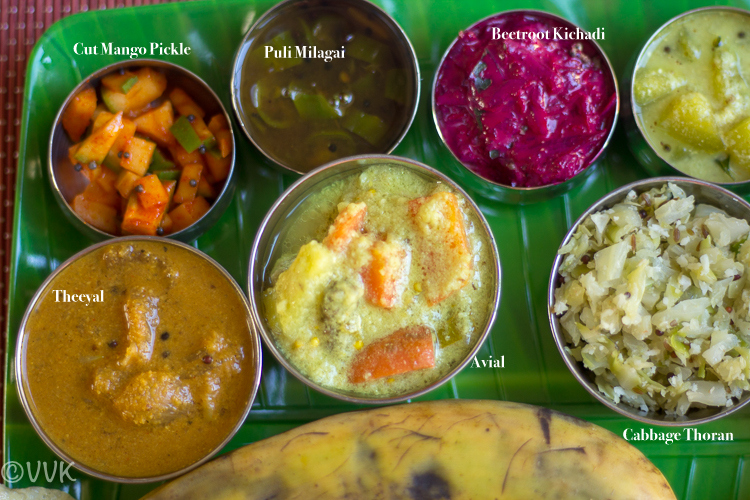 Sambharam / Spiced Buttermilk – seasoned buttermilk with the ginger and curry leaves
Pappadam
Nendram banana
Onam Sadya Recipe Roundup-
One more thali to come. Keep guessing until tomorrow. :-)
Enjoying Onam Sadya Thali? You'll love these, too:
P.S. Sending this to Blogging Marathon #86. Check out the recipes shared by the other bloggers here.