This weekend is going to a festive weekend for all. Its onam on 28th and also VaraLakshmi Vratham and on 29th it's Raksha Bhandan. As I have already posted Varalakshmi Vratham recipes last year I thought, why not post some onam recipes this year? Let me explain about Onam and Sadya in my next DFT post (that's going to be an onam special recipe too :-)) but in this post let me explain the influence of Kerala cuisine/traditions in mine. Seems like my mom's maternal side relatives and cousins were in Kerala for some time. She learnt the Palakkad style cooking from them and of course she passed those recipes to me too and I had couple of undergrad friends from Trivandrum and got to know more about vishu, onam and other celebrations. To my surprise M has similar influence too. Err I should say more than mine. And now my music teacher is from Kerala and every Monday I don't know if me and Vaandu learn music or not, but we taste her food for sure. So be it food or Mammooka or Lalettan's movie, both me and M were able to connect to them right away. :-)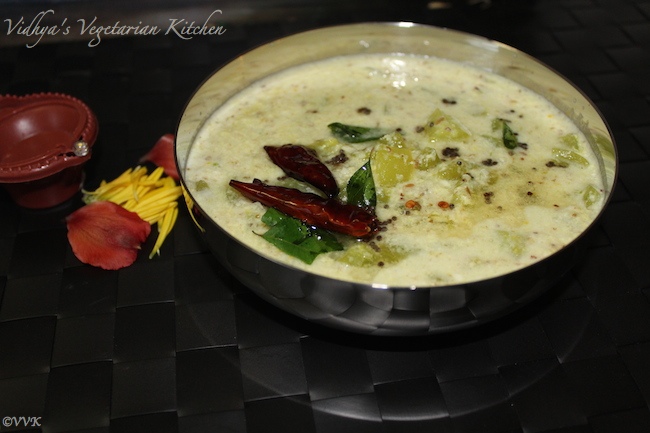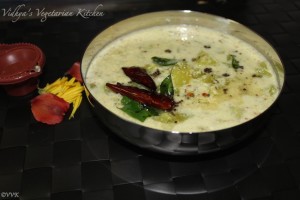 This year January blogging marathon introduced me lot of other great bloggers and one such blogger is Vayadi Pennu or Pins and Ashes. Love her movie review and photography. During that marathon she wrote about songs with food lyrics, and introduced me to this kappa TV. I got hooked to that channel right away.
Ok now back to recipe. When I listened to the ayala song, I want to try all the vegetarian recipes mentioned in that. I even got couple of recipes from Pins and Ashes. But it took a long time to post them here. I think I was waiting for the perfect timing and with ONAM in 5 days I can't wait any longer right?
Here is the simple yet delicious Vellarikai / Cucumber Pachadi:
Ingredients:
Peeled and chopped cucumber – 3 cups
To Grind:

Coconut – 4 tbsps
Jeera – 1 tsp
Green Chilly – 1 or 2 as per taste

Crushed Mustard seeds – 1/2 tsp
Salt – 1 tsp
Turmeric powder – 1/4 tsp
Yogurt – 1/2 cup
Water – 2 tbsps
For Tempering:

Coconut Oil – 2 tsps
Red chilly – 2
Mustard seeds – 1 tsp
Curry leaves – 1 strand
Steps:
Peel and chop the cucumber.
Cook them in pan/kadai by adding 2 tbsps of water, salt and turmeric.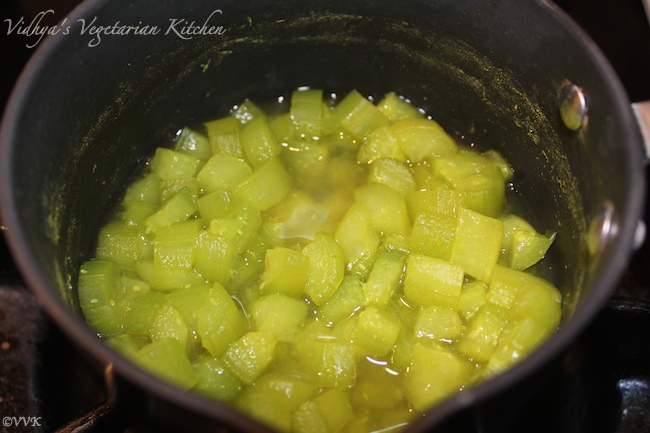 Cucumber oozes out water so you don't need to add more and also it doesn't take more 7 minutes for the cucumbers to become tender.
So meanwhile grind the coconut, green chilly and jeera together by adding little water into a coarse paste.
Add the mixture to the yogurt along with crushed mustard seeds and mix well.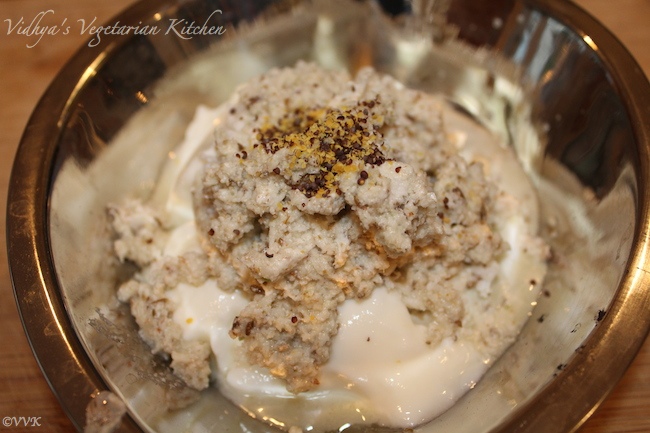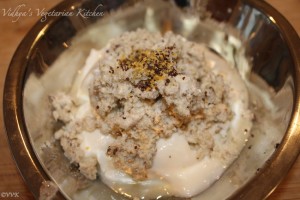 Once the cucumber turns soft add this yogurt mixture and mix well.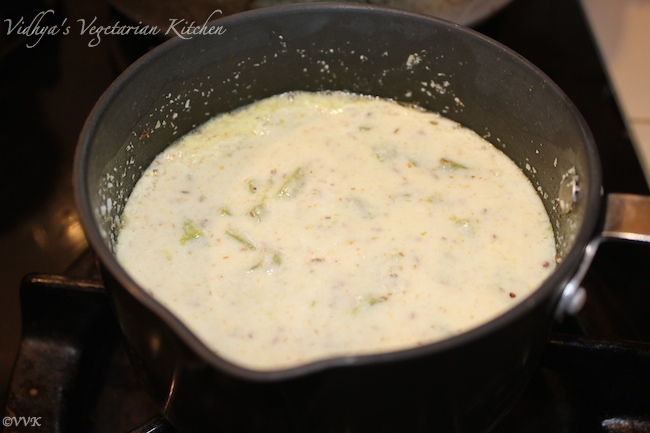 Let it cook for couple of minutes. It doesn't need to boil. Just wait till the froth forms.
Turn off the heat and separate kadai or pan heat the coconut oil.
Once the oil is hot add the mustard seeds, red chilly and the curry leaves.
As they start to splutter add them to the cucumber pachadi.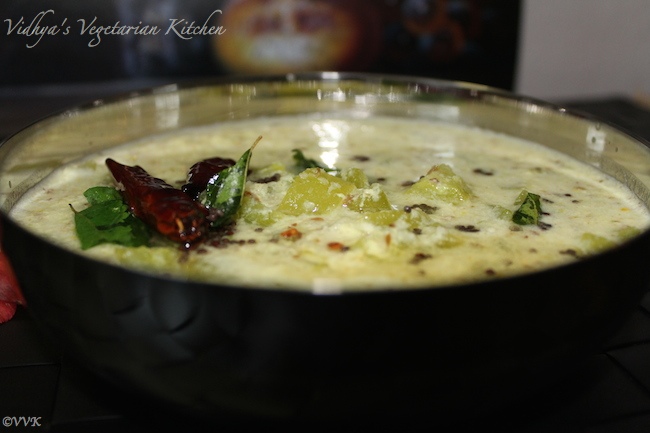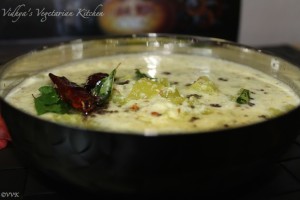 That's it. Coconut flavored cucumber pachadi is ready.