This is one of the easiest pickles to make. Periyakulam, my native is known as Mango Town. The close by Sothu Paarai dam is surrounded by mango grooves. This dam is built across the Varaga River or the Varaga Nadhi. :-) During mango season, this is a staple pickle in my house. It is very easy to prepare and goes well with any rice but I of course love it with curd rice.
We usually prepare this from the Kili Mooku Variety Mango. But here in US I just go with what ever variety I get.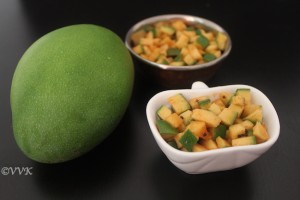 Ingredients:
Raw green mango – 1 (cut into small square pieces)
Salt – to taste (start with 1 tbsp, this varies based on sourness of the mango)
Red chilly powder – 2 tsps
For tempering:
Oil – 1tbsp
Mustard seeds – 2 tsps
Methi seeds or powder – 1 tsp
Hing – 1tsp
Steps:
Chop the mango and add salt and leave it for about half an hour. (I have left it overnight also. This helps the mango and salt to blend well but this process oozes some water)
Now add the red chilly powder and mix well.
Heat the kadai and add oil.
Once the oil is heat add mustard seeds, methi and hing.
Once mustard seeds starts spluttering, add it to the pickle mixture.
Mix well and that's it. The pickle is ready.
This goes well with curd rice.
0