As I mentioned in my previous post, this week DFT recipes Onam & Rasha Bhandan Specials. Team DFT celebrates Raksha Bandhan which represents the love and respect between siblings along with Onam which is reminiscent of Kerala's agrarian past, as it is considered to be a harvest festival
Onam is one of the important festivals in Kerala and it is celebrated as a 10 day festival. People celebrate the annual visit of the king Mahabali by decorating with flower rangolis and also they worship Lord Vamana and they have a deity of him too. Lord Vamana is the fifth incarnation of Lord Vishnu where he gives Moksha to the kind Mahabali when he surrenders himself for the third pace of the land. Onam festival is known for the pompous feast called the Sadya and the beautiful flower decorations and also for boat races.
Now coming to the feast/sadya.. Onam feast which is served in the banana leaf is filled with all the Kerala delicacies. Some of the main recipes are Avial, Thoran, Eriserry, Puliserry, Inji Puli, Pachadi, Kichadi, Olan and the list goes on. Today's recipe is going to be Thoran – a dry curry with coconut.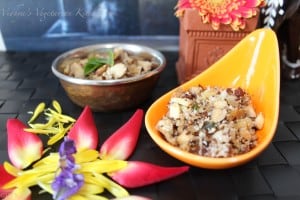 JackFruit Seeds:
Jackfruits are very popular and available in abundance in Kerala and also in Tamil Nadu. I grew up eating mangoes and jack fruits. Tender Jackfruit can be cooked too. Jackfruit may not be a fruit for diabetic patients but the seeds are perfect for everyone. A 100-gram serving, or about 3.5 ounces of jackfruit seeds, provides about 184 calories, 7 grams of protein and 38 grams of carbohydrates, including 1.5 grams of fiber, but has less than 1 gram of fat. This is 6 percent of the daily value for fiber of 25 grams. [1] It is loaded with fiber, resistant starch and also good amount of Vitamin B and small amount of minerals.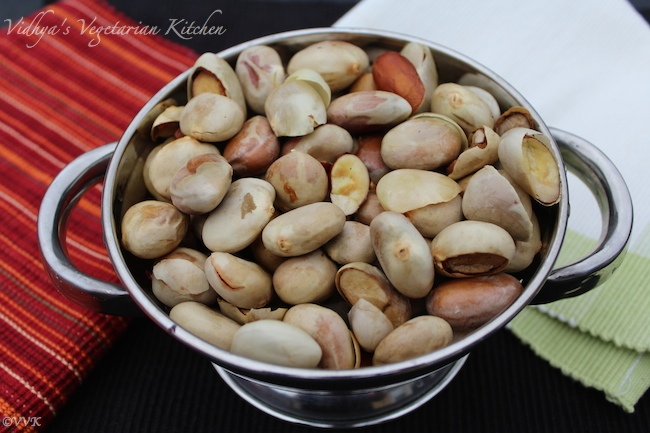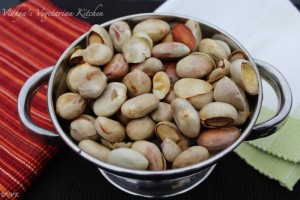 Storing Jackfruit Seeds:
During the jackfruit season when I buy the fruit, I save the seeds. I usually wash them well in warm water so as to remove the stickiness and sun dry them for couple of days and refrigerate it. Then whenever required either I boil them or dry roast them according to the recipe. I always have some stock of Jackfruit seeds at home.
Myth About Coconut And Coconut Oil:
Exercise and balanced diet is the key for healthy body. When food is eaten in moderation it is always acts as a medicine but the same when eaten in excess becomes poison. There is a famous Tamil Saying "Alavuku Minjinal Amirthamum Nanju" which means even if its sweet/honey anything beyond the limit becomes poison. The same goes with coconut and coconut oil too. The U.S. Department of Agriculture's figures estimate that total carbohydrates would account for 6.9 grams of its 45-gram weight, or roughly 2 percent of your recommended daily allowance. Of that 6.9 grams, only 2.8 grams come in the form of sugar. [2] What do I say about coconut oil when there is dedicated site (http://coconutoil.com/) for it mentioning its benefits and the researches. Visit the site for more information.
Now coming back to the recipe:
JackFruit Seed Thoran - DFT Onam Special
Yields : Approx 6 cups of cooked Thoran.
Per Serving : 1/2 cup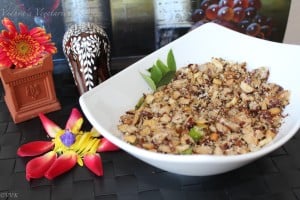 Ingredients:
Jackfruit Seeds – 2 cups
Water – 4 cups
Salt – 1.5 tsp
Small onions/Shallots – 5 (optional)
For Tempering:

Coconut oil – 1 tsp
Mustard seeds – 2 tsp
Curry leaves – 1 strand
Hing – 1 tsp

For Pulsing/Coarse grinding:

Coconut – 1/4 cup
Green chilly – 2 finely chopped
Ginger finely chopped – 1 tbsp
cumin seeds – 1/2 tsp
Steps:
Pressure cook the jackfruit seeds for unto 3 whistles and let them cool.
Once they are cooled down, peel the skin and chop them lengthwise or as you desire. I went with small pieces.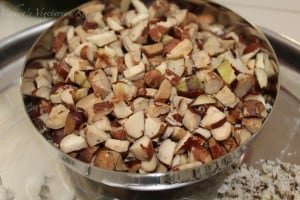 Meanwhile pulse the coconut, green chilly, ginger and cumin seeds without adding any water. We just to mix them well so dry grinding into coarse mixture is enough.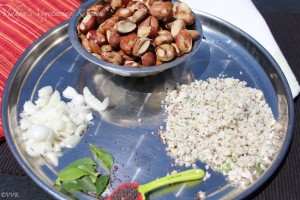 Now heat the kadai and oil.
Once the oil is hot, add the mustard seeds, hing and curry leaves.
As they start to splutter add the onions and cook till they turn translucent.
Now add the chopped jack fruit seeds and the coconut mixture.
Mix them well and sprinkle water.
Let it cook for couple of minutes and that's it. Thoran is ready.
Serve hot with sambhar or rasam rice or any variety rice.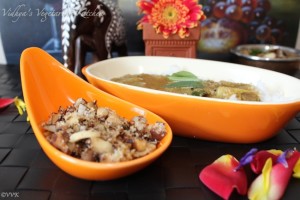 Disclaimer: I am not a nutritionist or dietitian. My knowledge and information is based on my research and reading from different resources. Please consult your doctor or dietitian before making any changes to your diet.
References:
[1] http://www.livestrong.com/article/546837-nutrition-in-boiled-jackfruit-seeds/
[2] http://healthyeating.sfgate.com/can-diabetics-eat-coconuts-11200.html