Happy March! A new month and a new meal planner. Here is my upcoming vegetarian meal planner with a lot of vegetables and mixed grains.
PS – Like last week, I have just mentioned grain in this week's meal planner too. You can pick your favorite ones like millet or quinoa or hand pound rice or other preferred ones. Also, for roti, I am using whole wheat flour. You can use mixed flour and make colorful rotis.
As I mentioned in my previous meal planners, I have started my home remodeling series post. So far, I have posted about why we started the remodeling and things to consider before remodeling. Please do check it out.
And this is my 20th meal planner. I can't believe I have shared 20. Thank you for all your comments. Your encouraging comments keep me going. There is no doubt about it. Once again, my heartfelt thanks. You can find all my meal planners under my meal planners category link.
I want to increase our vegetable intake, and this is another veggie-loaded meal planner like this planner that I posted in September. Also, like last week, I have included afternoon drinks in this one as well.
PS – These beverages are mostly for us than for the kiddo. :-) You can relish them as a mid-morning drink or as afternoon drink instead of your tea or have them along with your lunch. I am trying to avoid my caffeine intake, so I relish these drinks around 2 PM.
Now back to this week's meal planner without idli and dosa.
Meal Planner For March 1st Week-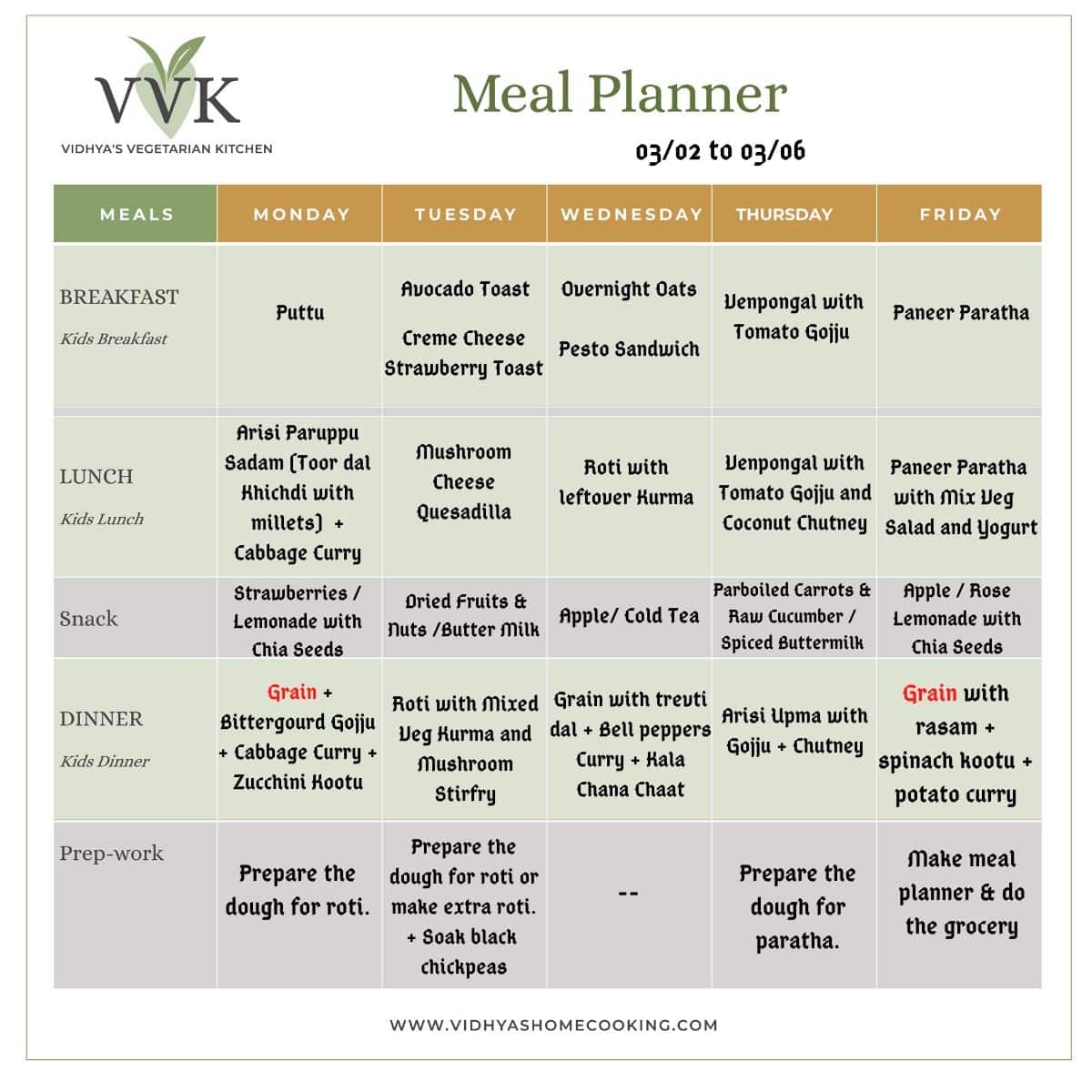 Weekend Meal Prep-
Now here are details and the recipe links. I have highlighted the fruits and vegetables that I have used.
Monday:
Veggies – Bittergourd, cabbage, and zucchini
Fruits – Strawberries
Tuesday:
Veggies – Mushroom and mixed vegetables – carrots, green peas, potato and zucchini for kurma
Fruits – Avocado, strawberries and dry fruits (figs)
Wednesday:
Veggies – Bell Peppers. Carrots and cucumber for the chaat.
Fruits – Apple
Thursday:
Veggies – Carrots and Cucumber
Fruits – Tomato
Friday:
Veggies – Spinach, Potato + bell peppers, carrot, cucumber for the salad
Fruits – Apple
I hope this menu planner helps, and you all can draw some inspiration. If you have any questions, please leave a comment below. I will share the daily updates on my Instagram and my FB group. So stay connected!
If you like this meal planner, then you will like this bean, veggie, and fruit loaded meal planner and also this semihomemade meal planner.
Happy Cooking!