Setting aside a few hours during the weekend and planning your weekly meal helps a lot during the hectic week. Here is my upcoming week's meal planner with a beverage option for snacks.
Before getting into the meal planner, I want to share about the grain options. Last week, I did share the meal planner with different grain options, but this week, I have just mentioned grain. You can pick your favorite ones.
Even for making pulav or tamarind rice, you can opt for millet or brown rice or matta rice. My goal is to reduce processed white rice and use more complex carbs. So these days I switch between steel-cut oats, millet, hand pound rice, quinoa or a mix of rice and quinoa or millet. Somedays I prefer cauliflower rice as well.
If you are following me on Instagram, you would have known that my in-laws are here. What I pack for lunch and what I make for them slightly varies. I have included that too in the meal planner with a dash.
For example, Monday, I am packing sambar idli for us, but for in-laws, it's going to rice with sambar and dry curry. My MIL makes vegetable-based curry and rice for her and FIL. I try to make a dish to two in the morning, and she takes care of the rest.
Now back to this week's meal planner. As promised last week, this week's meal planner includes some beverages along with the snack as well. These beverages are mostly for us than for the kiddo. :-) You can relish them as a mid-morning drink or as afternoon drink instead of your tea or have them along with your lunch. I am trying to avoid my caffeine intake, so I relish these drinks around 2 PM.
Meal-Prep:
Now here are details and the recipe links.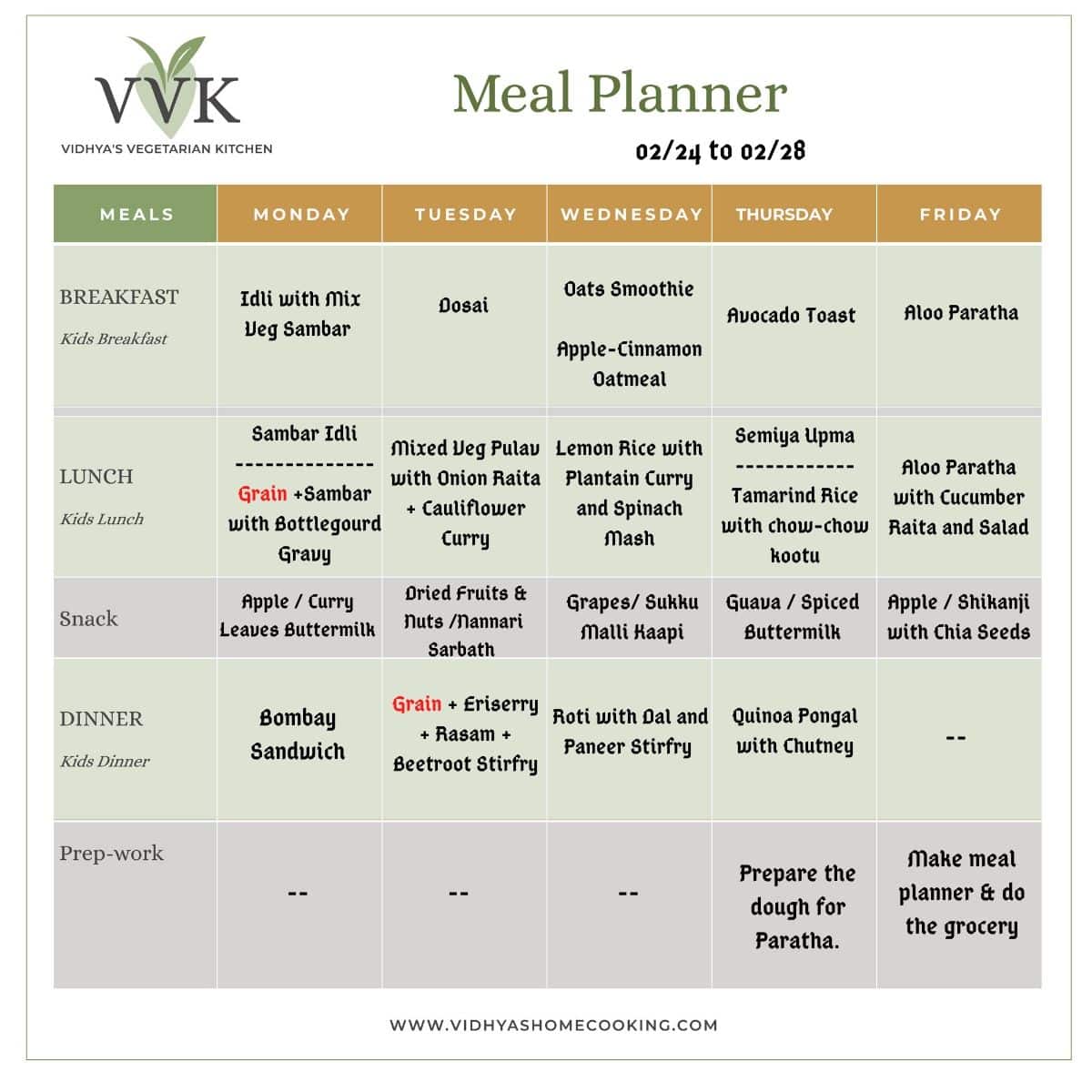 Monday:
Tuesday:
Wednesday:
Thursday:
Friday:
I started to share about our home renovation from last week. Check out my intro post, and this week I am going to share about design considerations and budget planning. So stay tuned!
Happy Cooking!