If you are wondering how to incorporate veggies and plant-based protein in your daily diet, then I have a perfect meal plan for you. Here is this week's meal/menu plan loaded with vegetables, lentils, and legumes.
Previous Planner | Feedback:
Few people had asked me to share a "healthy" meal plan for adults. Folks, I want to insist that I am not a dietician or a nutritionist. I love to cook and also I strongly believe in our traditional food, the food that our ancestors ate. I don't follow any particular diet like keto or low carb. Yes, my menu has carbs. :-) But portion control is the key. Exercise and a balanced diet are crucial for a healthy lifestyle.
You can always swap rice with brown rice, millets, quinoa or any other complex carbohydrates or even with plant-based rice. As I was busy with my "The Essential South Indian Cookbook" marketing, I couldn't make homemade sprouts. Starting this week, you will see a bean or legume in my everyday diet. Also, we regularly take yogurt in our meal, and I am not including in that in the meal plan. So please add milk, yogurt, and other dairy products as needed.
How I plan my Menu & Prepare the Meal Planner?
I plan my meals based on my work schedule. If my work is hectic, I opt for simple or semi-homemade meals. Also depending upon son's extra-curricular class schedule, I plan my menu. Mostly on Tuesdays, I keep it simple as he has classes on those days.
I buy seasonal vegetables either on Friday or Saturday, and based on what I bought, I plan my menu. For lunch, I keep rotating some simple recipes that are approved by my son, but for dinner, I try to explore some new combinations.
Check out my previous meal planners here.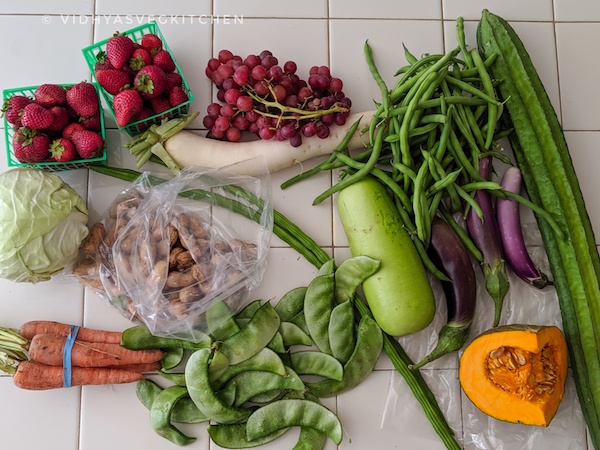 My Cookbook | The Essential South Indian Cookbook
I am so excited to share that my new book, The Essential South Indian Cookbook, is coming out this October 2019! This book contains 75 South Indian recipes, including meat and seafood recipes. Thanks to Kat Green for taking care of the meat and seafood-based recipes. The recipes in this book will definitely let you explore the culture and the regional cuisines of South India. Right from idli, sambar, puttu, pesarattu, ragi mudde, vegetable curries, and gravies, I have it all. Let's not forget the meat and seafood dishes as well and oh yeah the desserts too. :-)
Preorder your copy today! Click here to preorder.
Now to this week's meal planner for the week of Sep 16 to 20.
Disclaimer: This meal planner is specially designed based on my family likings. I have a 10-year old son, and he can handle spicy food. He cannot reheat his food, so I try to avoid certain foods that need to be heated. I pack the lunch in stainless steel containers, mostly Lunch Bots, and keep in an insulated lunch bag. It keeps the food warm. Last but not least, I do pack leftovers.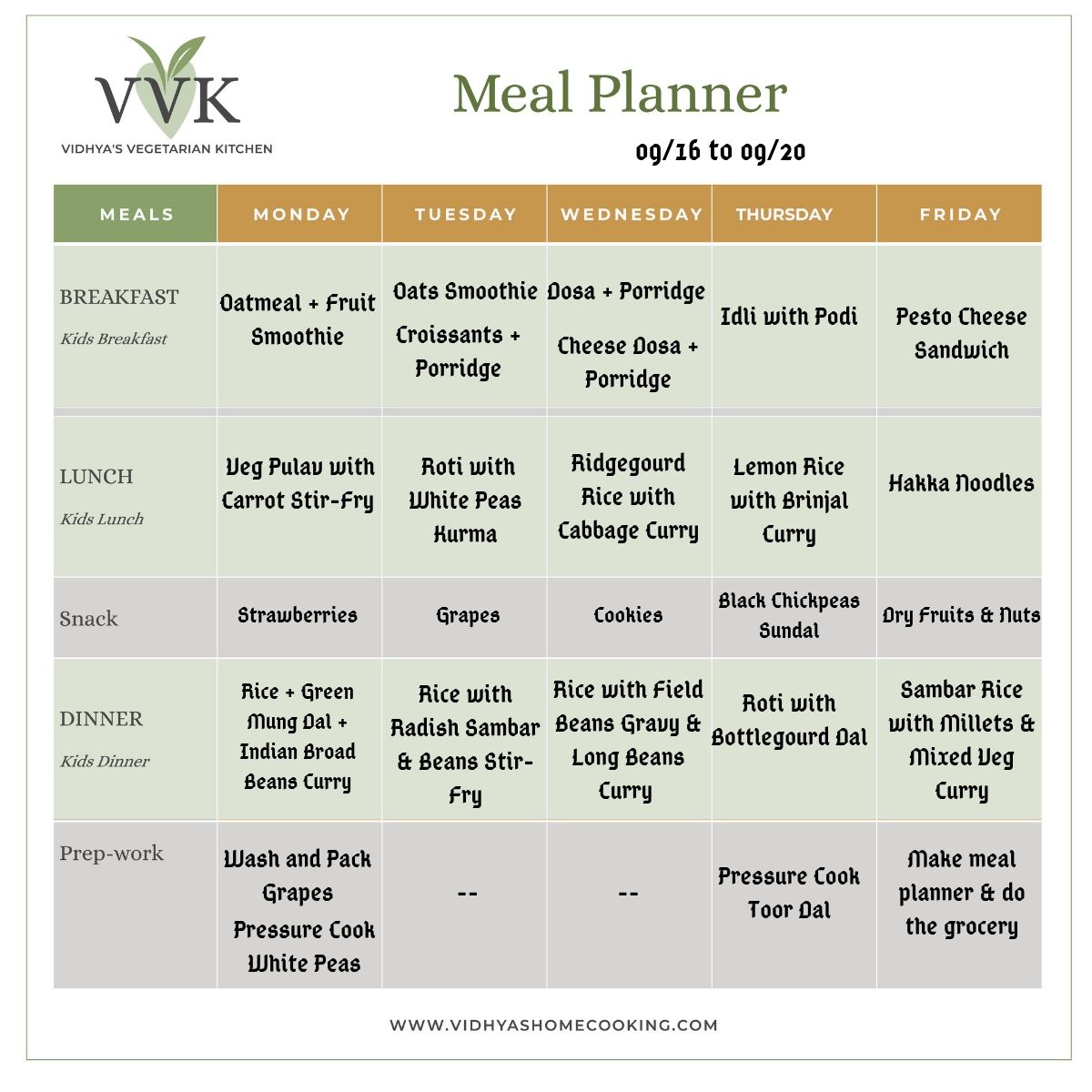 Prep-Work | Chopping Veggies & Soaking Beans:
Before getting into day-by-day details, I will share about the prep-work that I do over the weekend, specifically for this menu.
Chop all the vegetables
Prepare the idli and dosa batter.
Wash and soak the beans for 8 hours. Drain the water and tie them in a cotton cloth separately and refrigerate. Allow it to sprout. Make sure to change the cotton cloth for every 48 hours, especially for the ones that you will be using later in the week. This week I am using green mung beans, white peas/vatana, black chickpeas, and field beans/mochai.
Everyday Menu Details:
Check out the veggies and beans; I am using every day.
Monday: I am using green mung beans, broad beans/averaikkai, and carrot. Find some of the recipes from the menu below.
Tuesday: I am using white peas, radish, and green beans. Find some of the recipes from the menu below.
Wednesday: I am using field beans, ridgegourd, cabbage, and long beans. Find some of the recipes from the menu below.
Thursday: I am using black chickpeas, brinjal, and bottle gourd. Find some of the recipes from the menu below.
Friday: It's more like a fridge cleanup day. I am planning to use up all the vegetables by making mixed sambar rice and mixed vegetable curry. I didn't include any particular protein this day. And I have to rely on yogurt and toor dal for the protein source. :-)