Rasam is a staple and comfort food of Tamil Nadu. Today I am going share our family rasam recipe – a traditional rasam prepared with homemade rasam powder and toor dal. This is a no garlic rasam and it is popularly known as paruppu rasam.
Once you have the cooked toor dal, you can prepare the rasam in no time. It just mixing all the ingredients and simmering them together. Rasam is my favorite food and I can have rasam any time even without any sides. One of my favorite combo is rasam with lemon pickle. :-) Vaandu also loves rasam and both of us survive these days with the rasam only.
I always temper rasam with ghee and I would recommend the same to you as well. The ghee tempered cumin seeds and hing add tons of flavor of the rasam. The other flavoring ingredients are cilantro and curry leaves. You can prepare rasam without these two but the taste does differ. You can clearly say how curry leaves and cilantro plays a significant role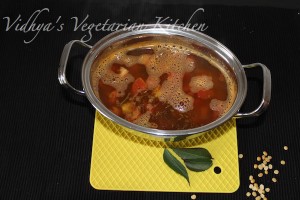 Dhal Rasam/Paruppu Rasam
Rasam podi – 1 tbsp
Tomato – 1 (chopped)
Curry Leaves – 1 strand
Cilantro – finely chopped 3 tbsps
Tamarind – 1 small gooseberry size (if using paste, dilute 2 tsps in 1 cup of water)
Salt 1.5 tsp or as per taste
Toor dhal – 1/4 cup
Turmeric powder – 1/2 tsp
Water 4 1/2 cups
Jaggery – small piece
For seasoning:
Oil/Ghee – 1tsp
Mustard seeds – 1tsp
Jeera – 2 tsps
Hing – 1/2 tsp
Steps:
Pressure cook the dhal with turmeric powder and with 1 1/2 cups of water.
Let it cool and mash it well.
Soak the tamarind in water ( 1 cup) and extract the juice, if you are using paste mix it in 1 cup water (During weekdays I prefer tamarind paste)
Take the vessel, in which you are going to make the rasam.
Add the tamarind water, rasam podi, salt, chopped tomatoes and mix it well.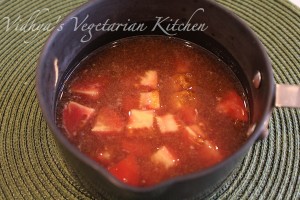 Now keep it in the stove and simmer it in medium flame.
Add the curry leaves and the coriander leaves.
When it begins to boil and add the boiled dhal and 2 cups more water and the jaggery.
Let it simmer till it creates froth on top.
In the separate kadai or seasoning laddle heat oil or ghee. Add mustard seeds, hing and jeera. Once they start splutter add this to the rasam.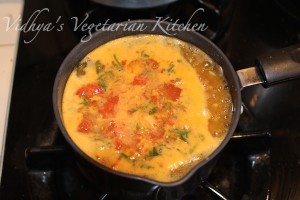 Hot rasam is ready.
0