I am back with a new meal planner. And this week, I am going with a theme – "bean/legume, vegetable and fruit combo" every day. With this theme in mind, I have planned my dishes. Let's see them in detail.
From this week onwards, I am not going to share explicitly the carbs that I am using for dinner. Many had asked for low-carb meal plan ideas. Sorry folks, I am not a dietician or a nutritionist also I don't follow any particular diet. So it's difficult for me to design a full low-carb diet plan.
One thing I can say for sure, my meal plans are very customizable. You can replace rice with any complex carbs of your choice, and also you can work around with seasonal veggies and according to your dietary restrictions and your schedule. Yes, your weekly schedule plays a significant role. Somedays you might have time for some elaborate cooking and somedays all we can do is some dosa or upma. That's fine. I repeat folks; nothing can beat homemade food with love.
My goal here is to encourage home cooking and also to encourage you to plan and prep the meal, which in turn makes cooking easy. So far, I have posted 13 meal planners, and here is my 14th one. You can access all my previous meal planners under the category "meal planners."
Here is this week's Bean, Vegetable And Fruit combo Meal Planner: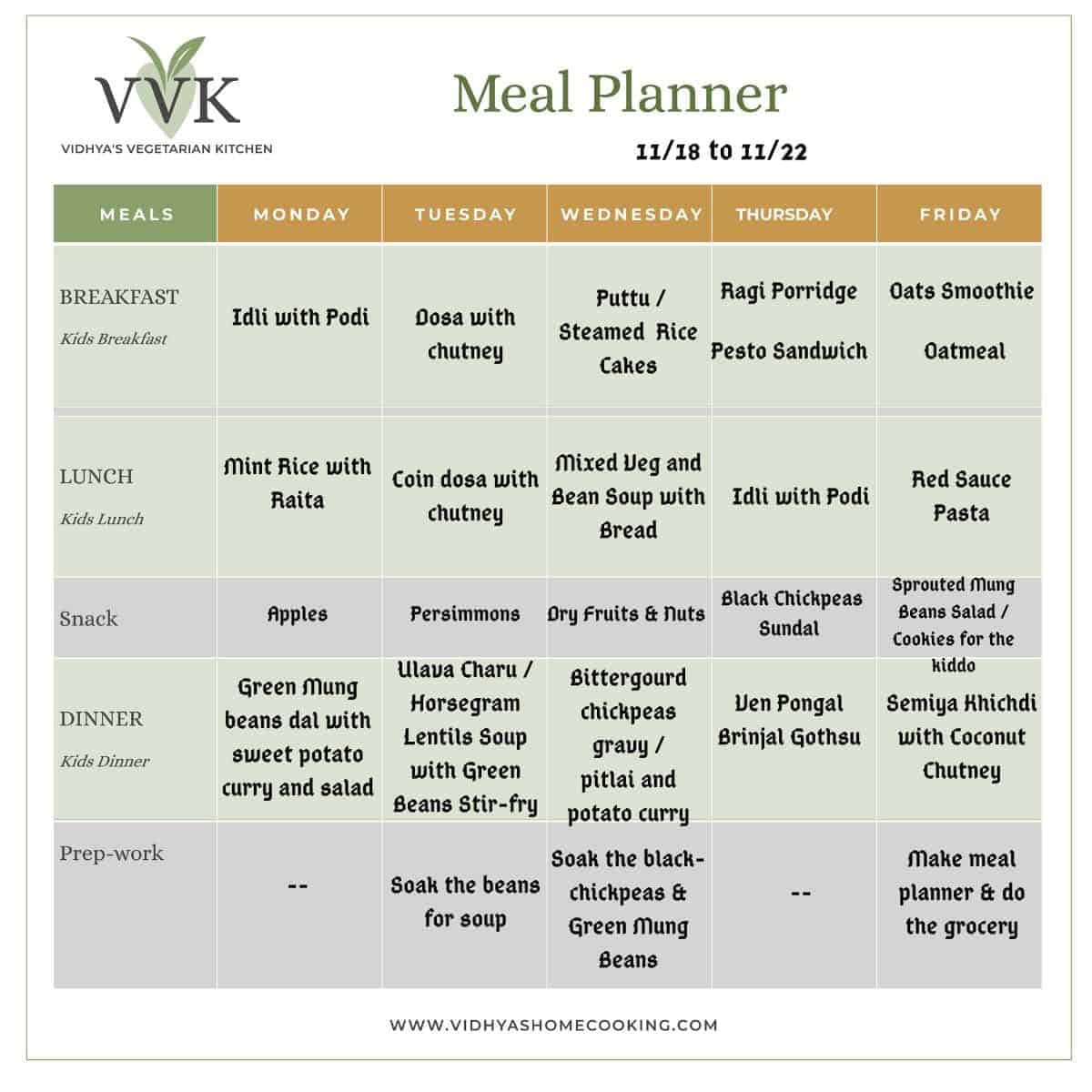 Weekend Meal Prep:
Meal Planning in Detail:
Monday:
Tuesday:
Wednesday:
Thursday:
Friday:
I hope this menu planner helps, and you all can draw some inspiration. If you have any questions, please leave a comment below. I will share the daily updates on my Instagram and my FB group. So stay connected!