I went super easy with my third thali. Today I am presenting you the Saravana Bhavan Style Executive Thali or Variety Rice Thali.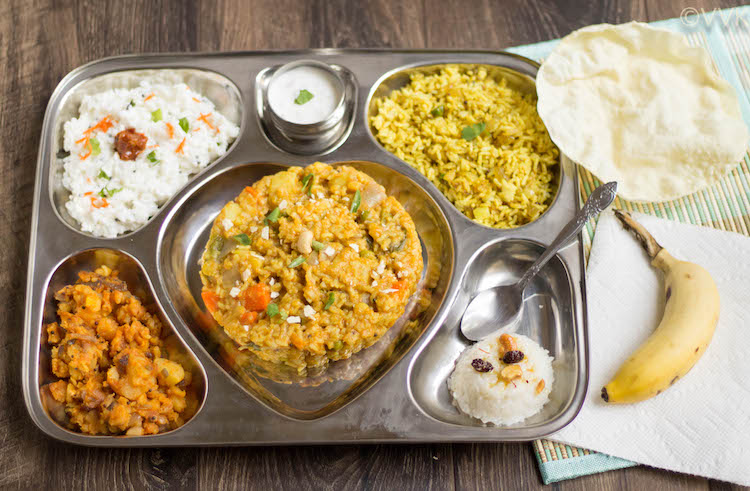 Saravana Bhavan Style Executive Thali
A South Indian executive thali consists of all variety rice with one dessert and one dry curry. Usually, the dry curry will be potato curry, and the variety rice varies each time. I have already posted a similar combo for adi perukku. We usually prepare no onion no garlic kalanda sadam or variety rice for adi perukku. But today's variety rice doesn't have that restriction. :-)
Saravana Bhavan is a pretty popular South Indian restaurant worldwide and its the same case in the bay too. M's favorite pick in Saravana Bhavan is their Executive meals, and I always wanted to try that home, and when I wanted to choose an easy one for my third thali, this executive thali seemed to be the best bet. :-) I took this opportunity to post my kalkandu Pongal which was on my to-do list for a long time. This thali is a perfect party potluck menu too.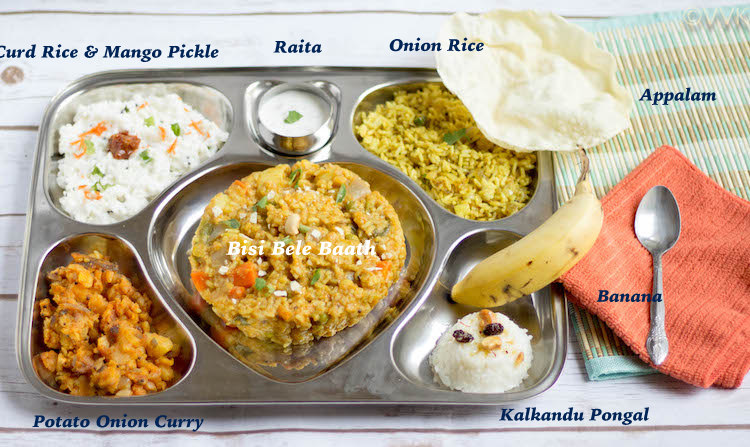 So what I have on my plate is:
Store bought Mango Pickle
Appalam
Raita
Banana
How I Prepared Saravana Bhavan Style Executive Thali
For this executive thali, I did chop lot of onions. For the BBB, you can chop the veggies ahead of time. I made BBB in a pressure cooker and followed my easy Bisi Bele baath recipe, and I prepared the Kalkandu Pongal in Instant Pot. For onion rice and bagel baath, I made the rice in my pressure cooker. It is super simple to make onion rice and curd rice once the rice is ready. As I microwaved the potatoes, there wasn;t much waiting time. So over it took me 1.5 hours to prepare this thali.
Hope you all enjoyed the Thali series. I will be back with my mini thali series soon.
Wishing you all a euphoric Ugadi. :-)
Enjoying Saravana Bhavan Style Executive Thali? You will love these, too:
Submitting this post for the BM 74. Check out the other participant's recipes here.