Planning makes cooking easy. Do you plan your weekly menu ahead? I do and here is my kid-friendly weekly meal planner for the coming week.
I usually plan my weekly menu over the weekend for the upcoming weeks. Last year I was sharing my weekly menu planners on Instagram. I received a lot of positive feedback about the template and the planner. As the school year is beginning, this year, I decided to share my meal planners regularly on my blog as well. So I am starting with my first one for the upcoming week of August 19 to 23.
Disclaimer:
This meal planner is specially designed based on my family likings.
I have a 10-year old son, and he can handle spicy food. He cannot reheat his food, so I try to avoid certain foods that need to be heated.
I pack the lunch in stainless steel containers, mostly Lunch Bots and keep in an insulated lunch bag. It keeps the food warm.
Last but not least, I do pack leftovers.
Do I stick to my menu planner?
That's the first question that I usually get. When I started making menu planners, I was not sticking to the planner 100%, but slowly I started following it strictly, and now, I can say that I stick to it 95%. Menu planners have a lot of advantages and I will explain it one by one in the coming weeks.
Now here comes this week's menu planner.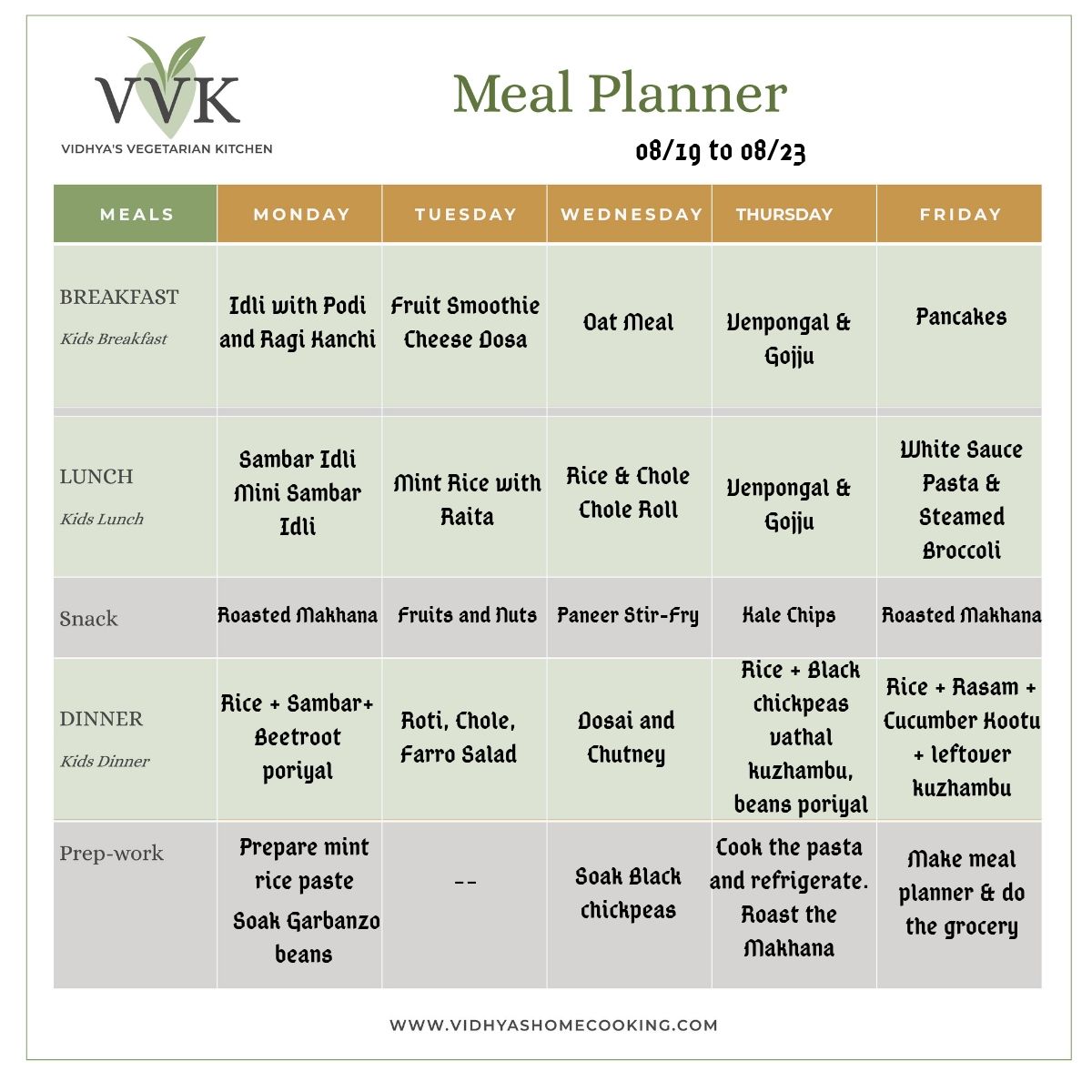 Before getting into day-by-day details, I will share about the prep-work that I do over the weekend, specifically for this menu.
Chop the beets and green beans. Cut the broccoli into small florets. I don't chop cucumber ahead of time.
Prepare the idli dosa batter
Roast the Makhana for Monday
Cook the toor dal for sambar
Everyday Menu Details:
Monday: We love to have idli for breakfast, lunch, and dinner. :-) But for this Monday, I am just going with idli for lunch and breakfast. I love dishes that I can serve with multiple items. One such recipe is sambar, and as you can see, I am pairing sambar with idli and also with rice for dinner. When I prepare dinner, I usually do the prep-work for the next day as well. In this week's case, I need to make mint rice paste and soak garbanzo beans.
Tuesday: I generally make smoothies with whatever fruits I have in hand. These days we like our smoothies with nut butter, and I add a tbsp of psyllium husk in my smoothies.
You can find the mint rice recipe and chole on my blog archives.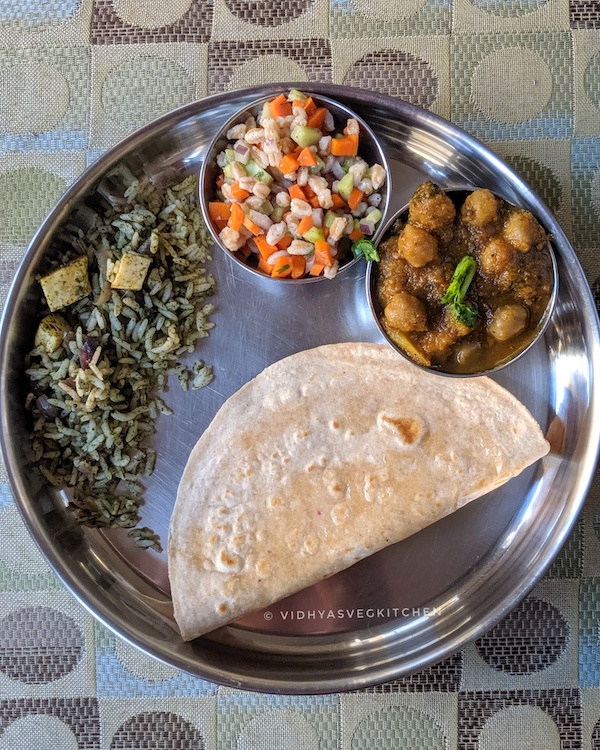 Wednesday: Depending upon the situation, I make oatmeal either on the stovetop or in my Instant Pot. I have Instant Pot oatmeal recipe on my cookbook. If it's Old Fashioned Oats, I cook for five minutes at high pressure and release the pressure naturally after 10 minutes. And if it's steel-cut oats, I cook it for 8 to 10 minutes at high pressure and release the pressure typically after 10 minutes.
I am planning to pack chole and rice for us, but for the kiddo, I am planning to make it like a roti roll. This is the first time I am going to try this, and I will let you know if it was a success or not.
For the paneer stir-fry, I saute the paneer in ghee or oil with some salt and cumin powder.
Update: I did not pack the roti roll for the kiddo. I pack him rice and chole as well.
Thursday: Thursdays are our "no onion, no garlic" days, and I usually opt for idli or pongal. As I already planned idli for Monday, I going with venpongal / savory pongal and gojju for Thursday.
The dinner is simple. It is vathal kuzhambu but with black chickpeas and green beans poriyal/stir-fry.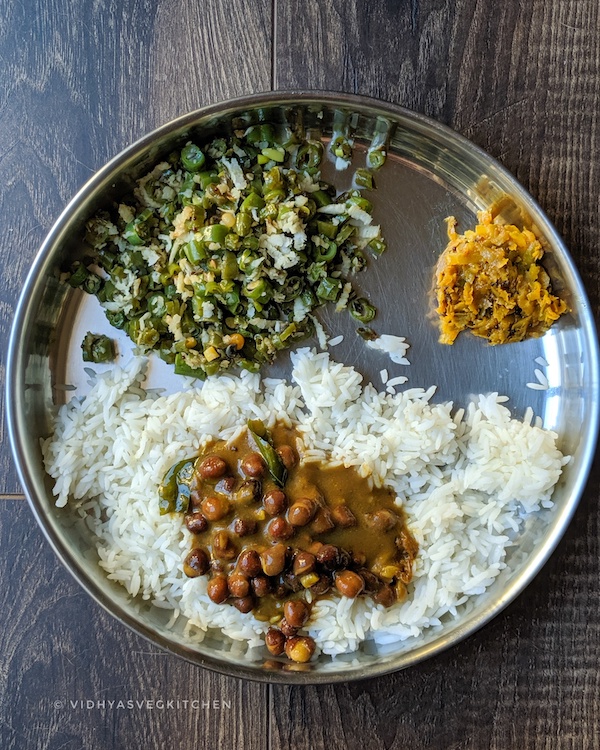 Friday: This Friday, I am keeping it special by making some pancakes for breakfast and pasta for lunch. I usually steam broccoli in Instant Pot for just one minute and release the pressure naturally. You can find my white sauce pasta recipe on my blog archives.
Our weekly menu is incomplete without rasam. So dinner is comforting rasam with cucumber kootu (similar to keerai kootu but with cucumber) and leftover vathal kuzhambu.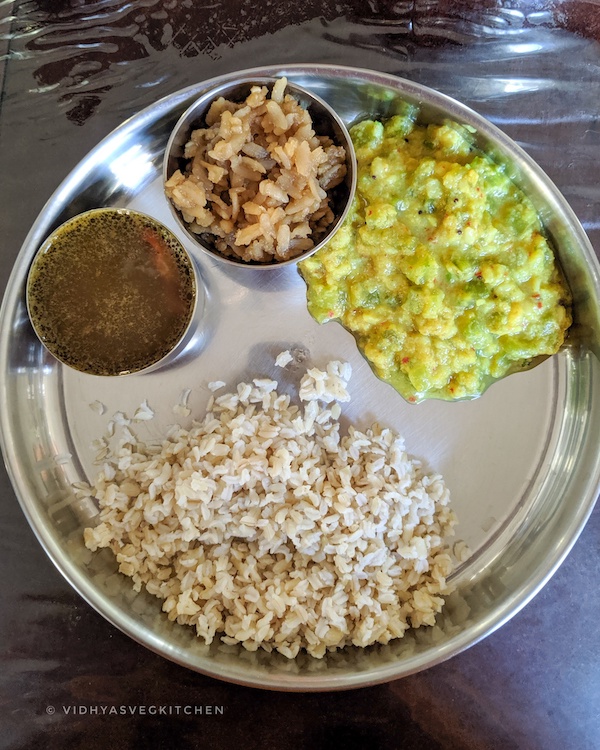 I hope this menu planner helps and you all can draw some inspiration. If you have any questions, please leave a comment below. I will share the daily updates on my Instagram and my FB group. So stay connected!
Update Notes: Updated the post with everyday meal plates.