Check out my simple South Indian weekly meal planning with a lot of one-pot and variety-rice recipe ideas!
Here comes my weekly meal planner with breakfast, lunch, dinner, and snack options.
PS – Substitute the rice/millet with grains of your choice.
Are you new to meal planning and prepping or looking for new ideas? 
Check out all my previous meal planners. I have been sharing some meal planners for the past two years. I have shared over 30+ Indian vegetarian meal planners, and you can check them out all under the "meal planner" category. All meal planners are unique, and I am sure you can draw some inspiration. 
One-Pot rice recipe ideas
Last week I explained how I use my leftovers and how I cook once and serve twice. This week, it's all about "variety rice" and one-pot rice recipes. These one-pot rice recipes come in handy when you have a hectic schedule. 
You can prepare the rice or grain of your choice the day before and quickly whip up these dishes. And these one-pot rice recipes are perfect for lunch boxes.
These are the easy rice recipes that I have for this week,
Lemon rice
Rasam rice
Tomato rice
Ven pongal
Veg pulao
You can easily prepare rasam rice, ven pongal, and pulao in Instant Pot, and for lemon rice and tomato rice, you can cook the rice the day before and easily prepare the dish in the morning.
Also, I have dried neem-flower rice this week. I usually make these detox recipes during the weekend, but I decided to make it on a weekday this week.
I have some simple recipes for breakfast and dinner that I can prepare in less than 40 minutes.
How to start meal planning | Tips for getting started
The simple answer is don't wait! I know it's easy to say, but we all procrastinate. We need to get started at some point. You don't need any fancy tools or not even an excel sheet. As I mentioned in my earlier meal planners, you need a template, and you can write it down on paper, notebook, erasable boards if you have one.
You can start with what you are planning to make for lunch or breakfast alone.
Be sure to keep it in a visible place. Stick it to your refrigerator even! It's easy to follow when you can see your planner, and it keeps you motivated, and you will slowly get into the routine.
I hope this helps. If you have any particular questions, do let me know in the comments. Without any further ado, here is this week's meal planner.
Meal-Prep
Chop all the required veggies. You can also steam or parboil and store it in the refrigerator.
Prepare the idli-dosa batter.
Make sure you have yogurt and other condiments required for this week.
I cook the rice, and the required rice pastes the day before. But you can prepare them during the weekend if you prefer batch cooking.
Disclaimer: This meal planner is specially designed based on my family's likings. I have a 12-year old son, and he can handle spicy food. He cannot reheat his food in school, so I try to avoid certain foods that need to be heated. I pack the lunch in stainless steel containers, mostly Lunch Bots or Thermos sometimes, and keep it in an insulated lunch bag. It keeps the food warm. Last but not least, I do pack leftovers.
Without any further ado, here is this week's meal planner.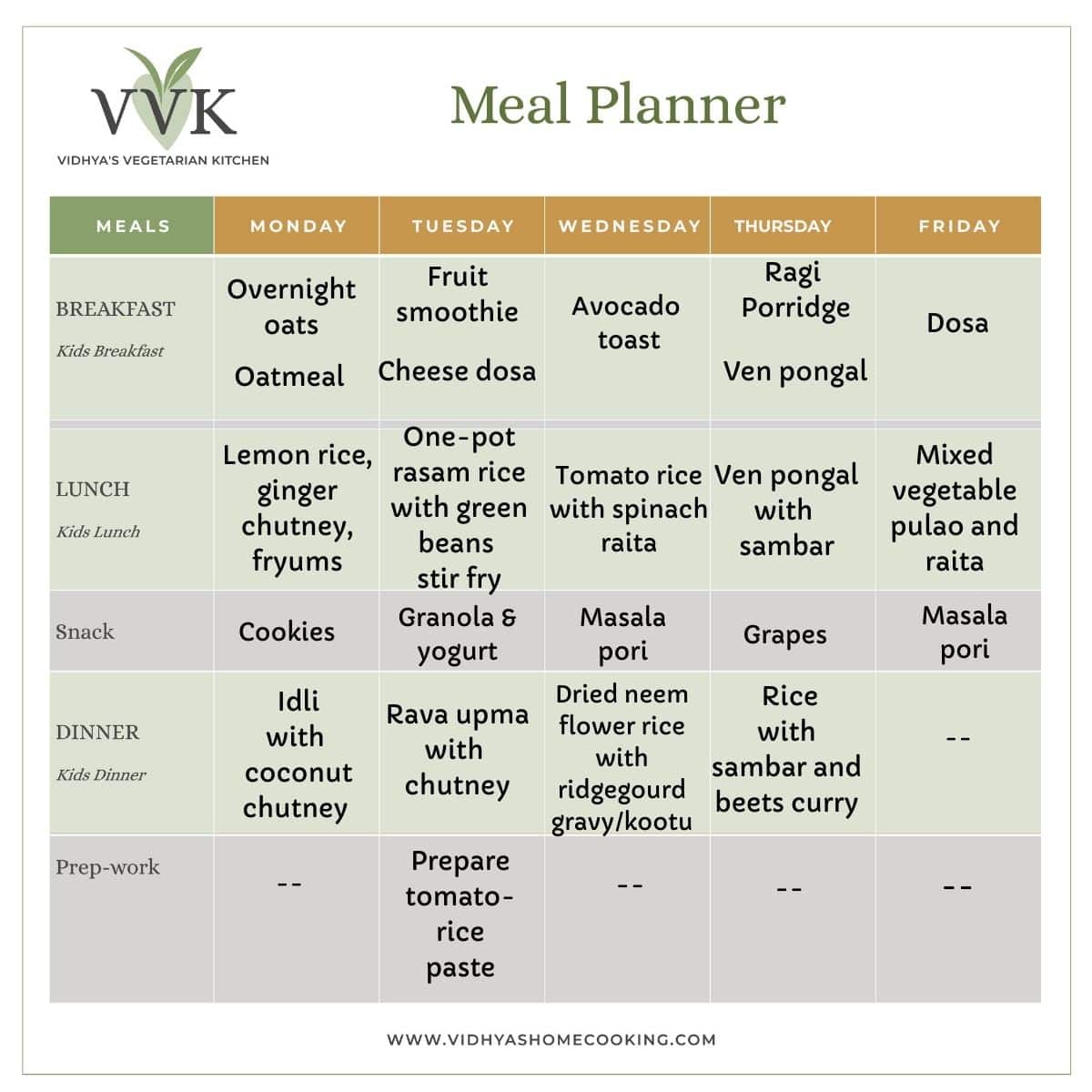 Now here are the details and the recipe links. 
Recipe Links Indian Vegetarian Weekly Meal Planner
Monday Menu
Tuesday Menu
Wednesday Menu
Thursday Menu
Breakfast – Ragi porridge for us and ven pongal for the kiddo. (That's for his lunch also)
Lunch – Ven pongal and sambar.
Dinner – Rice with leftover sambar and beets poriyal.
Friday Menu
I hope this menu planner helps, and you all can draw some inspiration. If you have any questions, please leave a comment below. I will share the daily updates on my Instagram and my FB group. So stay connected!
Stay Safe & Happy Cooking!
Vidhya