Summer is the perfect season for preparing fryums, vathals and of course home made rasam and sambar powders. Why not utilize the sun completely and sun dry the ingredients? Here is one such Vathal or Fryum recipe which is prepared with left over rice. A great way to use the left over rice. All you need to do is grind the rice with salt and chillies and then add onions and sun dry it. That's it. It is as simple as that. You can prepare them in bulk during summer and store them.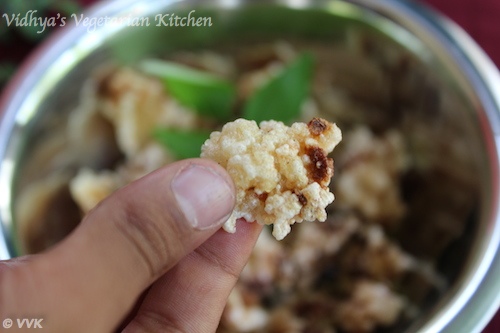 Every morning when I wake up there will be at least three to four unread whatsapp chats from my friends and family. Last saturday I was surprised to see messages from Vidya and Malar congratulating me for my blog getting selected as one among the top 50 food blogs by rebates zone. I was elated hearing the news from them first. I am so happy to have such great friends in my circle. Later I received mail from rebates zone and they sent me the details. Thanks a lot Vidya and Malar for your wishes and support and Malar we are waiting for you to come back. :-) Also I would like thank all my readers for your support and encouragement. You can read about it here.
Now coming to this recipe. We tried this during my chennai trip and this was sent as a part of the July Month Treasure Box kit. Usually with left over rice we try to prepare curd rice or some variety rice. But with the left over rice we can also prepare sun dried fryums or vadagams and these fryums go very well with any kind of rice and its a great snack too. You can involve kids in this recipe when laying the batter for sun drying. You can let kids to create their own shapes and stuff.
Ingredients:
Left

over

rice

– 1.5 cups
Salt – 1 tsp
Green chilly – 1
Medium sized onion – 1 (Finely chopped)
Water – 2 tbsp + 1 cup
Oil – for frying
Steps:
Preparing the batter:
Grind the cooked

rice

along with green chilly and salt with 2 tbsps of water.
To this add the finely chopped onion. That's it. The batter is ready.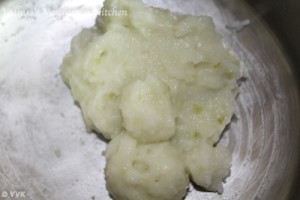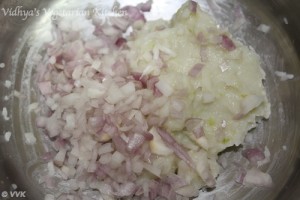 Sun Drying:
Now clean a plastic paper or even regular plate or ziploc cover and keep it ready.
Wet your hand and take a pinch of the batter and start placing them in the plate or cover with 1 inch space between each batter. This is where you can get the help from kids. They can make they desired shapes. Even the irregular shapes looks great.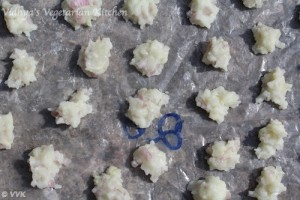 Let it sun dry for couple of days. During peak summer 2 days is enough or maximum it might take 3 days.
Once it's completely dried, store them in air tight container.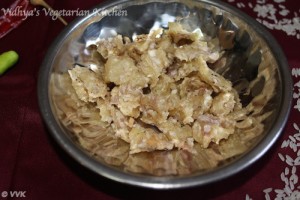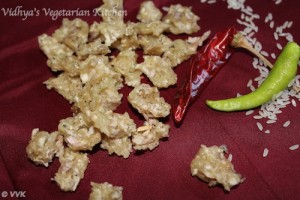 Frying:
Heat required amount of oil for frying.
Slowly drop these

fryums

and fry them till they turn brown. (As we have added onion it will turn brown)