You all know how much I love leftovers, and this week's meal planner is all about that – Cook once and serve twice!
Check out my new meal planner where I have repurposed the recipes that I made for lunch in dinner!
PS – Substitute the rice/millet with grains of your choice.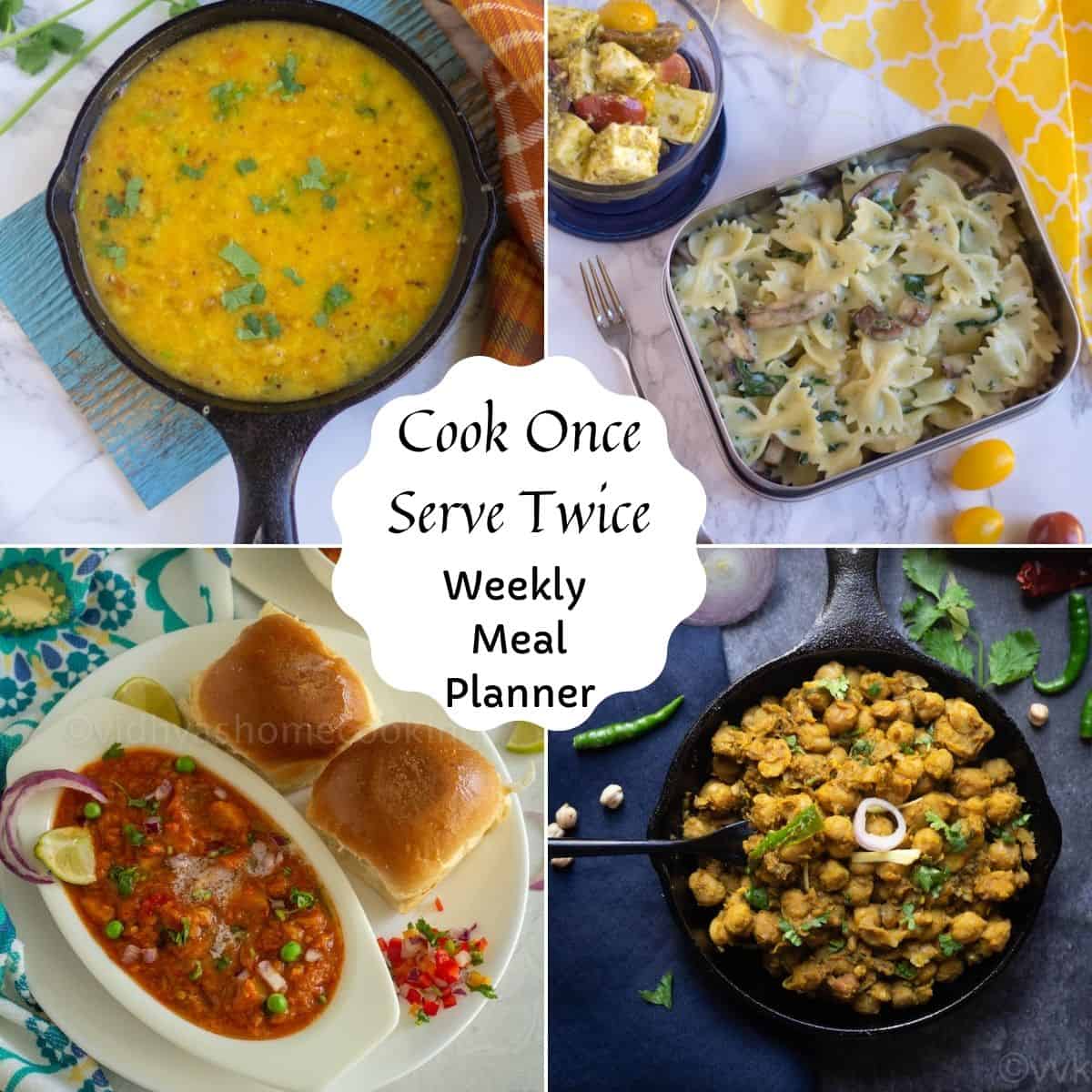 Are you new to meal planning and prepping or looking for new ideas?
Please check out all my previous meal planners. I have been sharing some meal planners for the past two years. I have shared over 27+ Indian vegetarian meal planners, and you can check them out all under the "meal planner" category. All meal planners are unique, and I am sure you can draw some inspiration. 
Cook once and serve twice!
I rely a lot on my leftovers, and it's no secret. I had explained how I used rajma and the gojju for different meals last week.
If you plan your meals strategically and if you can serve them twice in different fashions, you are all set! And that's what I mean by cook once and serve twice.
I totally agree it's not easy to cook three different meals every single day. As we work from home because of this lockdown, I can spend a little extra time in the kitchen. But not all weeks are the same, and next week it's going to be a really hectic week for me. I hope I can post new recipes on the blog. Anyways, I am resorting to the cook once and serve twice strategy this week, and that's what I am sharing here.
Breakfast options:
By now, you would have all known my breakfast recipes. I mostly rotate between idli, dosa, oatmeal, oatmeal smoothie, toasts, puttu, etc. Somedays, I opt for pancakes, waffles, pongal, and paratha. If I have to make an elaborate lunch slightly, I keep my breakfast simple, and that's the strategy that I follow. 
Lunch & Dinner:
This week Monday to Thursday, I am going with the "cook once and serve twice" concept.
Monday: I have chole with rice for lunch, and I will be using the same for the bread chana chaat for dinner. You can either make Pindi chole or regular chole.
Tuesday: I have pav bhaji, and I will be using the bhaji to make the pav bhaji dosa. (You can make pav pizza or sandwich too)
Wednesday: We love paneer tikka masala or any curries with rice. So I usually serve it with rice for one meal and with any flat-bread for another meal. (I am using store-bought naan this time, you can make roti or kulcha too)
Thursday: For lunch, I am making dal and rice. It's easy to convert simple dal takda into sambar. I add some tamarind paste and sambar powder to my dal tadka and simmer it again. Finally, I temper it again with mustard seeds, fenugreek seeds, and curry leaves.
Friday dinners are always impromptu ones, so I usually don't add any for Friday dinners on my meal planners. 
I want to insist that it's easy to plan and prep your meal accordingly when you have a strategy.
I hope this helps. If you have any particular questions, do let me know in the comments. Without any further ado, here is this week's meal planner.
Meal-Prep-
Chop all the required veggies. 
Prepare the idli-dosa batter. 
Make sure you have yogurt and other condiments required for this week.  
Soak the chickpeas for chole. 
Make sure to stock up some bread, naan, and dinner rolls. But if you plan to make them at home, plan and do it over the weekend or the day before. 
Disclaimer: This meal planner is specially designed based on my family's likings. I have a 12-year old son, and he can handle spicy food. He cannot reheat his food in school, so I try to avoid certain foods that need to be heated. I pack the lunch in stainless steel containers, mostly Lunch Bots or Thermos sometimes, and keep it in an insulated lunch bag. It keeps the food warm. Last but not least, I do pack leftovers.
Without any further ado, here is this week's meal planner.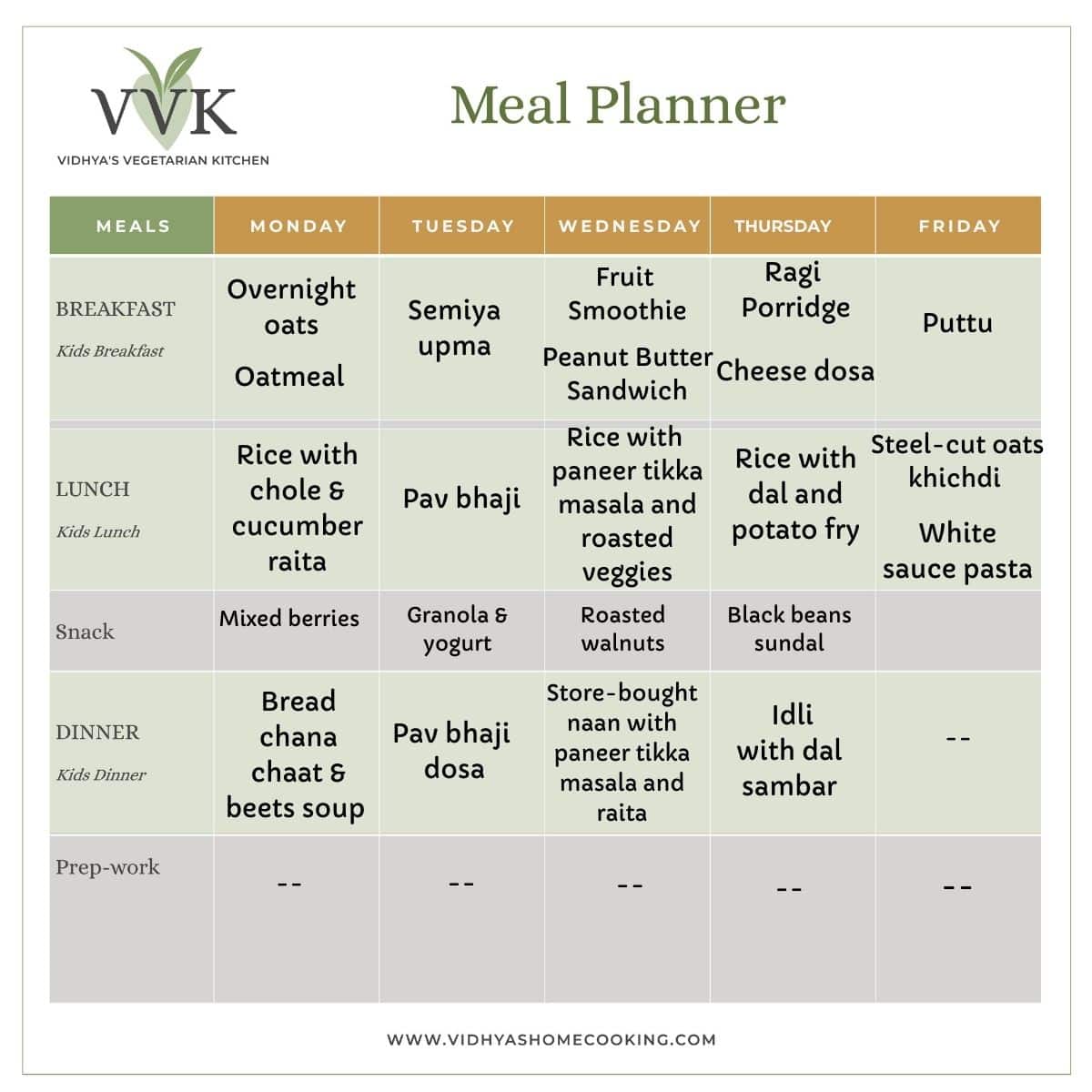 Now here are the details and the recipe links. 
Recipe Links Indian Vegetarian Weekly Meal Planner
Monday Menu
Tuesday Menu
Wednesday Menu
Breakfast – Fruit smoothie for us and peanut butter sandwich for the kiddo.
Lunch – Rice with paneer tikka masala and roasted veggies. (I will save the paneer tikka masala soon)
Dinner – Store-bought naan with paneer tikka masala.
Thursday Menu
Breakfast – Ragi porridge for us and cheese dosa for the kiddo.
Lunch – Rice with dal and potato fry.
Dinner – Idli with dal converted to sambar.
Friday Menu
I hope this menu planner helps, and you all can draw some inspiration. If you have any questions, please leave a comment below. I will share the daily updates on my Instagram and my FB group. So stay connected!
Stay Safe & Happy Cooking!