Five-day Indian meal plan featuring breakfast, lunch and dinner options! It's that time of the week where I share my weekly Indian vegetarian meal planner, and here it is.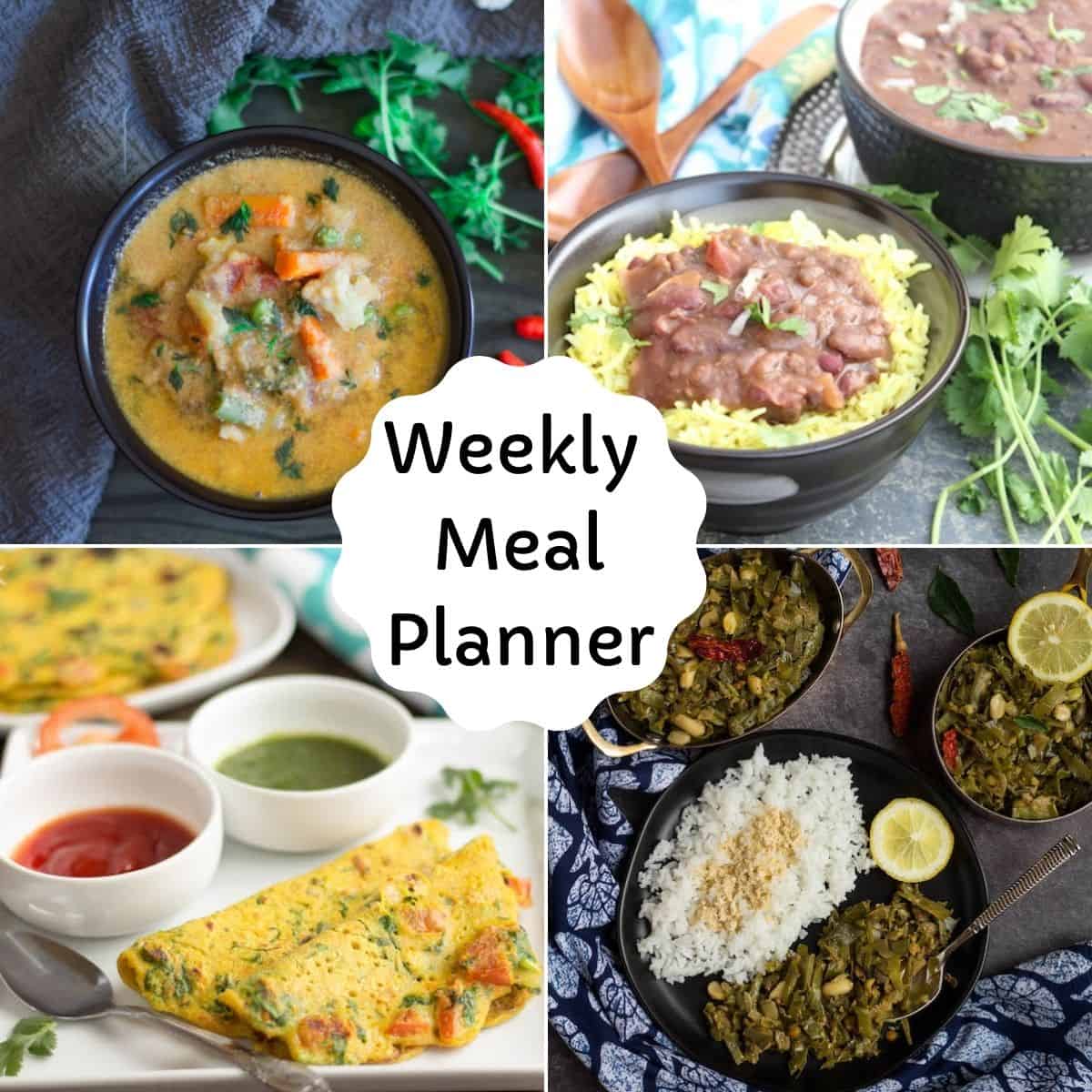 PS – Substitute the rice with grains of your choice.
For all my new readers, I have been sharing some meal planners for the past two years. I have shared over 25 meal planners, and you can check them out all under the "meal planner" category. All meal planners are unique, and I am sure you can draw some inspiration. 
Five-day Indian meal plan
I always share a five-day meal plan here on the blog, but that doesn't mean that I don't cook during weekends. We eat out, but usually, we have a heavy breakfast and skip lunch or brunch during weekends. There is no set pattern during the weekends. That's why I usually don't share them here. Also, Friday dinners I leave open. I mostly do my recipe testing on Fridays, or we end up eating out on Friday.
This week it's a mix and match of north and south Indian food. I have some besan puda, dal makhani, khichdi, along with sambar, rasam, and yogurt rice.
This week, I am not skipping veggies any day and trying to sneak in veggies in all the meals. :-)
PS – I don't have few recipes from this meal planner on my blog. I will update them soon.
I have been answering a few frequently asked questions around weekly meal planners for the past few weeks. Check out my previous faqs on these meal planners. I will soon consolidate them and share as a new post.
Do I need to follow a template for meal planning?
I should have answered this first before answering any other questions. :-) Better later than never.
And coming back to the template, I highly recommend it. I started with just breakfast, lunch, and dinner initially. Then I included kids' breakfast, lunch, and dinner along with a snack. Design your template according to your diet and lifestyle. If you follow intermittent fasting regularly, or if you prefer five small meals, then design your template accordingly.
I initially started by writing the meal plan and menu details in my notebook, and I still do it. I know it's old school, but I love to write. You can use excel also.
If you are a beginner, then start with the standard breakfast, lunch, and dinner option. As you continue to do, you can adjust according to your needs.
I hope this helps. If you have any particular questions, do let me know in the comments.
Without any further ado, here is this week's meal planner.
Meal-Prep-
Chop all the required veggies.
Prepare the idli-dosa batter.
Make sure you have yogurt and other condiments required for this week.
You can soak the lentils and sprout them during the weekend or soak them the day before.
I always knead the dough the previous day. But you can knead in bulk and refrigerate.
Cook the lentils and freeze them
Disclaimer: This meal planner is specially designed based on my family's likings. I have a 12-year old son, and he can handle spicy food. He cannot reheat his food in school, so I try to avoid certain food that need to be heated. I pack the lunch in stainless steel containers, mostly Lunch Bots, and keep it in an insulated lunch bag. It keeps the food warm. Last but not least, I do pack leftovers.
Without any further ado, here is this week's meal planner.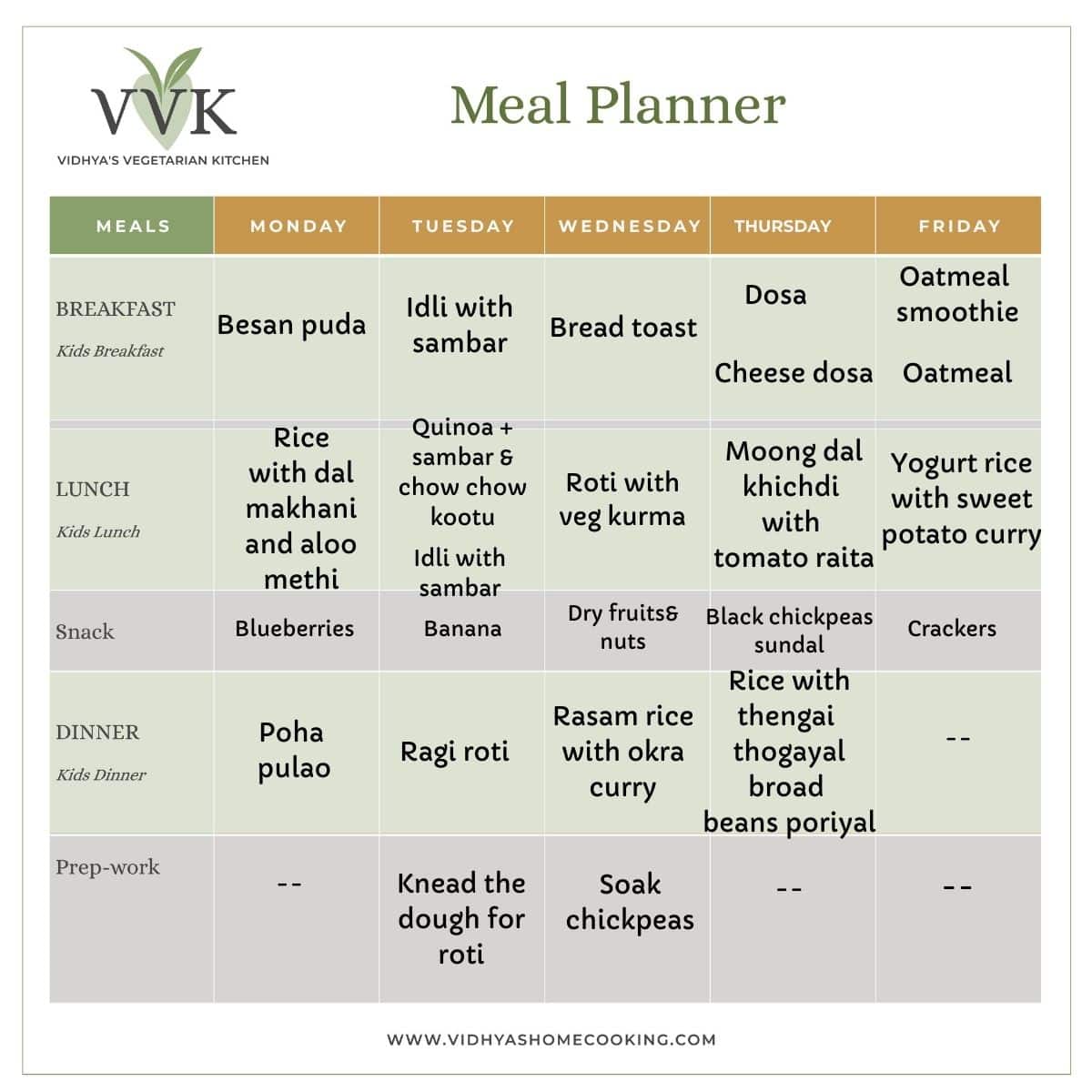 Now here are the details and the recipe links. 
Recipe Links Indian Vegetarian Weekly Meal Planner
Monday Menu
Tuesday Menu
Lunch – I am planning to pack idli with sambar for kiddo and make some chow chow kootu and pair it with rice and sambar.
Dinner – Ragi roti
Wednesday Menu
Thursday Menu
Friday Menu
Breakfast – Oatmeal for kiddo and oatmeal smoothie for us
Lunch – Yogurt rice with sweet potato curry.
** I don't have aloo methi, ragi roti, sweet potato curry, and poha pulao on my blog. I will share it soon.
I hope this menu planner helps, and you all can draw some inspiration. If you have any questions, please leave a comment below. I will share the daily updates on my Instagram and my FB group. So stay connected!
Stay Safe & Happy Cooking!
Vidhya