I should have posted this on Monday, Jan 5th ( which is the actual thiruvadirai), but as I had to post the themed food for Blogging Marathon and also as lot of non recipe posts came in between I wasn't able to post it and saved in the draft. So posting it today.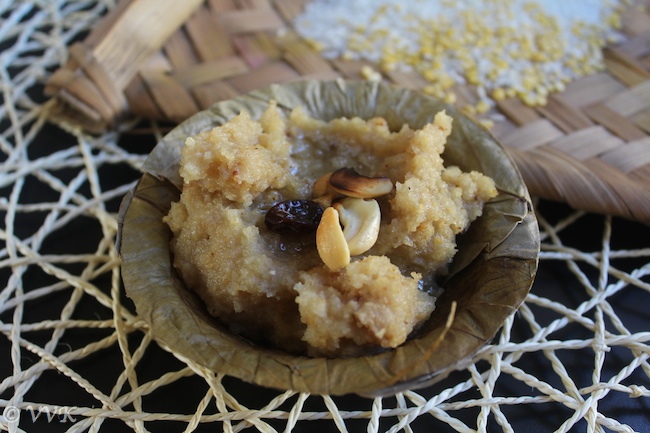 Errr.. I am not going to explain Thiruvadirai today. You can find great explanation here in the wiki. But I am going to tell why Kali and seven veggie (7 tan) sambar is prepared as the neivedhyam. One among the 63 Nayanmaars wanted to offer something for Lord Shiva. But he didn't have anything except for some dhals and veggies. So he made Kali out of the dhal and thick gravy kootu with all the veggies he had. He then went and kept the neivedhyams in the temple and next day the neivedhyam was inside the shrine indicating Lord accepted it and Lord Shiva blesses him with the the Arudhra Darshan. So from that point on Kali and 7 tan kootu became the prasadam for Thiruvadirai.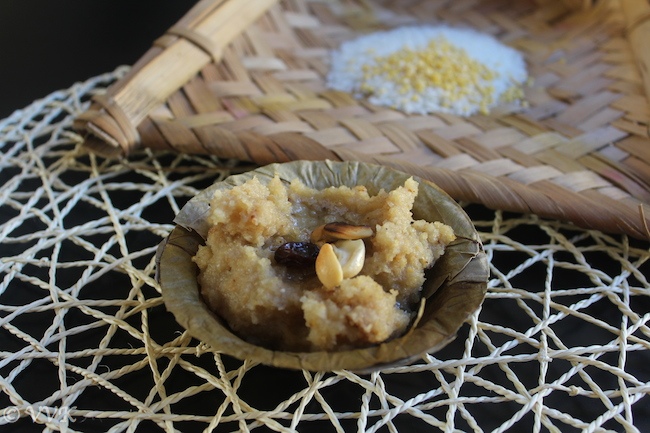 Thiruvadirai Kali
Ingredients:
Raw Rice – 1 cup
Moong dhal – 1/4 cup
Jaggery – 2.5 cups (adjust according to your taste)
Ghee – 3 tbsps
Elaichi powder – 1 tsp
Cashews and raisins – 1 tbsp each
Water – 4 cups
Steps:
Heat 1 tsp of ghee in the kadai and roast the rice and moong dhal, till they turn golden brown.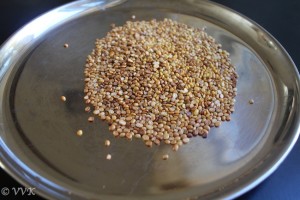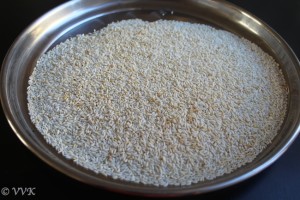 Dry grind into coarse powder.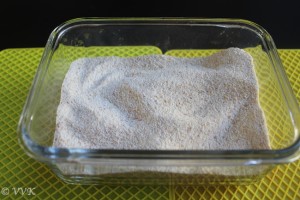 Now heat the pressure cooker and add the 4 cups of water and let it simmer.
Add the jaggery and elaichi powder.
Let the jaggery dissolve and then add the grinded mixture.
Now close the pressure cooker and let it cook for up to 3 whistles.
Once the pressure is gone, temper the cashews and raisins with the remaining ghee.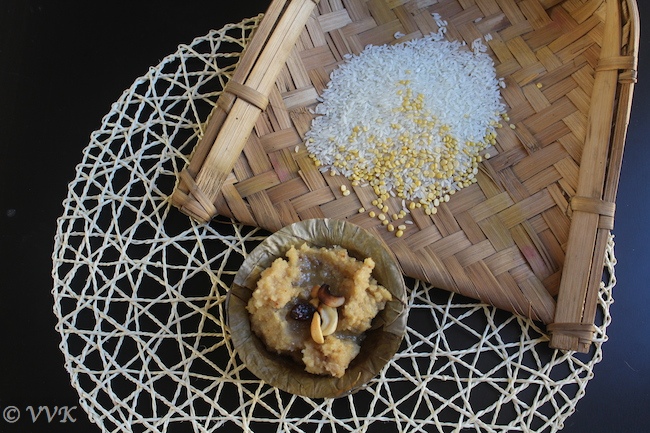 That's it. Kali is ready :-)