Here is festive thali spread with Bevu Bella that I prepared recently for the Ugadi Festival. This is precisely how we make back home, and I have replicated pretty much all the recipes here. No wonder it is close to my heart. Check out the detailed Kannada style Ugadi Thali Spread in today's post.

Like how I made my mind for preparing Onasadya, likewise I decide to make Ugadi Thali spread as well. The timing was perfect, and I made this thali just the day before yesterday for Ugadi. I had high hopes of posting it on the same day, but with other plans, it didn't work out. But I am to post it sooner than later.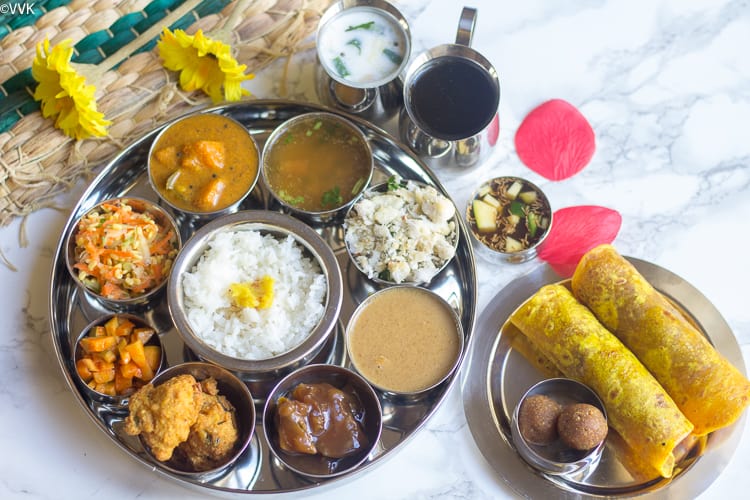 Ugadi:
Ugadi or Yugadi is the New Year's Day for the people of Karnataka, Andhra, Telangana, and Maharashtra. In Maharashtra, it is celebrated as Gudi Padwa. Yugadi means, Yuga (age) + adi (beginning). It is the beginning of the new age/year. We celebrate Ugadi on the first day of the lunisolar calendar.
The Feast:
We (parents and grandparents) are Kannadigas but born and brought up in Tamil Nadu. So our food is an amalgamation of both Kannada and Tamil cuisine. As my mother's maternal relatives were from Palakkad, my food has the Kerala style influence as well. And you can find all this in the below spread.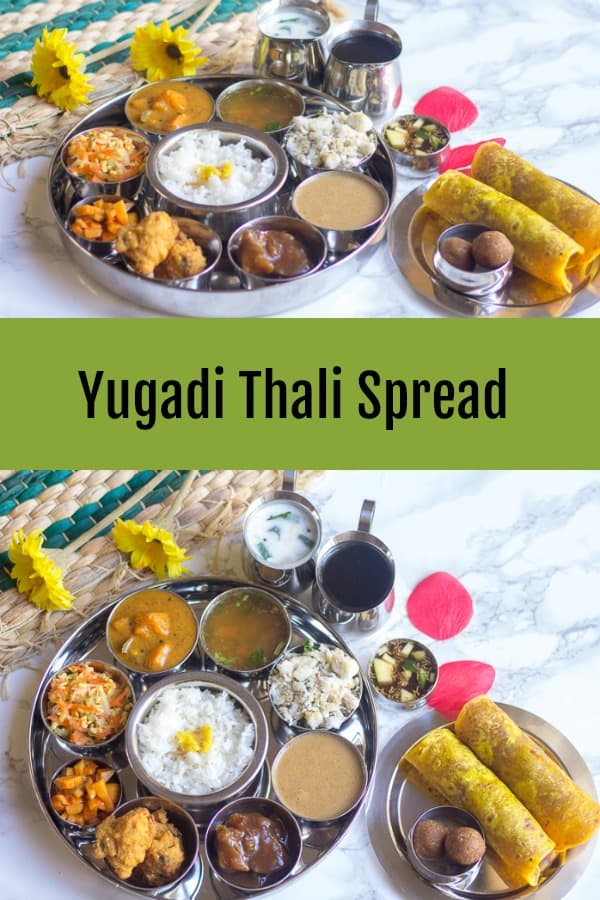 One thing that we don't skip on Yugadi is the Bevu Bella Pachadi, and I have explained its significance in this post. In this spread, I did not include any fryums as we don't fry store bought papad or fryums on Amavasya day. But you can add that as well. Here are the delicacies and their details. Between this is a no-onion no-garlic spread.
As always I have Anna (rice), Tovve (Cooked toor dal), Thuppa (ghee)
Pumpkin Sambar: Pumpkin Sambar with fresh ground coconut masala. You can replace the pumpkin with radish, drumstick, okra, ash gourd or a mix of these vegetables. Recipe here.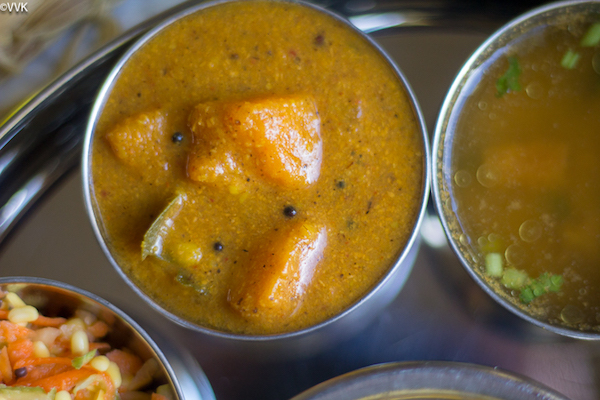 Balekai Palya | Raw Banana Curry: Simple raw banana stir-fry with coconut. Recipe here.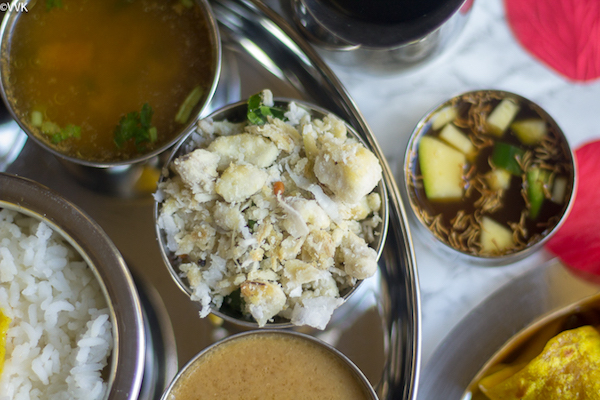 Mysore Rasam: Lip-smacking rasam with fresh ground coconut masala with the hint of pepper. Recipe here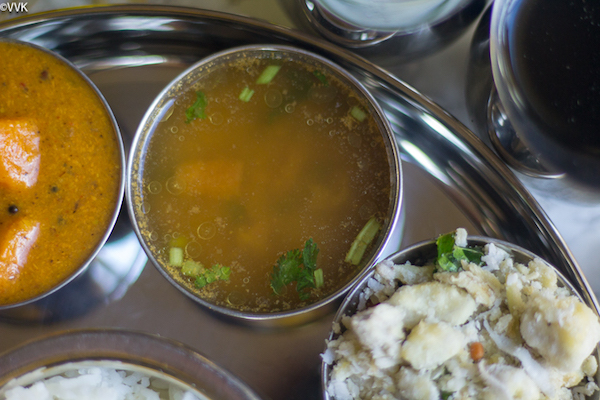 Gasagase Payasam – Delicious Kheer with the soothing goodness of poppy seeds. Recipe here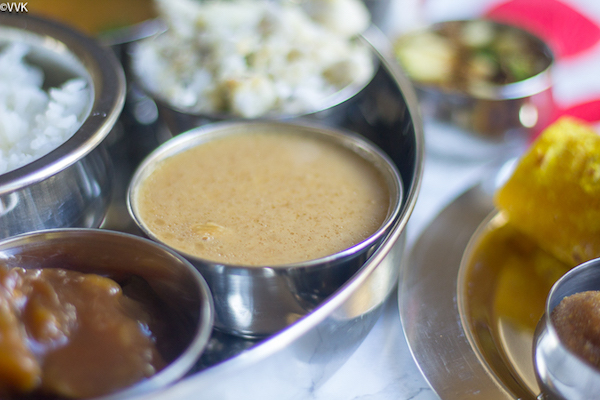 Mango Pachadi – A sweet mango relish that is not mandatory in Yugadi thali but as we like it very much it got added to the spread as well. Recipe here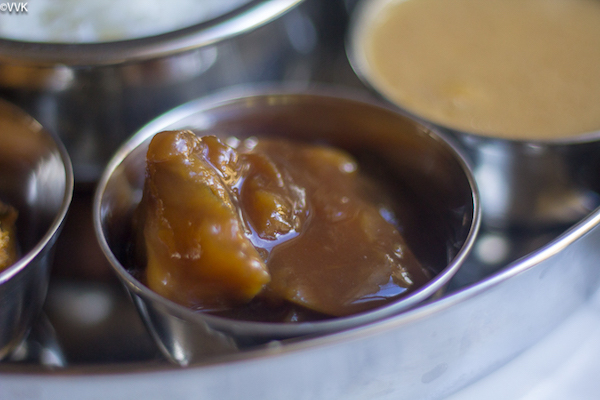 Bevu Bella – The famous yugadi pachadi prepared with raw ingredients like tamarind, jaggery, green chili, raw mango, dried/fresh neem flowers, and salt. Recipe here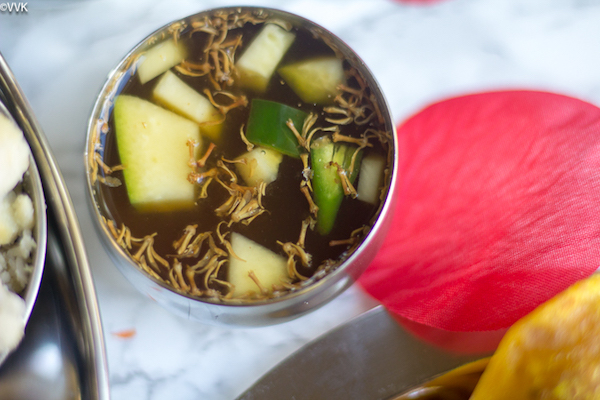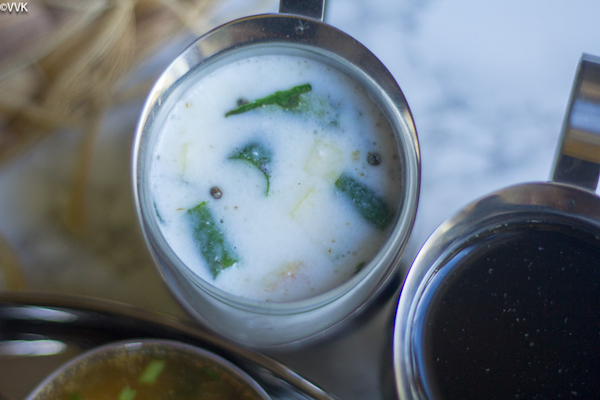 Paanaka – Jaggery and cardamom drink. A healthy and refreshing body coolant. Recipe here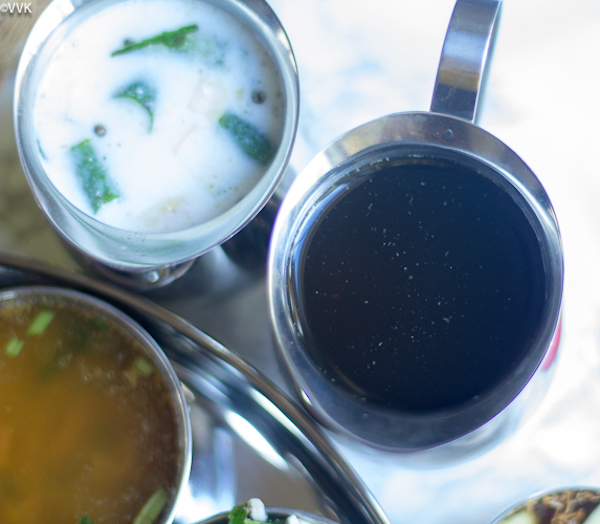 Kosambari – South Indian style moong dal salad with carrots, cucumber, and raw mango. Recipe here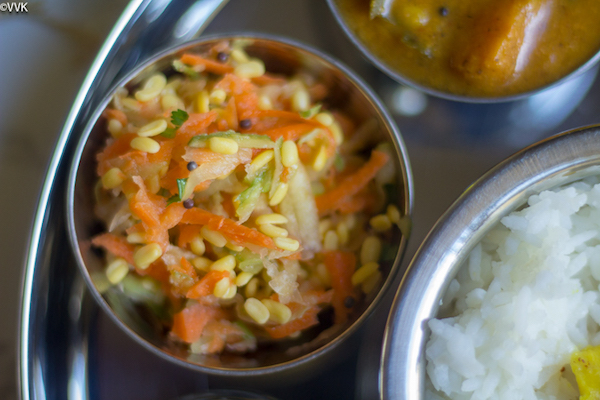 Thavala Vadai / Bele Vada – A festive special fried food prepared with mixed lentils, rice and with coconut but without any onion or garlic. Recipe here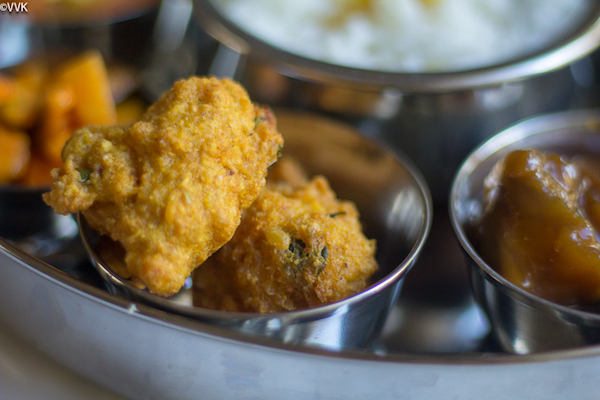 Mavinakayi Uppinakayi – Instant cut mango pickle. Recipe here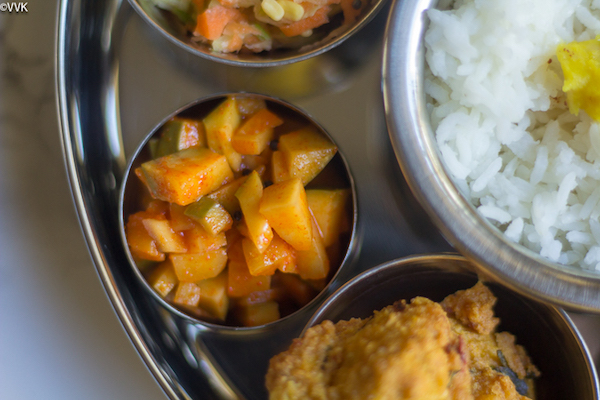 Obbattu – A sweet flatbread with channa dal – jaggery stuffing. Recipe in my Essential South Indian Cookbook. I will post a different version here soon. Those small laddoos are the leftover stuffing.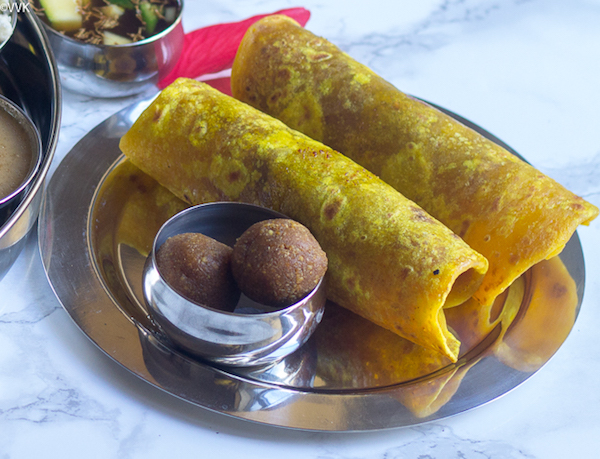 Sending this to Blogging Marathon #86. Check out the recipes shared by the other bloggers here.