With a 6 months baby at home and my masters education ahead, I have started blogging and here is the third recipe. This is also called as Vandikaara thuvaiyal. Its a rural slang meaning cart men basically they prepare this chutney and have this as a side dish for left over rice gruel.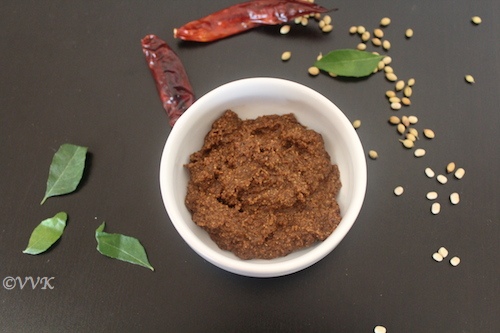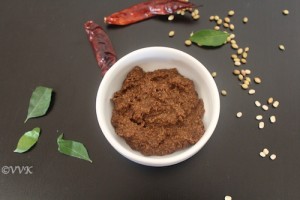 This thuviyal may seem like the masala that we use for arichu vitta sambhar, but we don't use methi seeds. Coconut and channa dhal are optional. I have tried adding them and also without adding. Similarly you can fry and grind the curry leaves along with the chutney or add it during tempering.
Ingredients:
Coriander Seeds [Dhaniya] – 3 tbsps
Urad Dhal – 1tbsp
Channa Dhal – 1 tbsp (optional)
Mustard seeds – ½ tsp
Dried Red Chillies – 3 – 4
Tamarind – Small gooseberry size (If using paste add 2 tsps)
Salt – as per taste
Oil – 1tsp
Asefotedia [Hing] – ¼ tsp
Coconut – 2 tbsps (optional)
Curry leaves – 1 strand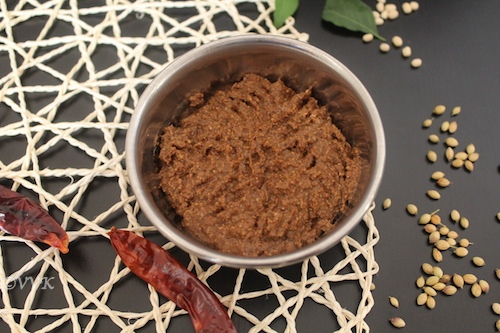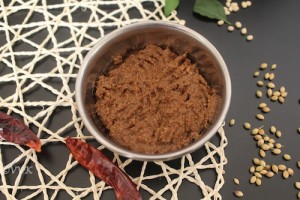 Steps:
Fry Coriander Seeds without oil and keep aside
Fry the other ingredients (urad dhal, red chillies, channa dhal) together.
Add the tamarind towards the end, when your are about to turn off the heat. Tamarind just needs to get softened.
Allow them to cool and grind them adding salt and little water.
Temper the mustard seeds in oil and add it to the chutney mixture.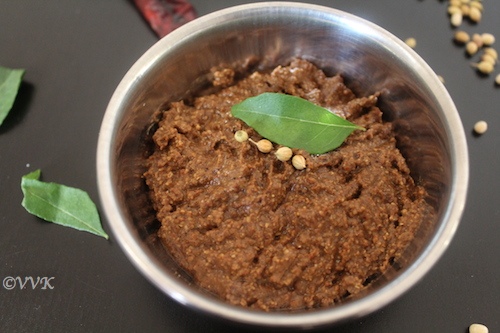 This is a spicy chutney. Serve with hot rice and ghee.
Note: Edited on Nov25th for pictures and explanation about vandikkara chutney