Submitting this post for Blogging Marathon #43 – A 3 day marathon for 4 weeks
Blogging Marathon page for the other Blogging Marathoners doing BM#43
Adi Perukku is one among the famous Tamil festivals which is celebrated on the 18th day of the Tamil month Adi (Aashaadha in Hindi). During this festival, we pay tribute to the perennial rivers and this festival is very famous in Cauvery delta. Also during this season, they do Mulai paari.
In Kalki's Ponniyin Selvan, hero Vandiyathevan is introduced on Adi Perukku eve. The very first chapter's title is Adi Thirunaal. (Being an ardent fan of PS, that's the main reason to choose this festival J )
During ancient days, basically for this festival  they prepare kootanchoru (mixed rice) and take it to the river beds and offer their prayers and enjoy the food there. In these days we make variety rice for this festival. So these three days you will be seeing different variety rice which can be made very fast. And I am going start with a sweet dish, vella sad am. (Vellam in Tamil means jaggery)
The main difference between sweet pongal and this is, for sweet pongal we use milk and we cook the rice along with milk/jiggery mixture. But for this we prepare the jiggery mixture separately and cook rice separately and mix them together. No milk required. I learnt this recipe from my MIL. I usually do it instead of kheer on some festival days too.
Here are the ingredients: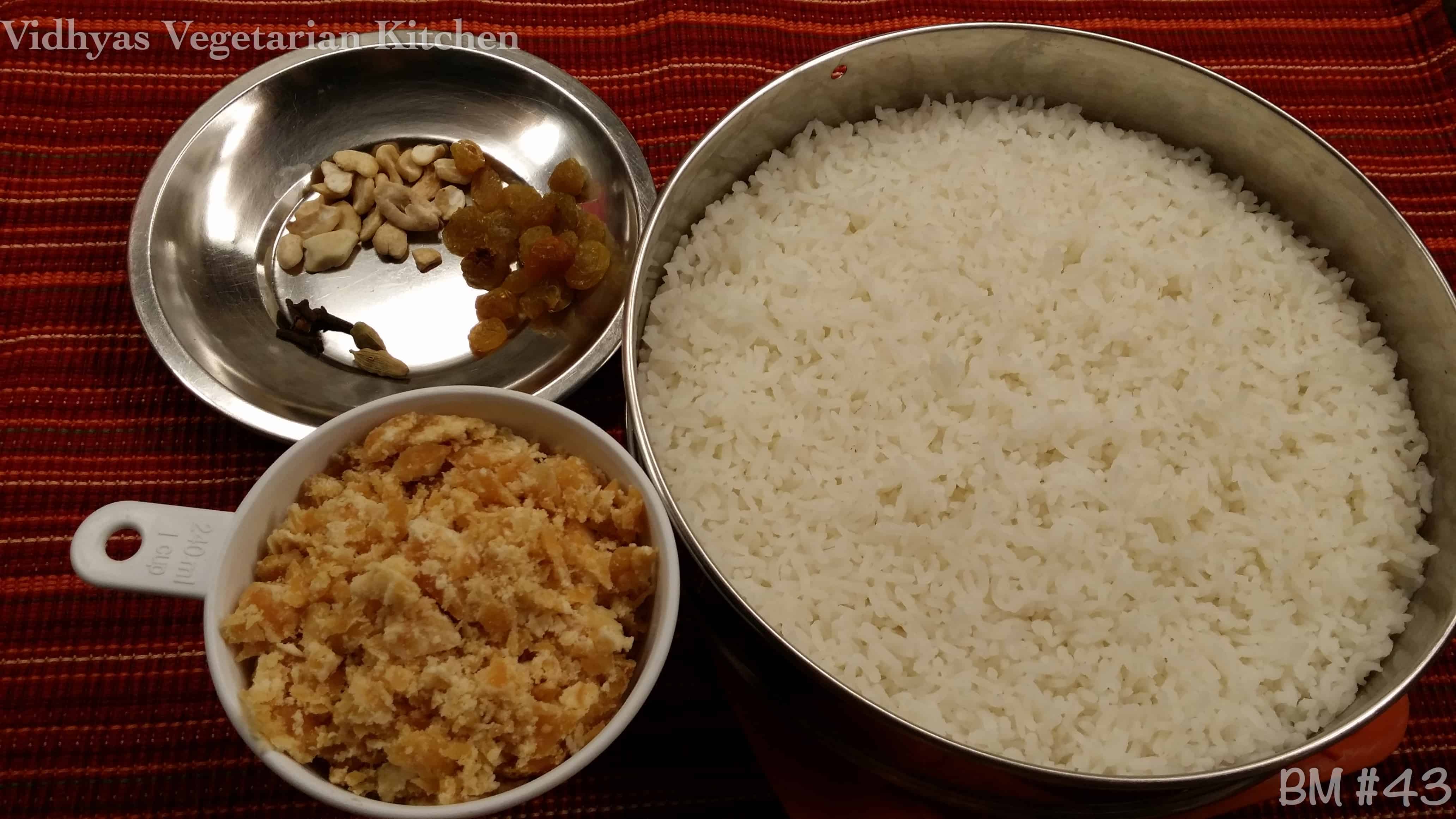 Rice – 1 cup
Jaggery – 1 cup
Water – 3 cups
Elaichi/Cardamom – 2
Cloves – 3
Cashewnuts – 2 tbsps
Raisins/Dried grapes – 2 tbsps
Steps:
Cook the rice in your convenient way either in pressure cooker or rice cooker or in microwave by adding 2 cups of water.
Crush the elaichi and cloves and keep it aside.
Heat a heavy bottomed vessel and add 1 cup of water.
When it boils, add the jaggery.
Once the jaggery melts, (it should't become thick in consistency), add the crushed elaichi, cardamom.
Also add cashew nuts and raisins.
Let it simmer it for couple of minutes and then add this mixture to the cooked rice.
Rice absorbs the jaggery water, so don't worry even if the water is little extra.
Thats it yummy vella sadam is ready.
Variations:
You can roast cashews and raisins in ghee and add it to the rice. But I prefer adding it to the jaggery solutions as it gets soaked well in the sweet water.