Here is my simple no-onion no-garlic Amavasya special lunch with plantain curry. Check out what veggies to use on Amavasya and why and the lunch menu details here.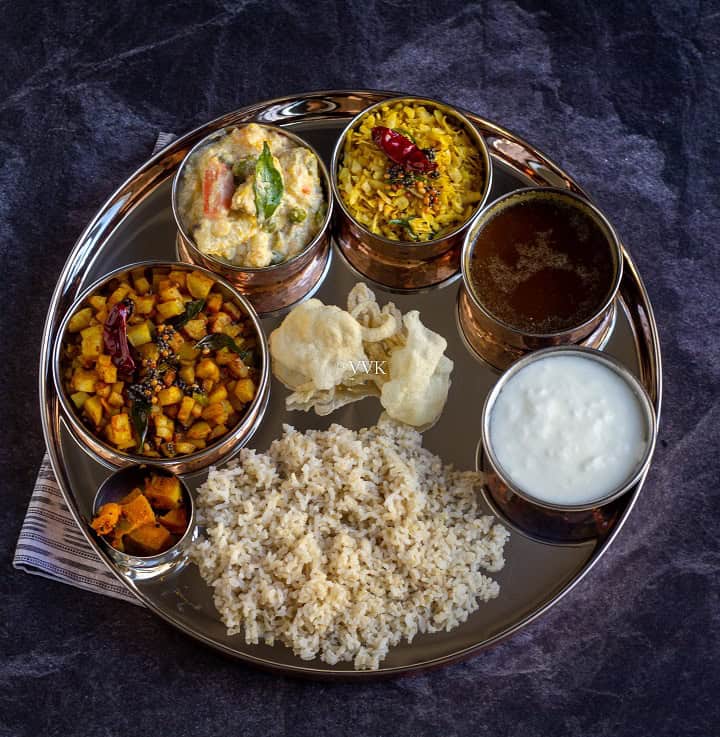 The entire last week, I posted some popular Indian flatbreads, and this week I am back with some South Indian lunch menu, but it's all festive or the auspicious day lunch menu this week. I am not going to share the popular ones like the pongal menu or the Ugadi menu. Let me not reveal them all now, so stay tuned.
Amavasya-
I am starting the festive lunch menu with the Amavasya lunch. Amavasya is the new moon day or no moon day. It's the day where the men in the family do the pitru tharpanam (a ritual where we pray and do the offerings to our ancestors)
There is a debate where Amavasya is an auspicious day or not. But in our family, we always consider Amavasya as auspicious, and we always start a new venture or initiative on Amavasya day.
The Amavasya days in ashada month, Navratri, Mahalaya Paksha Amavasya, is very auspicious, and we make kheer and vadai also on these days.
Veggies to Use on Amavasya Day-
My mom and MIL always make plantain or broad beans/avarakkai or bitter gourd on the new moon day. They try to use local country vegetables and avoid English vegetables.
Let me be honest here. I do make no-onion, no-garlic food on Amavasya, but I use veggies that I have in hand. If I have a raw banana I use, if not, I don't bother. As my in-laws are here with us now, we are making sure to use either veggie like broad beans, plantain, or bitter gourd in the menu and other veggies.
Now you may all wonder why we need to use these veggies.
So on the new moon day, we all know that the earth, sun, and moon are in the same line. The moon's gravitational forces are high on that day, and it affects the water bodies. That's why the tides are high on the new moon and full moon days. This moon's gravity impacts the human body, which comprises a lot of water. 
So we try to include veggies with high potassium and minerals, which helps to stabilize the body. These veggies act as detox too. I need to read more on this. I will update the post with reference links as I learn more about these. 
My Amavasya Lunch Menu-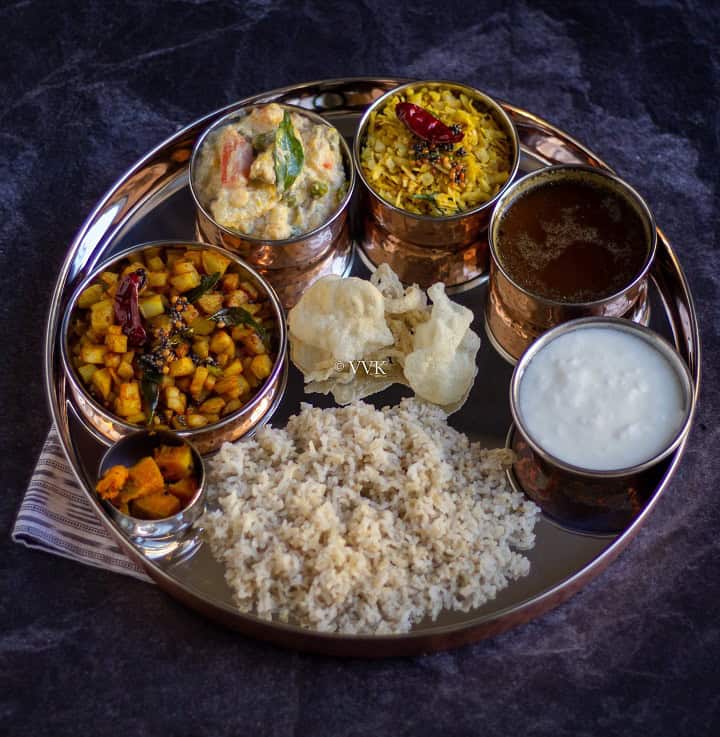 Today's lunch menu has many starchy veggies and water veggies and a no toor dal lunch.
For the avial, I have used some carrots and squash, but you can skip and use broad beans, raw banana, snake gourd, etc. I made some potatoes just for the kiddo. I baked a small amount just for the kiddo, and I included that in the thali.
So without any further ado, here are the recipe links.
Check out the Blogging Marathon page for the other Blogging Marathoners doing BM#116
You are invited to the Inlinkz link party!Click here to enter