Here is a super simple vella aval or sweet jaggery poha that we prepare for Gokulashtami. We usually prepare this Aval/Poha upma with jaggery for Janmashtami. Why do we prepare this upma with poha? Because Lord Krishna loves poha.
Yes I would like share the story of Krishna and Sudama. Many of us might know it already but here it is again.
This month started off a with a big bang for me – A crazy weekend trip to East Coast and we hosted our aunt and uncle from India which means a mini Bay Area tour and top of this I have a major release in 2 weeks. My mind is full of APIs, UAT and release plan. Luckily I prepared for the blogging marathon and kept a few recipes ready which is helping me a lot now. This tuesday we at IMC were discussing and planning what to do for Janmashtami/Krishna Jayanthi. Seems like this month is again going to be a festive month again with Janmashtami, Gowri Vratham, Ganesh Chaturthi and Avani Avittam (For Rig Veda it is end of september it seems) Luckily Amma is here with me so I will be able to manage. :-) Last year I posted pretty much all the snack that we do for Gokulashtami – Uppu Seedai, Vella Seedai, Thattai and Baked Murukku. The only two things left out were appam and Vella Aval. The easiest one is Vella Aval so prepared that and posted that this morning for IMC. (Preethi did Appam do check it out :-) )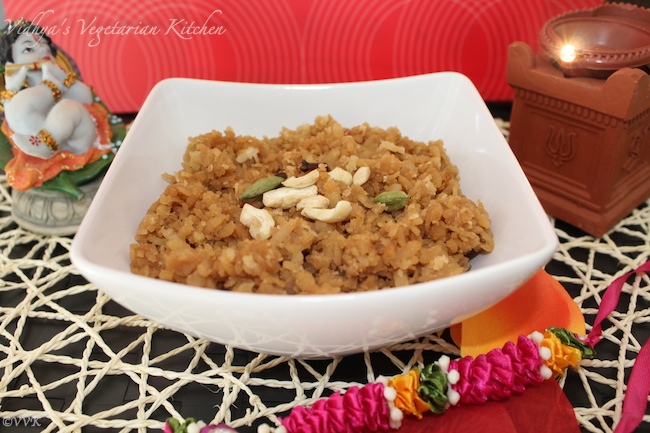 The tale of Sudama and Krishna comes from the Bhagavatam. They do their schooling together and after that they move on in their lives. Krishna becomes the king of Dwaraka whereas Sudama returns back to his town and lives a simple life. Sudama goes through bad time in his life and even in that situation he doesn't want to get help from krishna. But when things goes out of his hand he goes and meets his friend and he takes the beaten rice / poha for him. Krishna treats him royally and overwhelmed Sudama doesn't ask for help. When he returns to his home he finds a huge mansion in the place of his small house and notices all the wealth. He thanks Krishna and continues to live a simple life. This story emphasizes how an ideal friendship should be without any expectations and true devotion on Sudama.
So now coming back to the recipe, this recipe doesn't need any special occasion. Its a simple recipe perfect for toddlers and can be served as a snack too.
Ingredients:
Thick Poha / Aval – 1 cup
Powdered Jaggery – 3/4 cup
Elaichi / Cardamom powder – 1 pinch
Grated coconut – 2 tbsps
Water for soaking
Water – 2 tbsps
Steps:
Wash the poha nicely and let it soak in water for 5 minutes.
Then squeeze all the water out and let it sit.
Now add the powdered jaggery in 2 tbsps of water and heat it in low flame till the jaggery melts and turn off the heat.
Add this melted jaggery syrup, grated coconut and Cardamom powder to the poha and mix well. (You don't need to cook the poha the soaking in water makes it soft)
That's it. Yummy poha is ready.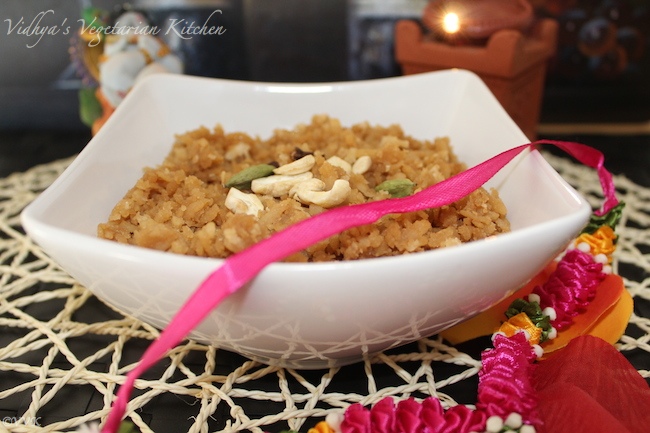 Notes:
You can add cashewnuts and raisins fried in ghee.