With Sankranti/pongal festival right around the corner, I am here with a Sankranti-special weekly meal plan with three days of simple recipes without any onion and garlic for the pongal festival.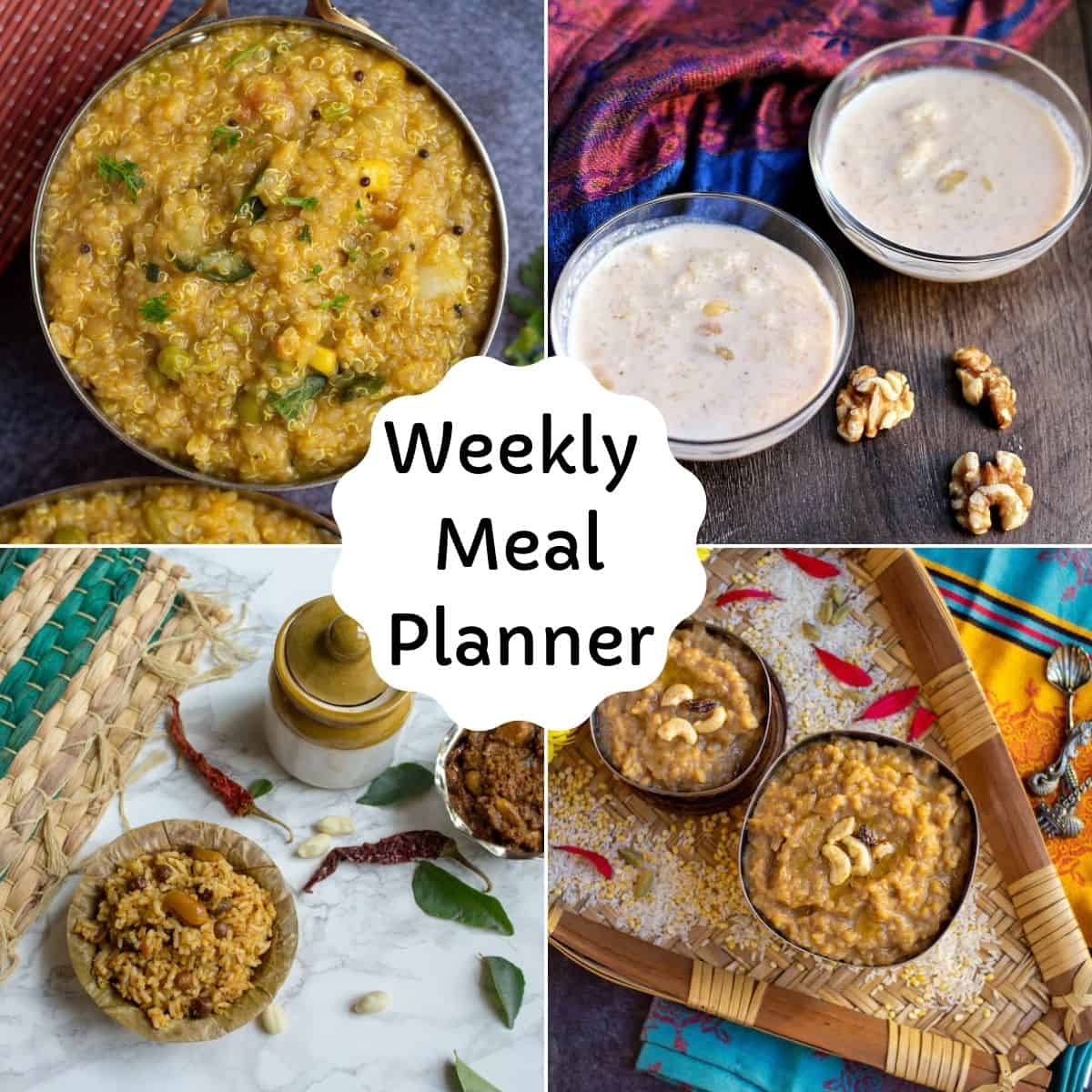 Here is my weekly meal planner with breakfast, lunch, and dinner options to make cooking fun and easy and helps you stay organized.
PS – Substitute the rice with grains of your choice.
For all my new readers, I have been sharing some meal planners for the past two years. I have shared over 20 meal planners, and you can check them out all under the "meal planner" category. All meal planners and unique, and you can draw some inspiration.
Pongal / Sankranti Festival
This week we celebrate the harvest festival in India, and every state in India celebrates this festival in a unique way. It's a three or four-day festival in Tamil Nadu. The first day is Bhogi and the second day is the main festival, Pongal and the third day is the maatu pongal, and the fourth day is the Kanu or kaanum pongal.
In our family, we celebrate it as a three-day festival. All three days we make some sweets. On Bhogi, we make kheer, paruppu vadai, and poli/boli/obbattu. And on pongal day, we make sweet pongal or the chakkarai pongal and urad dal vada/ulundu vadai. On the third day, we make different rice varieties like lemon rice, tamarind rice, and serve it with avial, more like Adi Perukku menu.
Back in India, we usually get the day off, but we don't have those perks outside India. As the festival falls on weekdays, I keep my menu simple with one-pot meals and easy kheer recipes.
Before getting into the sankranti special meal plan details, let me answer the meal planner's frequently asked question.
What veggies can we chop ahead, and how to store them?
Except for brinjal, cucumber, capsicum, tomatoes, and of course onions, I chop all my veggies beforehand. I wash them or either wipe them with a paper towel and pat them dry. Then I cut them and store them in stainless containers or reusable zip lock bags. They stay pretty fresh, especially cabbage, beans, long beans, carrot, cauliflower, beets, ivy gourd, etc.
Be cautious with veggies that ooze out water like the winter melon. You can boil potatoes and let them cool. Then peel the potatoes and store them. It comes in handy for potato masala or paratha fillings or quick wrap with a tortilla.
I hope this helps. If you have any particular questions, do let me know in the comments.
Without any further ado, here is the sankranti-special meal plan.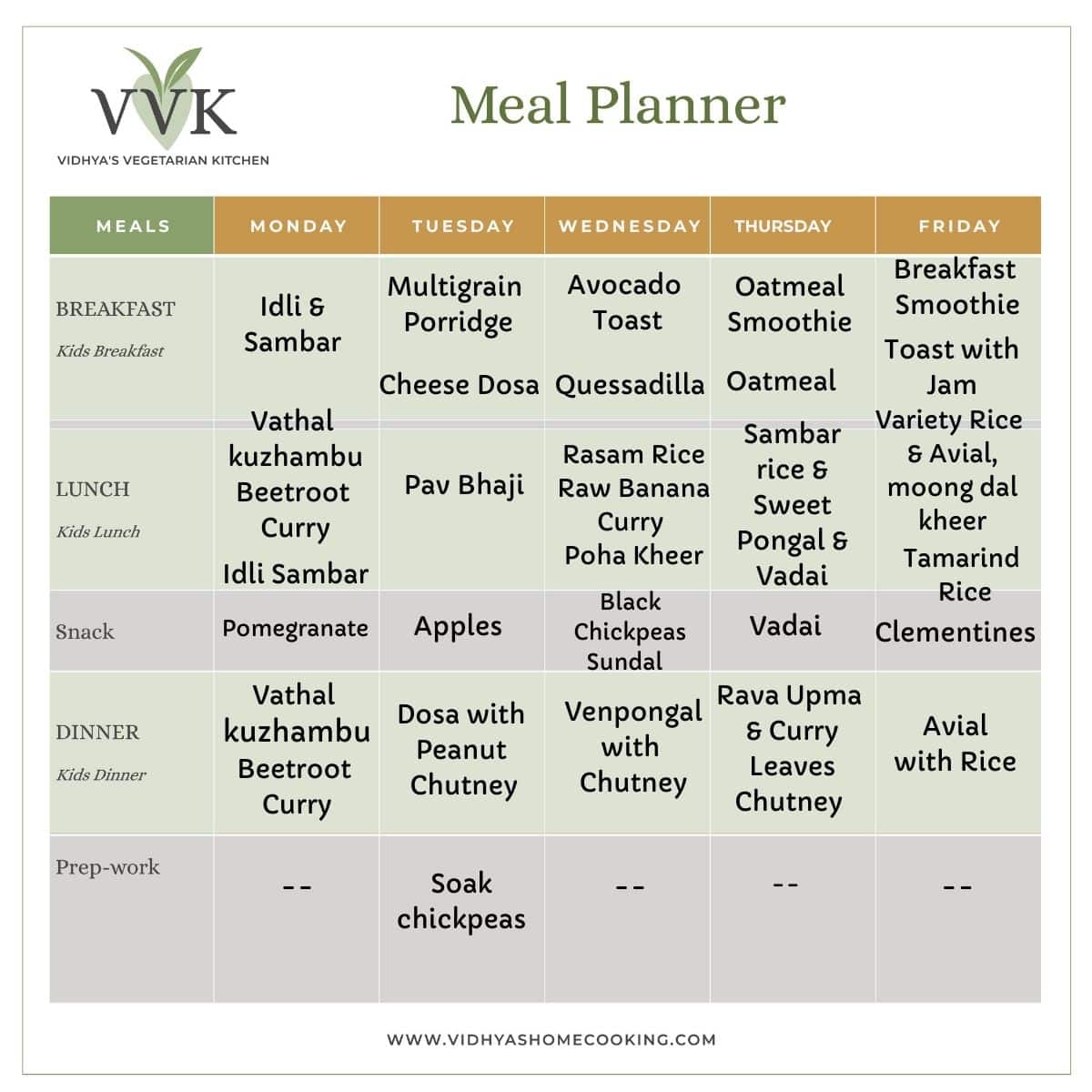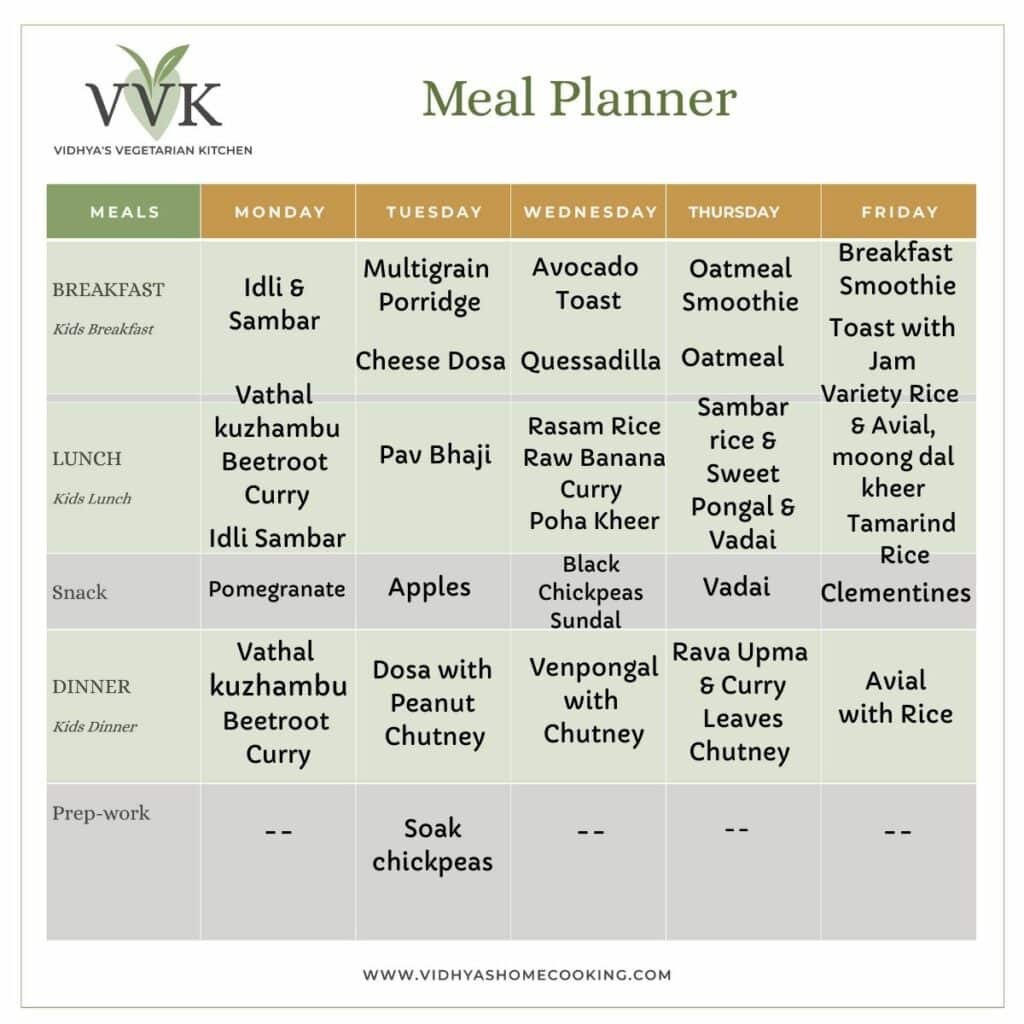 Meal-Prep-
Chop all the required veggies.
Make sure you have yogurt and prepare idli-dosa batter.
Soak the black chickpeas the day before or soak it before and let it sprout.
Cut the pomegranate and take out the pearls.
Now here are the details and the recipe links. I have highlighted the fruits and vegetables that I have used.
This week's fruits are pomegranate, apple, and clementines. Bananas will always be there.
Sankrati-Special Meal Plan Details & Recipe Links
Monday Menu
Tuesday Menu
Wednesday Menu | Bhogi Festival
Thursday Menu | Pongal
Friday Menu
Breakfast – I am keeping it simple with toast and simple fruit smoothie.
Lunch – Tamarind rice, lemon rice, yogurt rice with avial. Instead of jaggery rice, planning to make moong dal kheer.
Dinner – Rice with aviyal.
I hope this menu planner helps, and you all can draw some inspiration from it. If you have any questions, please leave a comment below. I will share the daily updates on my Instagram and my FB group. So stay connected!
Stay Safe & Happy Cooking!
Vidhya