Curry leaves are known for its taste and medicinal values (helps with digestion, keeps anemia in control and accelerates hair growth). Curry leaves are a mandatory ingredient in South Indian cooking and the tempering is incomplete without them. This is one of my favorite way of having curry leaves, in the form of chutney.
I tend to discard the curry leaves that we add in sambar or rasam but in this chutney form I don't have an option and moreover, I love this chutney be it with dal or tiffin. My mom prepares this chutney with and without coconut. But I personally like the addition of coconut.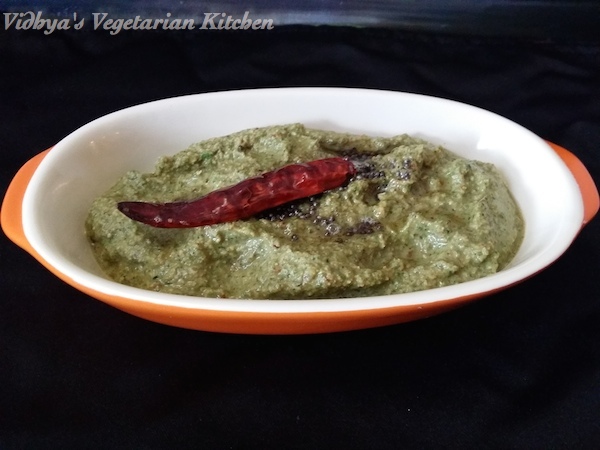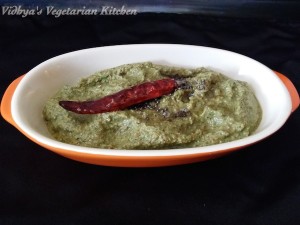 Ingredients:
Curry Leaves – 1 cup
Urad Dhal – 2 tbsp
Red Chillies – 3 + 1 for tempering
Tamarind – 1 small gooseberry size or 1 tsp of tamarind paste
Hing – 1 tsp
Salt – ¾ tsp (adjust to taste)
coconut – ½ cup (Optional)
Mustard seeds -1 tsp
Oil – for tempering
Water – ¼ cup
Method:
Wash curry leaves and drain the water
Fry dry roast the urad dhal without oil till they turn light brown.
Then add the red chilies and hing.
Turn off the heat and add the curry leaves and the tamarind. (If using paste no need to add them) These two ingredients just need the heat so that grinding becomes easy.
Let it cool and grind all the ingredients together with salt, tamarind, coconut (if using) and water.
Do the tadka or tempering separately. Heat the pan and add the oil. When the oil is hot add the mustard seeds and red chilly. As they start to crackle, add it to the chutney.
That's it yummy chutney is ready.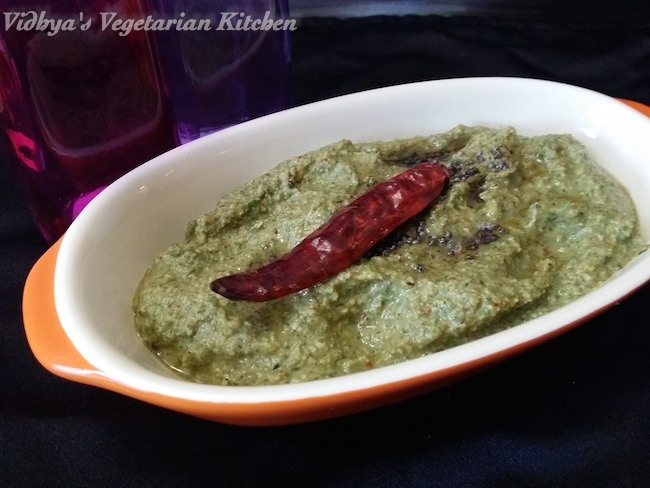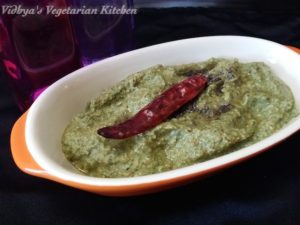 Notes:
I prefer adding coconut to this chutney as it adds flavor. If you are not using coconut, you can increase the amount of curry leaves to 1.5 cups.
Adjust the spice and tamarind as per your preference. Basically, this is tangy and spicy chutney which in turn adds longer shelf life.