Here is a "variety rice" or the kalanda sadam lunch thali that is usually prepared for the Aadi 18 or the Aadi Perukku. Check out what we usually make for aadi 18.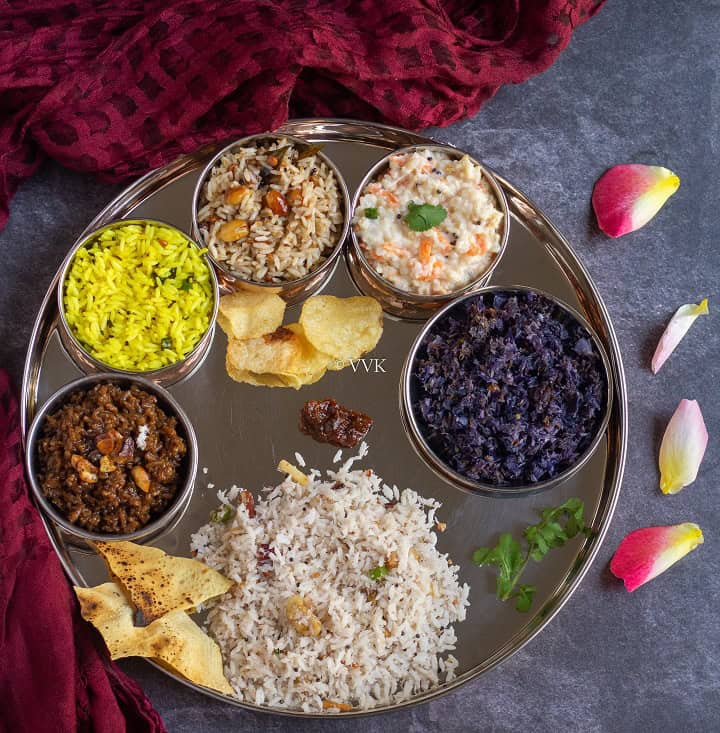 Before getting into the plate details, let me explain what aadi 18 or the aadi perukku is. I have shared these details on my IG posts before. (Ref – Post 1 and Post 2) And I am resharing the same here.
Aadi 18 | Aadi Perukku
Aadi is the Tamil name of the ashadha month of the Hindu calendar. It mostly falls in July/August of the Gregorian calendar. ⁠ The 18th day of this month is celebrated as Aadi perukku.
It more like a ritual/festival where we celebrate the onset of the monsoon. As wiki puts it, "Aadi 18 is a unique occasion dedicated to all the perennial river basins of Tamil Nadu and major lakes water source areas and is intended to celebrate the water rising levels due to the onset of monsoon.⁠
It's not our family custom to celebrate Aadi perukku, but we do cook and relish the feast on the same day.
Why kalanda sadam-
This is my thought. In those days, folks prepare mixed rice, take it to the river beds, offer their prayers, and enjoy the food there. Taking rice, sambar, rasam, and curry to the river bed would be difficult. So they make a variety of rice and enjoy it. Later it became a norm and custom.
The first chapter of Kalki's novel Ponniyin Selvan explains all about this festival. Being a Ponniyin Selvan fanatic, the first thing that comes into my mind is the first chapter of Ponniyin Selvan and, of course, Vanthiyathevan. Kalki starts the story on the auspicious day of Aadi 18. I wish I could get a time turner and get back to that period.
Aadi 18 Recipes-
Usually, we make kalanda sadam or the "variety rice" on this day. While you can make mint rice, cilantro rice, and other varieties, I keep it simple and go with a standard no-onion, no-garlic menu.
I usually make lemon rice, but I used the wild lemon/kadarangi from my backyard and made wild lemon rice this time. Along with that, I have tamarind rice, coconut rice, jaggery rice, yogurt rice, lemon pickle, papad, and store-bought chips.
A meal-plate is incomplete without a vegetable in our household. So I made purple cabbage poriyal. I have the green cabbage poriyal on my blog, and I am linking that below. But you find the purple cabbage version on my YT video.
Now without any further ado, here is the aadi 18 recipe list-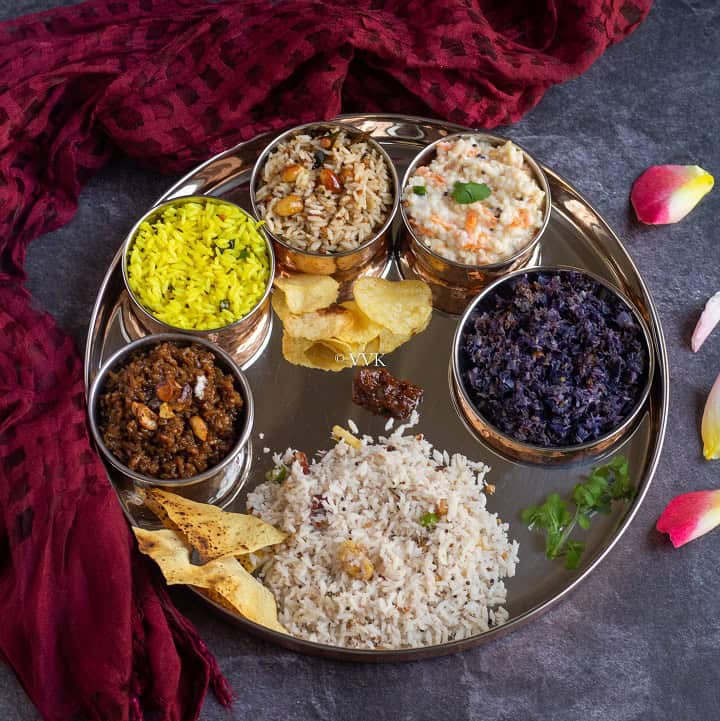 Kalanda Sadam Lunch Menu-
PS: Follow me on Instagram or join my Facebook Group for more gardening and recipe updates. If you try these aadi 18 lunch menu ideas, please don't forget to comment and rate this recipe. If you have any questions, please leave a comment, and I will get to it asap. Make sure to follow me on my Pinterest for more healthy and delicious ideas!
Check out the Blogging Marathon page for the other Blogging Marathoners doing BM#116
You are invited to the Inlinkz link party!Click here to enter