This sambhar is similar to
araichu vitta sambhar
but we use moong dhal instead of toor dhal and onions and tomatoes are must in this sambhar. This goes very well with idly and dosa and we call this as Tiffin Sambhar at home. For me if I say Tiffin Sambhar it means this moong dhal sambhar. You can serve with rice also and other veggies are optional. I usually add carrots and drumstick.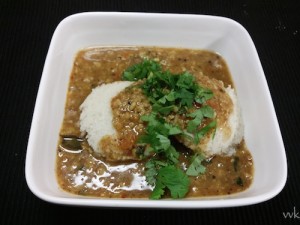 Ingredients:
Oil 2 tsps
Turmeric powder – 1/2 tsp
Curry leaves – 1 strand
Cilantro finely chopped – 1 tbsp
Shallots (Small onions) – 6-7 (optional)
1 medium sized onion – chopped lengthwise
Boiled Vegetables – Any (optional)
Tomatoes – 3 finely chopped
Green chilly – 1 slit length wise
Moong dhal – ½ cup
Tamarind small gooseberry size. Soak in water for minimum half and hour and extract the juice. If using tamarind paste, 1 tsp (if tomatoes are sour, you can skip tamarind)
For Tempering:
Mustard seeds – 1 tsp
Methi seeds – 1 tsp
Asafoetida/ Hing – 1/2 tsp
For Masala
Coriander seeds/Dhaniya – 3 tbsps
Channa dhal/Kadalai paruppu – 1-2 tbsp
Dried red chillies – 3
PrepWork:
Pressure cook the moong dhal with tomatoes and green chilly for unto 3-4 whistles and mash it well.
Dry roast all the above ingredients, and grind them into coarse powder without adding water.
Steps:
Heat the oil and add mustard seeds and fenugreek seeds.
Once they start crackling add hing and the chopped onion.
Cook the onion till they are translucent.

If you are using any veggies add them now (I prefer carrots and drumsticks) and then add the tamarind juice.
Add salt and turmeric powder.

Once it starts to boil, add the grinded Masala and the mashed moong dhal mixture.

Add water according to your consistency. Bring to boil.

If the sambhar is very thin in consistency, mix 1 tbsp of rice flour with 3 tbsps of water and add it to sambhar.
Garnish with coriander leaves and chopped cilantro and serve hot with idly or dosa.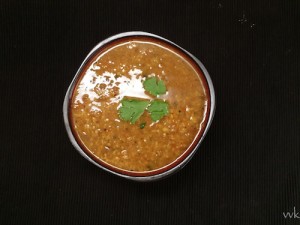 0