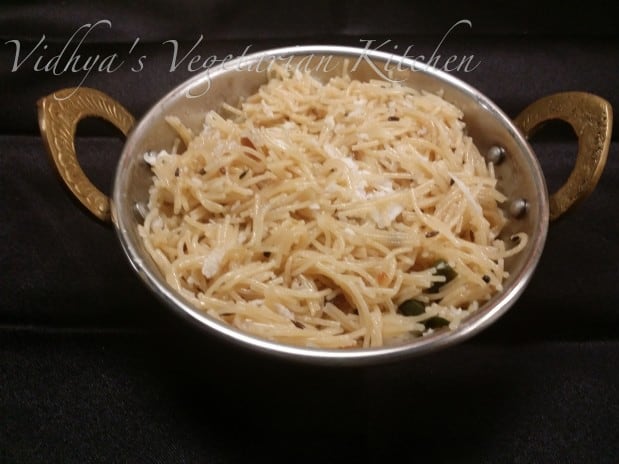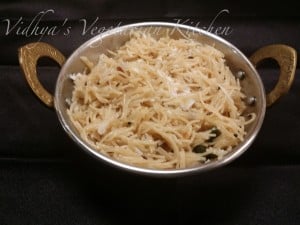 Do you remember this post? Food talks between me and Vaandu? Recollecting the first one alone here
Incident 1
Vaandu: Amma, what's for dinner?
Me: Semiya upma.
Vaandu: Ok, can you make it like how appa makes. (thinks a bit and tells)Err amma wait I will ask appa itself to make it.
Me: ????!!! (Nosecut) In a way I am happy, I don't need to cook. So from that point on, whenever its upma and be it whatever upma, hubby will be the chef.He does the cleaning too. (So whats so special in his upma, he adds coconut, cashews, groundnuts but no onion. Man, I need to agree, it comes out really well. Will post the recipe soon)
So here is that recipe. Its not my recipe, but its M ka recipe :-) I learnt to do it that way and in our household semiya is always without onion but with coconut.
Appa's Semiya Upma
Ingredients:
Roasted Vermicelli / Semiya – 2 cup
Green chilies – 2
Coconut – 1/4 cup
Water – 2 cups (1:2 ratio)
Curry leaves and cilantro – 1 tbsp
Salt – 2 tsps
For Initial Tempering:
Oil – 2 tbsps
Mustard seeds – 2 tsps
Jeera/Cumin seeds – 1 tsp
Urad dhal – 1 tsp
Channa dhal – 1 tsp
For Final Tempering:
Ghee – 2 tsps
Cashew nuts or groundnuts – 1 tbsps
Steps:
Heat the kadai and add oil. Once the oil is hot, add the tempering items given under initial tempering.
As they start to splutter add the chopped green chillies and sauté for a minute.
Then add the chopped cilantro and curry leaves and mix well.
Add 4 cups of water and salt and let it boil.
Once the water starts to boil, add the semiya and mix well so that it doesn't form any lumps.
Let it cook till all the water is absorbed.
Now add the coconut and mix well and turn of the heat.
In separate kadai or tempering pan, heat the ghee and add the cashews. Once they turn golden brown add it to the upma and mix well.
That't it yummy semiya upma is ready.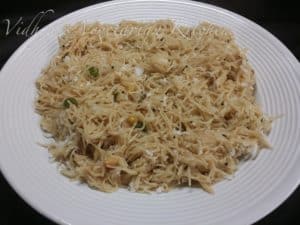 Submitting this post for Blogging Marathon #49 – A 3 day marathon for 4 weeks
Blogging Marathon page for the other Blogging marathoner doing BM#49