Do you want to incorporate more vegetables and millets in your diet? Then here is a perfect meal plan for you with loads of vegetables and millet options.
Like last week, this week also I am a bit late in sharing my meal planner. I hope next week I can post it soon. :-) If you are new to my space, then please don't miss to check out my previous meal planners.
Starting this week, I am planning to incorporate more vegetables and also complex carbohydrates, millets in my diet, and that's what you will see in this meal planner. You can always swap white rice with brown rice, or white rice mixed with quinoa, millets, or even with plant-based rice varieties.
Easy Ways to Incorporate Millets & Quinoa:
You can always include millets and quinoa in mixed-rice varieties like pongal, bisibelebath, or sambar rice. This week, I prepared my idli dosa batter with sorghum millet / cholam, as we say in Tamil. Also, you can see I am king pongal and sambar rice with millets instead of rice.
Another easy way to include quinoa is to add it along with the rice. If I am cooking 1 cup of rice, then instead of 1 cup of rice, I go with ½ cup of rice and ½ cup of quinoa. You can even start with ¾ cup of rice and ¼ cup of quinoa, and as you get acquired to the taste, you can increase the proportion.
Weekend Meal Prep:
Prepare idli dosa batter. As I mentioned before, this week I prepared my idli dosa batter with sorghum, and this is the proportion I used – 3 cups of sorghum, 1 cup of idli rice, 1 cup of urad dal, and 2 tsps of fenugreek seeds. I soaked them all for 7 hours and ground it into a smooth batter and fermented it. (PS: I am trying this proportion for the first time. I will let you know the results)
Chop all the vegetables. Except for brinjal, I chopped all the vegetables. For a veggie-loaded meal planner, make sure you keep all your vegetables cleaned and chopped. That makes it super easy, and be it a gravy curry or stir-fry, you can then make it in a jiffy.
Make pasta sauce. I am using store-bought sauce this time, but you can prepare the homemade sauce and store it as well.
Now without any further ado, here is this week's meal planner. Please find the recipe links below.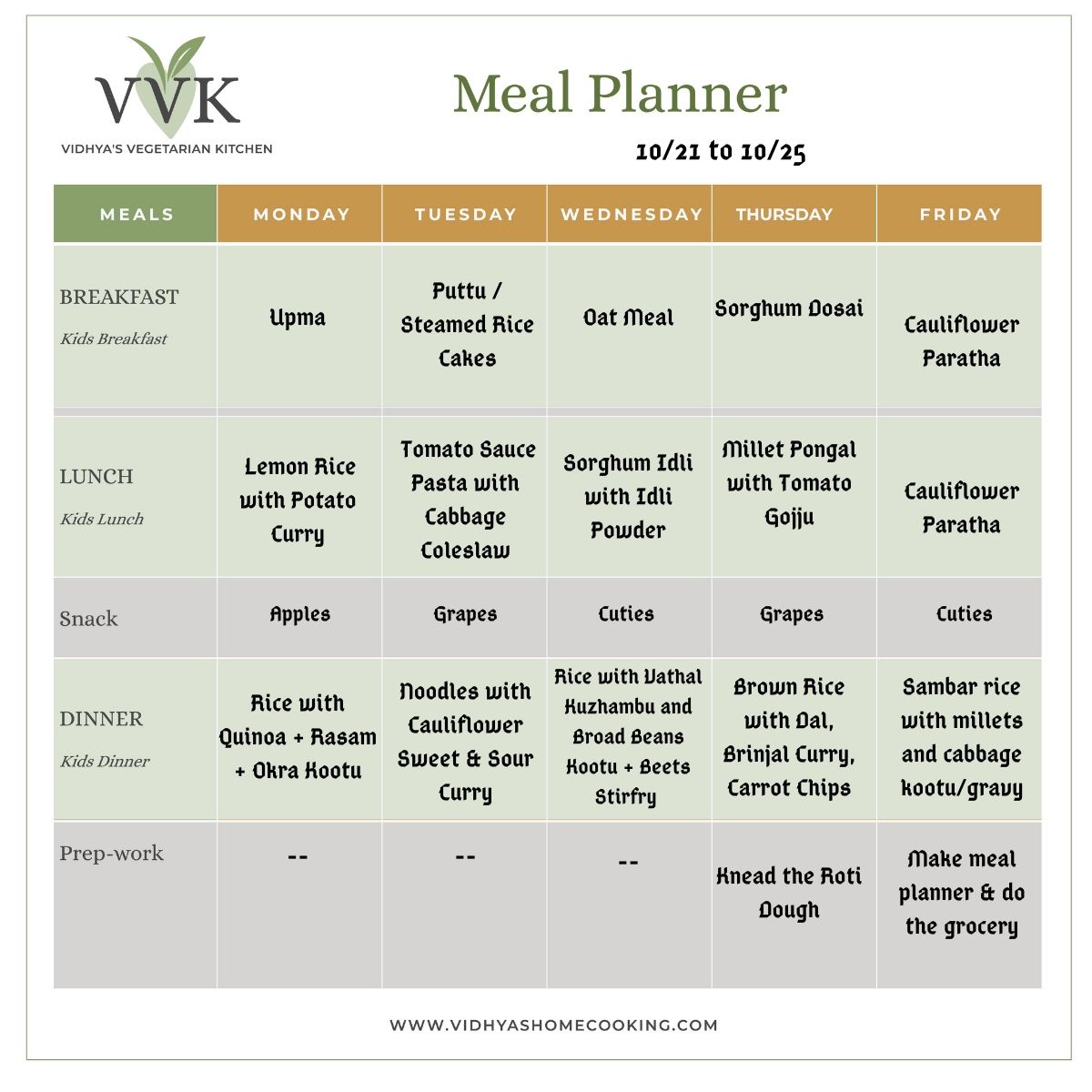 Recipe Links for this Week's Meal Planner:
Monday:
Okra Kootu (Not on my blog. I will update it soon)
Tuesday:
Wednesday:
Broadbeans Kootu (I will be updating the recipe soon)
Thursday:
Carrot Chips (I will be updating the recipe soon)
Friday:
I hope this menu planner helps and you all can draw some inspiration. If you have any questions, please leave a comment below. I will share the daily updates on my Instagram and my FB group. So stay connected!