Plans your meals/menu well ahead for stress-free cooking. Here is my ninth weekly meal planner for this academic year with some kid-friendly dishes. Read further to check the meal prep tasks and the recipe links.
I know I am late in publishing this week's meal planner. These days weekends are much busier than weekdays. Finally, I did grocery shopping, planned my weekly meals. Then I prepared the idli/dosa batter and chopped the veggies and all set for this post here on my blog. It's better to be late than never, huh?
Meal Prep Days:
Even though weekends are busier, try to set aside some time for meal preparation. The basic prep-work includes menu planning, chopping veggies, making some sauces (curry sauce or pasta sauce), cooking toor dal for sambar or other dal varieties, making idli batter, kneading the dough for roti, etc.
For this week, I chopped my broad beans, cauliflower, and carrots. I usually cut potatoes and cucumbers when required. Also, prepared the idli/dosa batter and also pressure cooked some dal for the sambar tomorrow.
The meal prep always makes cooking easy during the busy weekdays. Once you get into the routine, it will definitely become easier every week. I will share how we do meal prep as a family activity next week.
Menu Planners:
So far, I have nine menu planners (including this one) on my blog. Don't forget to check out my other meal planners. You can find quite a few on my Instagram as well. You can find them on IG with this hashtag – VVK Meal Planners.
Now without any further ado, here is the meal planner for the upcoming week. And find the recipe links below that.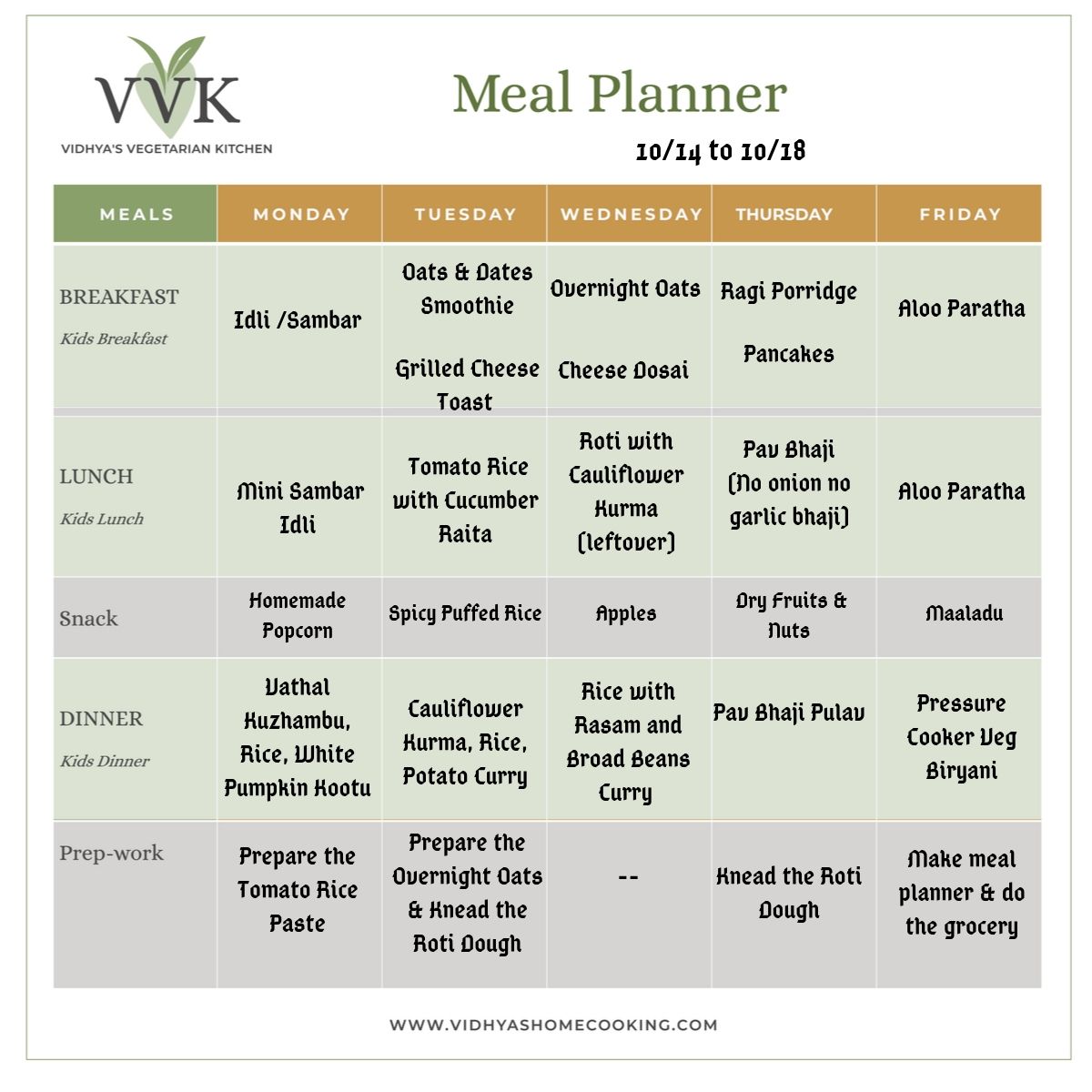 Monday:
Tuesday:
Wednesday:
Thursday:
Friday:
I hope you are all finding these meal planners useful. If I have missed any recipes, kindly let me know. Also, please share your feedback and thoughts.