Jeera and Pepper Rasam is one among the Tamil Nadu's comfort food. All the rasam varieties are great, but this one with loads of jeera and pepper has medicinal values. It helps in digestion and it's soothing for common cold and flu. This rasam doesn't need boiled toor dhal, it's easy to make and less time consuming than regular paruppu rasam.During postpartum they prepare this rasam and its very good for lactating mothers.

I follow my mother's recipe for Jeera Milahu Rasam. But some of you might think why to soak the ingredients instead dry roasting? Why do I add jaggery? So here I am with the reasons and with other variations to prepare this rasam.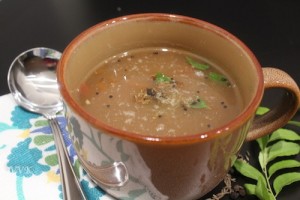 Adding jaggery is optional. I don't cook separately for my kid. So I try going with less spice and adding a pinch of jaggery. Also adding jaggery doesn't make the rasam sweet, rather it gives unique taste.
Instead of soaking the ingredients to be grinded, you can dry roast in a kadai and grind them. I follow dry roasting procedure for milahu kuzhambu, so for the rasam I go with soaking.
Also if you want the rasam to be spicier, along with pepper you can 1 dried red chilly.
Toor dhal 1 tbsp., given under grinding is also optional. It gives nice flavor.
Pepper, jeera, and curry leaves are the must for this rasam.
Ingredients:
To grind:
Pepper – 1 tbsp.
Jeera/Cumin Seeds – 2 tbsps.
Curry leaves – 2 strands
Toor dhal – 1 tbsp (You can ignore this if you are doing this for lactating mothers. Toor dal is hard to digest for infants and might cause colic problems.)
Garlic – 1 clove (optional)
For Tempering:
Ghee or oil – 2 tsps. Or as required
Mustard seeds – 1 tsp
Jeera – 2 tsps.
Hing – 1/2 tsp
For Rasam:
Tomato- 1
Tamarind- medium gooseberry size
Salt – as per taste
Turmeric- 1/2 tsp
Cilantro- 2 strands
Jaggery – small piece (optional)
Water – 3 cups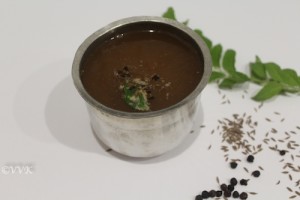 Steps:
Soak the ingredients given under to be grinded in water for 15 mts. and grind them coarsely.
Soak the tamarind in water and extract the juice. (1 to 1.5 cups) If using the pulp, mix 1 tbsp. of tamarind pulp in 1 cup of water.
Take the vessel in which you are going to make the rasam.
Add the tamarind extract, grinded masala, 1 cup of additional water, salt, turmeric, jaggery, chopped tomato and chopped cilantro. Mix them well and now you can check for salt and adjust accordingly.
Now keep it in the stove and let it simmer in medium heat.
When it begins to form the froth add 2 cups more water and let it simmer in low heat.
Turn of the heat when the froth forms completely. Don't let it boil.
In a separate kadai or seasoning ladle heat the oil or ghee. When it is hot add Mustard seeds, hing and jeera. Once they start splutter add this to the rasam.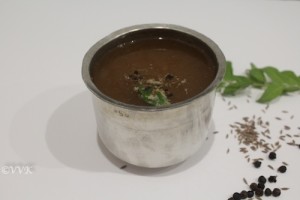 Serve it with hot rice along with mild dry curry like cabbage/beans/carrot etc. Or the best combo is sutta appalam :-)
3