A weekly vegetarian meal planner with "variety rice" options, and that's what I have for you this week. Check out what I have on my menu for this week.
Here is my weekly meal planner with breakfast, lunch, snack and dinner options to make cooking fun and easy and helps you stay organized.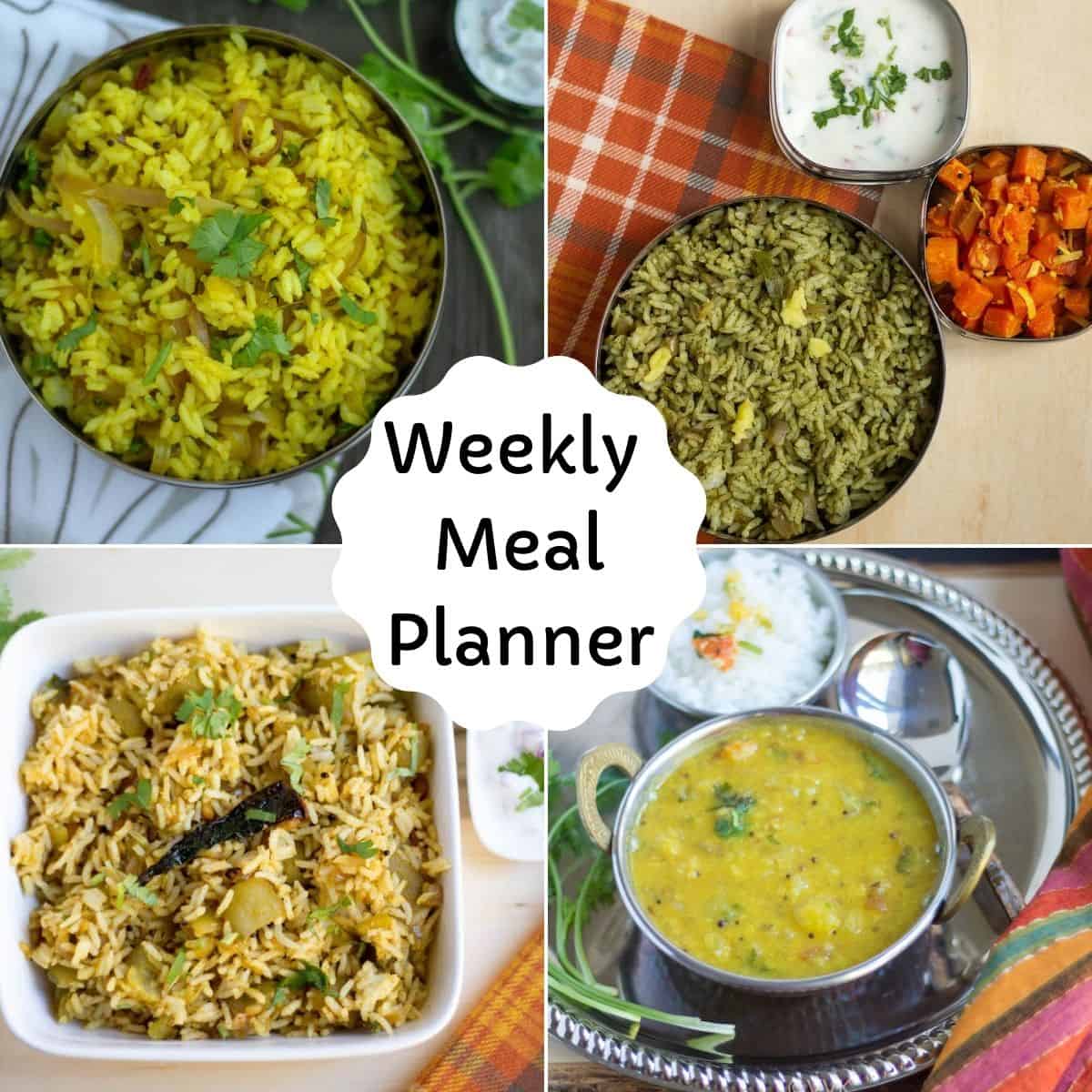 PS – Substitute the rice with grains of your choice. And yes we eat rice for dinner. We usually have our dinner before 6 PM and it has always worked for us.
For all my new readers, I have been sharing some meal planners for the past two years. I have shared over 22 meal planners, and you can check them out all under the "meal planner" category. All meal planners and unique, and you can draw some inspiration.
This week I am making kiddo's favorite dishes and he loves "variety rice" recipes for lunch. And that's why I have onion rice, mint rice, and ridge gourd rice on this week's menu. Potato curry, dal and rice, brinjal curry all are his favorites. Building this week's meal plan was relatively easy. :-)
I have been answering a few frequently asked questions around weekly meal planners for the past few weeks. Check out my previous faqs on these meal planners. (Planner-1, planner-2, and planner-3)
One of the common questions is, do I go grocery shopping first and then do the meal/menu planning or plan and then shop for groceries?
Meal/Menu planning before or after grocery shopping?
70% of the time, I do the grocery shopping first and then do the meal planning. But there times like this week, where I planned the menu(all kiddo's favorites) and then did the grocery shopping. Both have their pros and cons.
Doing the grocery shopping first-
You can buy fresh seasonal produce, and you are not bound to any particular meal planner. You can then plan around the produce and groceries that you have in hand. But be careful not to overbuy. There are times where I have bought more than required and wasted a few as well.
As I do the grocery shopping, I make a mental note of some meal ideas, and then after coming home, I modify and write it down.
Doing the meal planning first-
I plan my meals, especially if there are any special occasions or festivals or throwing a get-together. In that case, I plan what I am going to cook and buy the groceries accordingly.
You might wonder, why can't we always do the meal planning before doing the groceries. I love seasonal and fresh veggies. But at times, I forget the seasonal veggies and always plan around our favorites. Also, the veggies I choose might not be available in the store, or they might not be fresh.
So I tend to do the grocery shopping first, and I plan my menu with what I have in hand.
I hope this helps. If you have any particular questions, do let me know in the comments.
Without any further ado, here is this week's meal planner.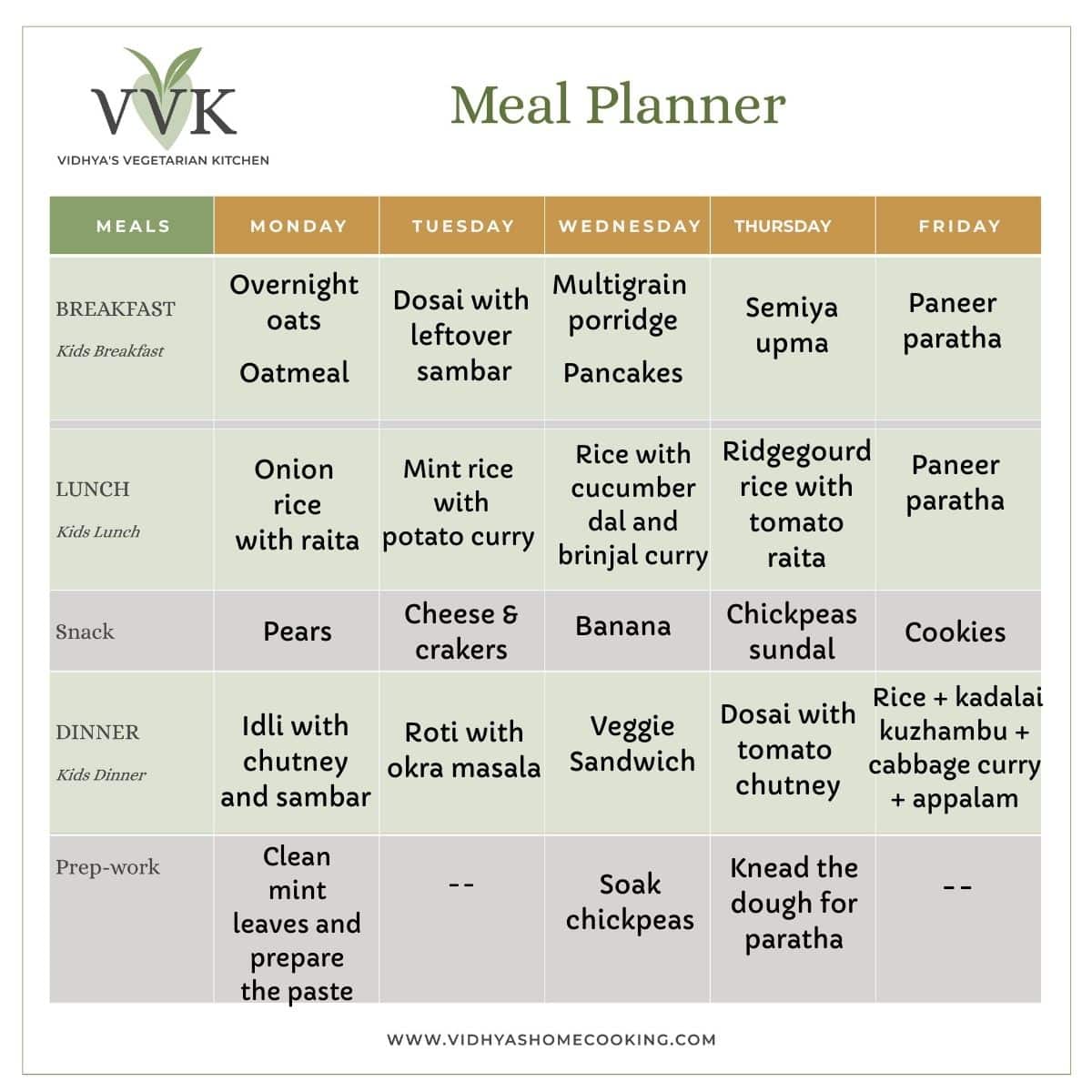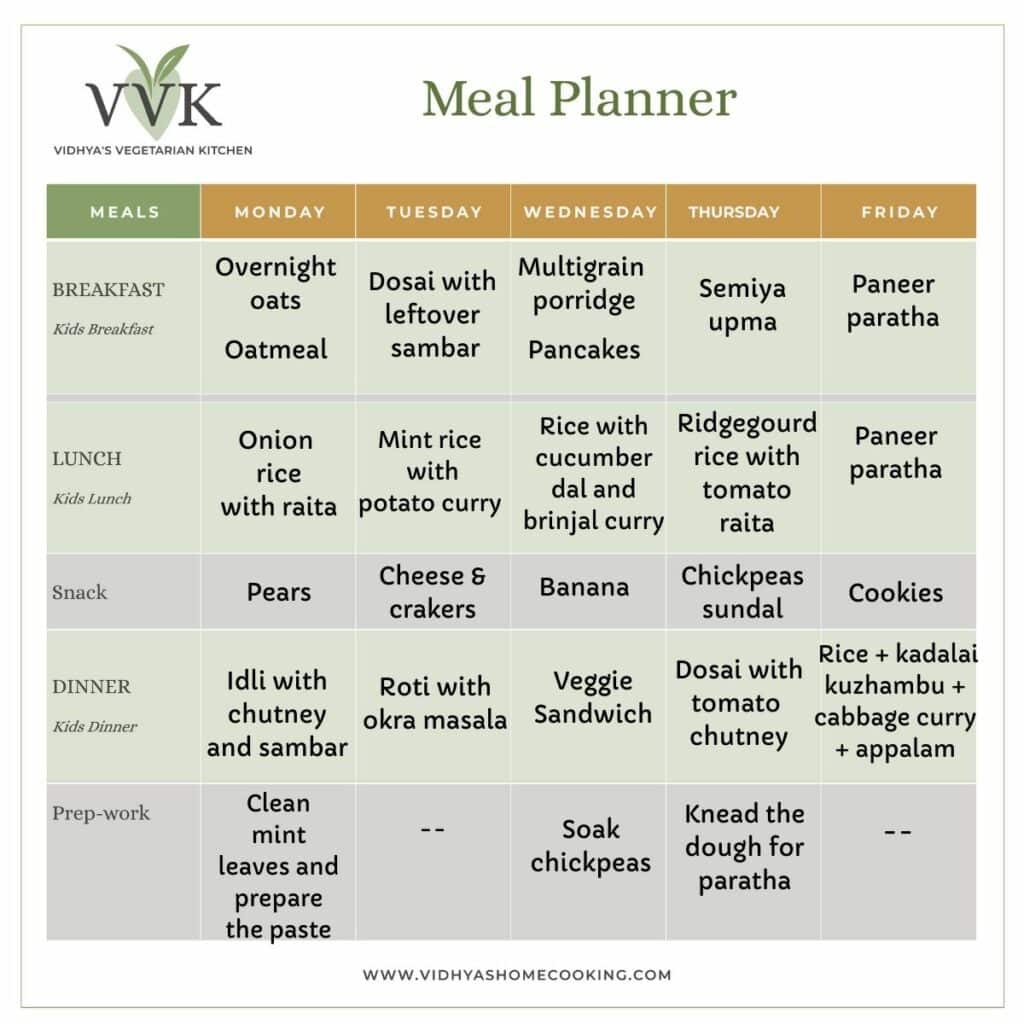 Meal-Prep-
Chop all the required veggies.
I usually knead the dough for roti the day before. You can knead it in bulk and save it the refrigerator.
If you are planning to sprout the chickpeas, please soak one day before and sprout it.
Make sure you have yogurt and prepare idli-dosa batter.
Recipe Links For the Weekly Meal Planner with Variety Rice Options
Monday Menu
Tuesday Menu
Breakfast – Dosai with leftover chutney and sambar
Lunch – Mint rice with potato curry.
Dinner – Roti with okra masala. I don't have the okra masala / bhindi masala on my blog. I will share it soon.
Wednesday Menu
Breakfast – Multigrain porridge for us, and it's the pancakes for the kiddo.
Lunch – Rice with cucumber dal and with brinjal curry. You can use yellow cucumbers or green cucumbers or bottlegourd or chayote squash for this. Instead of veggies you can add spinach also.
Dinner – Veggie sandwich. I am planning to make it more like the Iyengar-bakery style open sandwich. I will soon share the recipe.
Thursday Menu
I usually skip onions and garlic on Thursday and also make a legume stirfry or sundal that I can offer as prasadam or neivediyam and use the same for our snack.
Friday Menu
I am planning to make some homemade cookies this week. But you can use store-bought or homemade cookies.
I hope this menu planner helps, and you all can draw some inspiration. If you have any questions, please leave a comment below. I will share the daily updates on my Instagram and my FB group. So stay connected!
Stay Safe & Happy Cooking!
Vidhya