A veggie-loaded meal planner more like a fridge-cleanup one after the Sankranti festival!. Check out what I have on my menu for this week.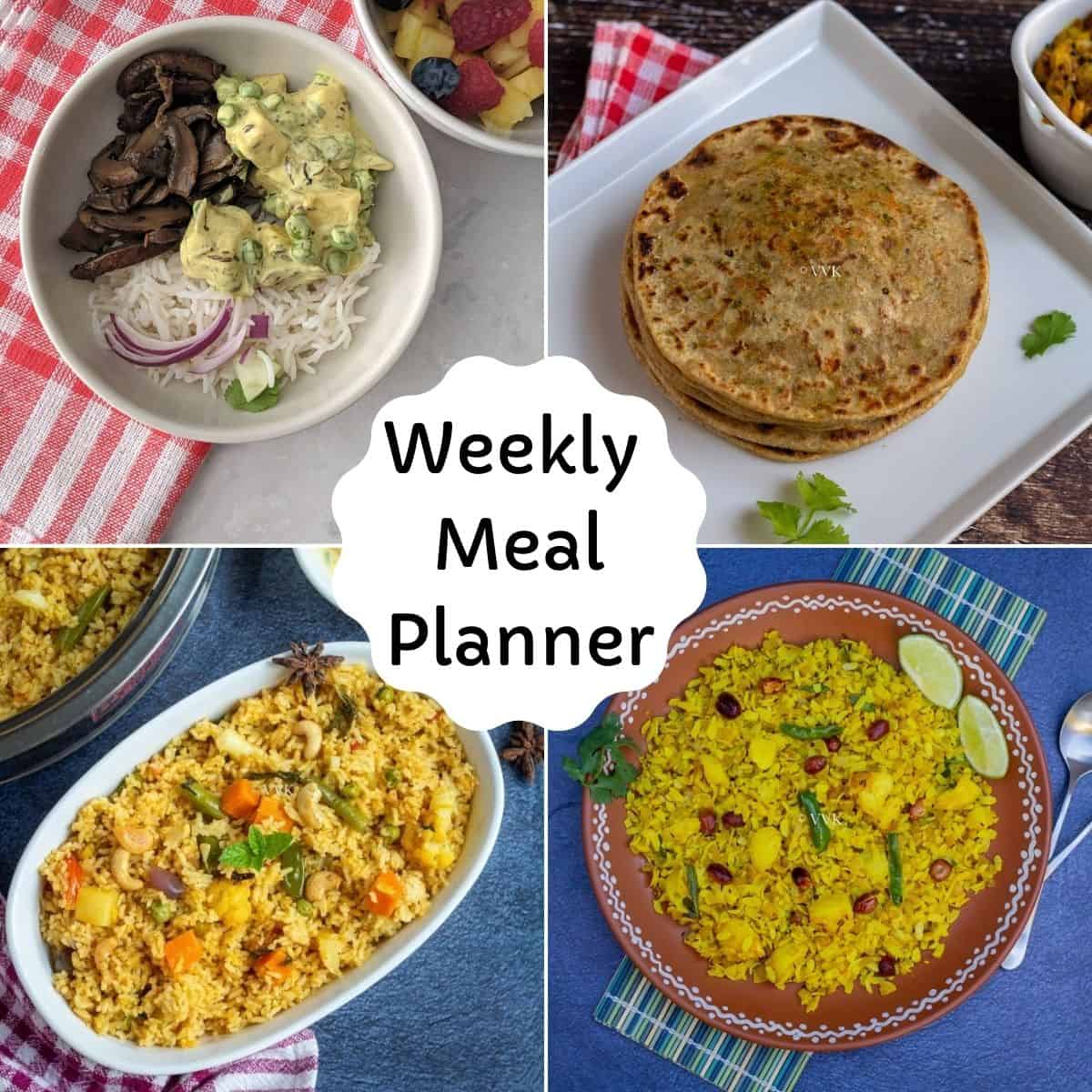 Here is my weekly meal planner with breakfast, lunch, and dinner options to make cooking fun and easy and helps you stay organized.
PS – Substitute the rice with grains of your choice. And yes we eat rice for dinner. We usually have our dinner before 6 PM and it has always worked for us.
For all my new readers, I have been sharing some meal planners for the past two years. I have shared over 22 meal planners, and you can check them out all under the "meal planner" category. All meal planners and unique, and you can draw some inspiration.
Last week I ended up buying a lot of veggies for the Sankranti festival. After making aviyal and other curries, I still have a few veggies in the fridge. So this week, I planned the dishes so that I can use them up all. That's why you can see poha, biryani, and khichdi, where I can use many veggies.
As it's a long weekend for us, I decided to make some biryani for Monday and planned to make a little extra to pack for the next day. Sambar, biryani, and tamarind rice always taste better the next day. :-)
Do try it out once, and I am sure you will always make extra sambar and biryani.
Before getting into the meal planner details, let me answer the meal planner's frequently asked question.
How do you make the exact amount of food, and what if there are leftovers?
With practice, you will start to make the exact amount of food, especially like upma, dry curries, kootu, etc., and there are times when I make little extra so that I can use it for another meal or the next day.
I am a big fan of leftover makeovers. If I have extra pav bhaji, I make pav bhaji dosa, sandwich, etc. With paratha filling, you can make delicious sandwiches and wraps. I shared one this week on my IG with the aloo paratha filling. Do check it out.
When I have extra leftovers, I try to adjust my menu. Think meal plan as your guide but be open and adjust it according to the situation and schedule.
I hope this helps. If you have any particular questions, do let me know in the comments.
Without any further ado, here is this week's meal planner.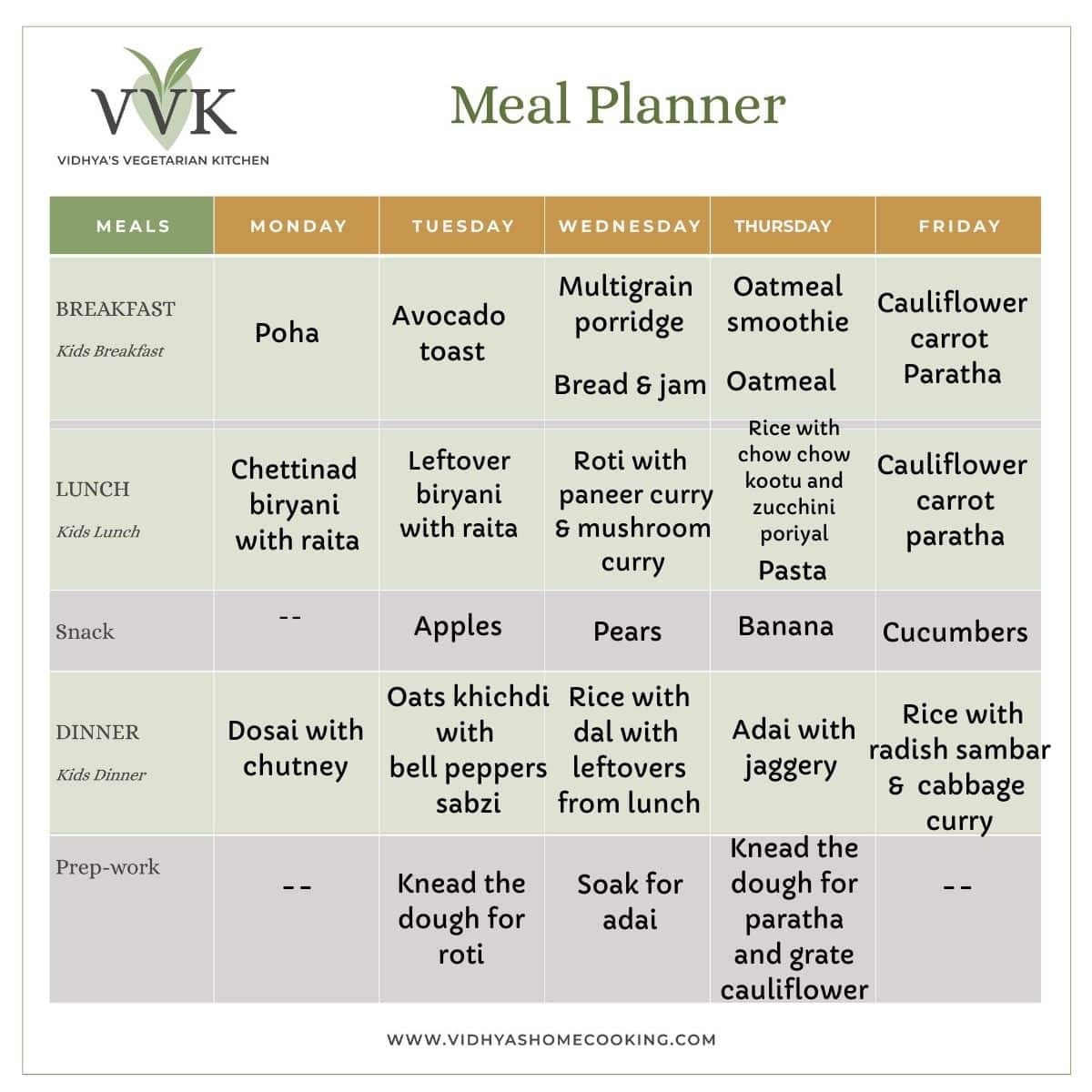 Meal-Prep-
Chop all the required veggies. You can chop the mushrooms, bell peppers the day before.
Make sure you have yogurt and prepare idli-dosa batter.
Now here are the details and the recipe links. I have highlighted the fruits and vegetables that I have used.
This week's fruits are apples and pears. Bananas will always be there.
Fridge-Cleanup Meal Plan & Recipe Links
Monday Menu
Tuesday Menu
Breakfast – Avocado toast
Lunch – Leftover Chettinad veg biryani
Dinner – Oats khichdi with bell peppers sabzi. I don't have bell pepper sabzi on my blog. I will share it soon.
Wednesday Menu
Breakfast – Multigrain porridge for us, and it's the bread and jam for the kiddo.
Lunch – Roti with my easy paneer curry and mushroom curry. This is our favorite combo. We love it with rice also.
Dinner – Rice with leftovers from lunch, and if required, I might make tomato dal.
Thursday Menu
Breakfast – Oatmeal for the kiddo and an oatmeal smoothie for us
Lunch – I plan to make pasta for the kiddo for us planning to make some rice with chow chow kootu and zucchini poriyal. I am skipping rasam and sambar and trying to use up all the veggies. I don't have zucchini poriyal on my blog but planning to make it like my red radish poriyal.
Dinner – Adai
Friday Menu
Breakfast – I am back with paratha and this time its cauliflower and carrot paratha. You can check my broccoli and carrot paratha for the recipe. Instead of broccoli, I am using cauliflower.
Lunch – Cauliflower and carrot paratha
Dinner – Rice radish sambar and cabbage stirfry
I hope this menu planner helps, and you all can draw some inspiration. If you have any questions, please leave a comment below. I will share the daily updates on my Instagram and my FB group. So stay connected!
Stay Safe & Happy Cooking!
Vidhya