Tomato – fruit or vegetable??? Be it a fruit or veggie, I can not complete my cooking without tomatoes. I can't even imagine rasam without tomato. But this receipt is not about rasam, its about tomato chutney. This is a perfect side for idly and dosa and of course curd rice. I love it with upma too.
After grinding the chutney, I sauté it again for longer shelf life. So you can prepare this over weekend and this can stay for unto four to five days in the fridge. This chutney doesn't need tamarind as tomatoes provide the sourness/tanginess.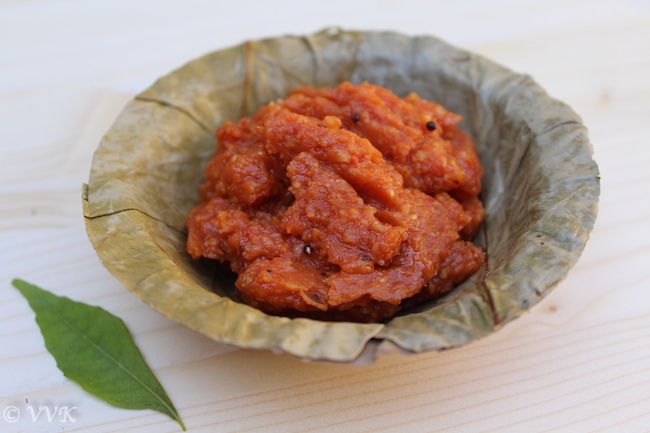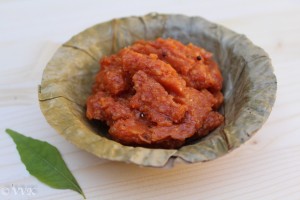 Ingredients:
Tomatoes – 5 to 6 (medium size)
Dried Red Chillies -3
Mustard seeds – 1tsp
Urad Dhal – 1tbsp
Channa Dhal – 1tbsp
Salt – as per required
Oil – 2 tsps
Hing – 1/2 tsp (optional)
Steps:
Cut tomatoes into small cubes
Dry roast urad dhal, channa dhal and red chillies until they turn golden brown without adding any oil.
In the same kadai cook the tomatoes for 2 minutes without any oil.
Grind the fried dhals with salt first without adding any water. Then add tomatoes and grind them all together. No need to add water for this chutney as tomato provides the sufficient water for binding.
After grinding you can just temper it with curry leaves and mustard seeds and add it to the chutney.
But for longer shelf life, this is what I do..

Heat the kadai and add 2 tsps of oil.
Add mustard seeds and hing. As they start to splutter add the ground chutney. (It will splash so care should be taken while adding the chutney)
Saute it till the water content evaporates.

That's it chutney is ready.
Serve it with idly or dosa.