I am back with my meal planners. Here is my simple South Indian vegetarian weekly meal planner for that first week of the school academic year!
The new academic year begins tomorrow (of course online), and I am excited to share my meal planners again on the blog. The last meal planner that I posted was in March – meal planner with leftover makeover ideas.
This pandemic has changed our schedules crazily, but there is no point in lamenting about it. We need to accept the new norm and learn and adapt accordingly. I was a bit skeptical about posting the planner initially, but I wanted to get back to routine. I believe everyone does. So here, I am resuming my meal planners.
My Weekly Meal Planners-
To all my new readers, a warm welcome, and if you are wondering what these meal planners are, let me give you a small brief. I plan and sketch a rough weekly meal schedule and do the essential prep work accordingly. Initially, I started sharing them on my social media. After seeing the tremendous response, I started sharing them on my blog as well with more details about the prep work and also recipe links and details.
So far, I have shared 21 meal planners, and all of them are unique, and you can check them out under my "Meal Planners" category. Many had asked if I stick to my meal planners strictly, and you can find my answers on the very first meal planner. And I have shared the advantages of these planners on my second meal planner.
Now let's get straight into this week's meal planner, predominantly with South Indian dishes, and this is what I have-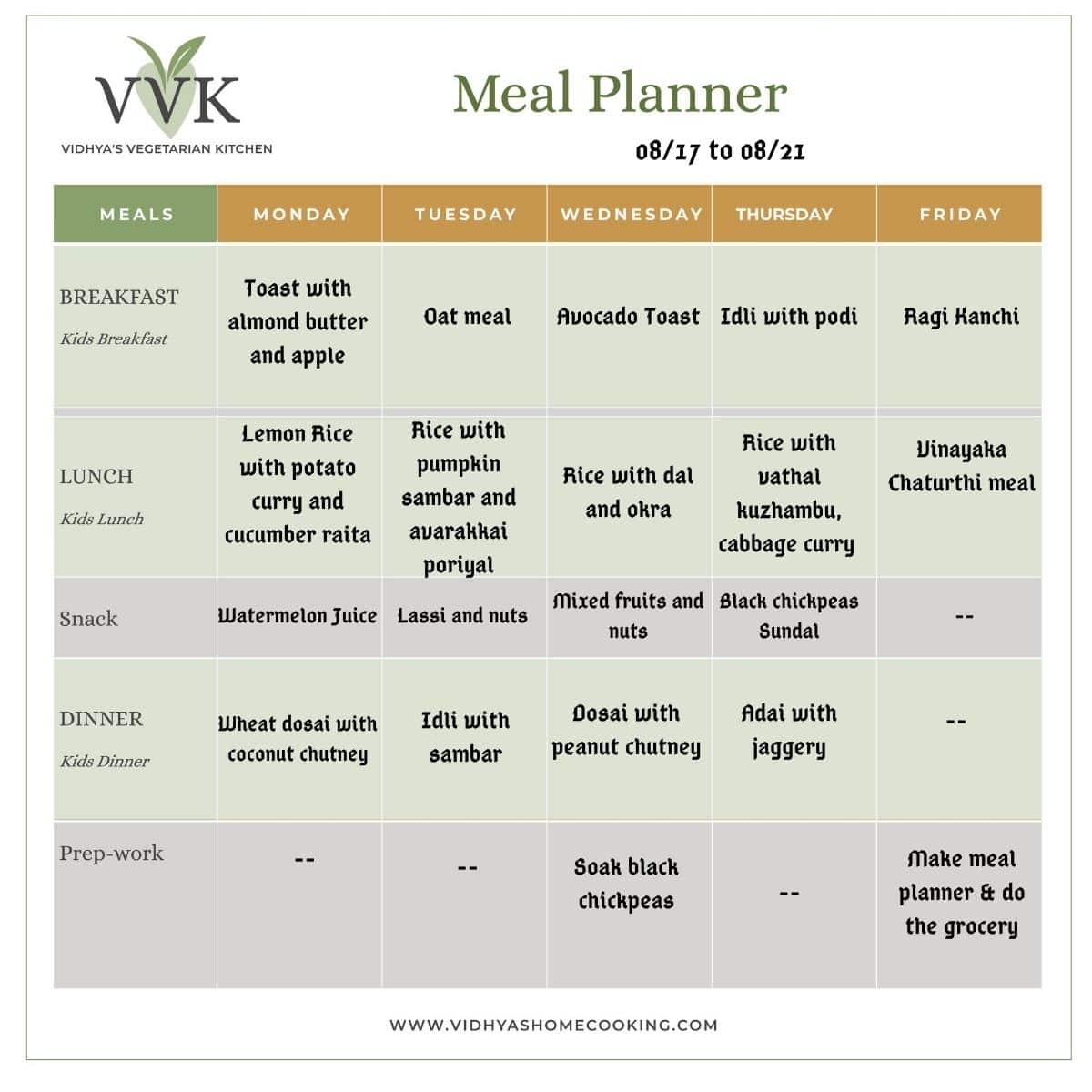 Meal-Prep
Chop all the required veggies.

Make sure you have sufficient yogurt for buttermilk and lassi.

Soak the black chickpeas and let it sprout for the sundal or make sure you soak it the day before.

Prepare the idli/dosa batter.
You can also cook and freeze your dals and lentils. It's new moon day this Tuesday, and also Vinayaka Chaturthi falls on Friday in the US, and my in-laws won't prefer leftovers. So I am not pre-cooking my lentils.
Now here are the menu details and the recipe links. I have highlighted the fruits and vegetables that I have used.
Monday:
Veggies – Potato, cucumber
Fruits – Watermelon, apple
Tuesday:
Veggies – Pumpkin and broad beans
Fruits – Apples and nuts
For Tuesday, I am starting the day with oatmeal and apples.
For lunch, it is the typical rice, sambar, and poriyal combo. As it's a new moon day, we usually include plantain or broad beans. I have a pack of frozen broad beans. So I thought of using it to make the curry.
It's going to be some lassi and dry fruits and nuts for all.
And for dinner, it's the humble idli with the sambar from lunch.
Wednesday:
Veggies – Zucchini, okra.
Fruits – Watermelon, apple
I am starting the day with my favorite avocado toast loaded with hemp seeds. I will soon share the recipe here as well.
For lunch, it is zucchini dal with okra curry.
I am planning to finish off all the fruits. So it's a combination of watermelon and apples.
If it's idli the previous day, it has to be dosai the next day, and that's what I have for dinner – dosai with peanut chutney.
Thursday:
Veggies – Cabbage
Fruits – None
I am planning to finish off the idli-dosa batter with idli and going to serve it with podi.

For lunch, it is my favorite vathal kuzhambu and cabbage curry.

The Thursday prasadam/offering will be our snack as well, which is the black chickpeas sundal.
For dinner, I am planning to make some adai. It's been ages since we made it. So I include it on this week's menu. We love adai with jaggery or honey or ghee than with avial. So I haven't added any sides.
Friday:
As it's Vinayaka Chaturthi day, I didn't add the full lunch menu. Of course, there will be kozhukattai, and I might end up making pressure cooker sambar sadam and beets poriyal. That's the plan as of now, but it might change. :-)
I hope this South Indian meal planner helps, and you all can draw some inspiration. If you have any questions, please leave a comment below. I will share the daily updates on my Instagram and my FB group. So stay connected!
Happy Cooking! Stay Safe!
Vidhya