I cannot think navratri without Sundals. These sundals brings me back the fond memories of navratris in periyakulam. I used go invite our neighbors and friends for thamboolam and this will be my standard dialogue – "Enga veetla golu vachu eruka, vethala paaku vangika vaango" (meaning we have kept golu come over for prasadam and thamboolam) and I have couple of standard songs to sing whenever some one asks me to sing. Sri mann Narayana, Thajanmendru Kenchikirom were my standard songs and our friends and neighbors started asking me to sing different songs and they started to tell my music teacher that I am not singing any other songs except these two. Now do I have an option? Nostalgic moments. :-) In this inviting process, I collect sundals also and by the time I reach home I would have collected at least 1/2 kg of different varieties of sundal. I wanted to post some sundal recipes and when I went through my archived posts I realized I haven't posted kothukadadalai or garbanzo beans sundal.
Ain't Garbanzo beans the king of all sundals? How come I can miss that? hmm.. Pretty much all sundals follow the same recipe except for the boiling method as it differs for each and every legumes. Even though garbanzo beans follows same recipe as its used for all festivals (Vinayakar Chaturthi, Varalakshmi Vratham, Navratri and Saraswathi Pooja) I thought it deserves it own post. For garbanzo beans I usually add more dhaniya powder and use red chilly powder also dried red chillies. Adjust the spice level according to your taste.
Meanwhile these are the other sundals that I posted last year.
Here is the garbanzo beans sundal recipe,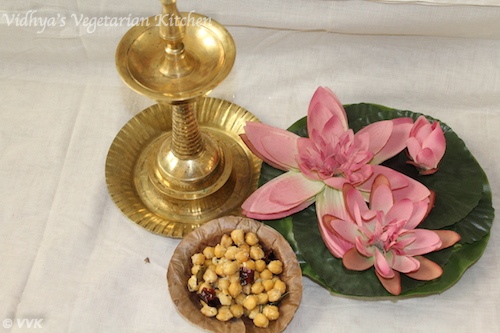 Ingredients:
Uncooked Garbanzo Beans – 1 cup
Water for soaking and pressure cooking.
Salt – 1 tsp (adjust according to your taste)
Dhaniya powder – 2 tsps
Red chilly powder – 1 tsp
Dried red chillies – 3
Oil – 2 tsps
Coconut – 1/4 cup
Mustard seeds – 1 tsp
Urad dhal – 1 tsp
Curry leaves – 1 strand
Hing – 1 tsp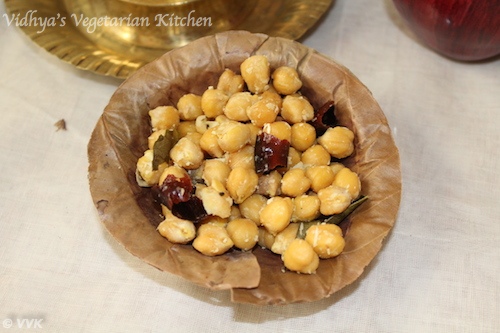 Steps:
Soak the garbanzo beans overnight and pressure cook it for upto 2 whistles and drain the water.
Heat the kadai and add oil.
Once the oil is hot add mustard seeds, urad dhal and hing and split red chillies.
As they start splutter add the curry leaves and saute for a minute.
Now add the cooked beans and salt.
Add the dhaniya and red chilly powder.
Cook till the water evaporates.
Now add the grated coconut and mix well.
Notes:
You can also use canned beans. In that case adjust the salt level as the canned beans are high in sodium content.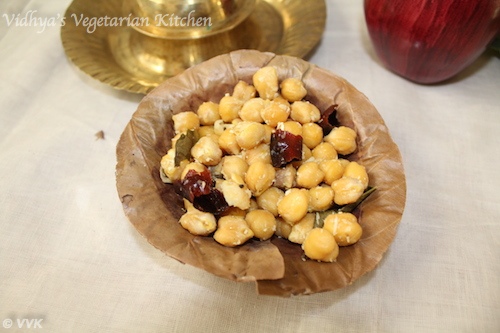 1