It's that time of the week where I sit and plan my weekly meals and share it here on my blog. Here comes my weekly meal planner with leftover makeover ideas.
PS – I have just mentioned grain in the meal planner. You can pick your favorite ones like millet broken-wheat or steel-cut oats or quinoa or hand pound rice or other preferred ones. Also, for roti, I am using whole wheat flour. You can use a mix of different flours and make multi-grain roti.
With the current pandemic situation, companies here are asking employees to work from home. We are witnessing empty aisles in the grocery stores, and people are stocking pantry items crazily. Grocery stores are limiting supplies per person. The panic and anxiety are in the air.
We don't know how our schedule is going to be this week. I went ahead and made this meal plan. Let's see how it goes.
I am keeping it simple this week and planning to make rasam in bulk and relish it. I know it's not the cure, but this weather in the Bay Area calls for some spicy and comfort food. Also, I have some leftover makeover ideas in this meal planner. Do check it out.
Without any further ado, here is this week's meal planner with leftover makeover ideas.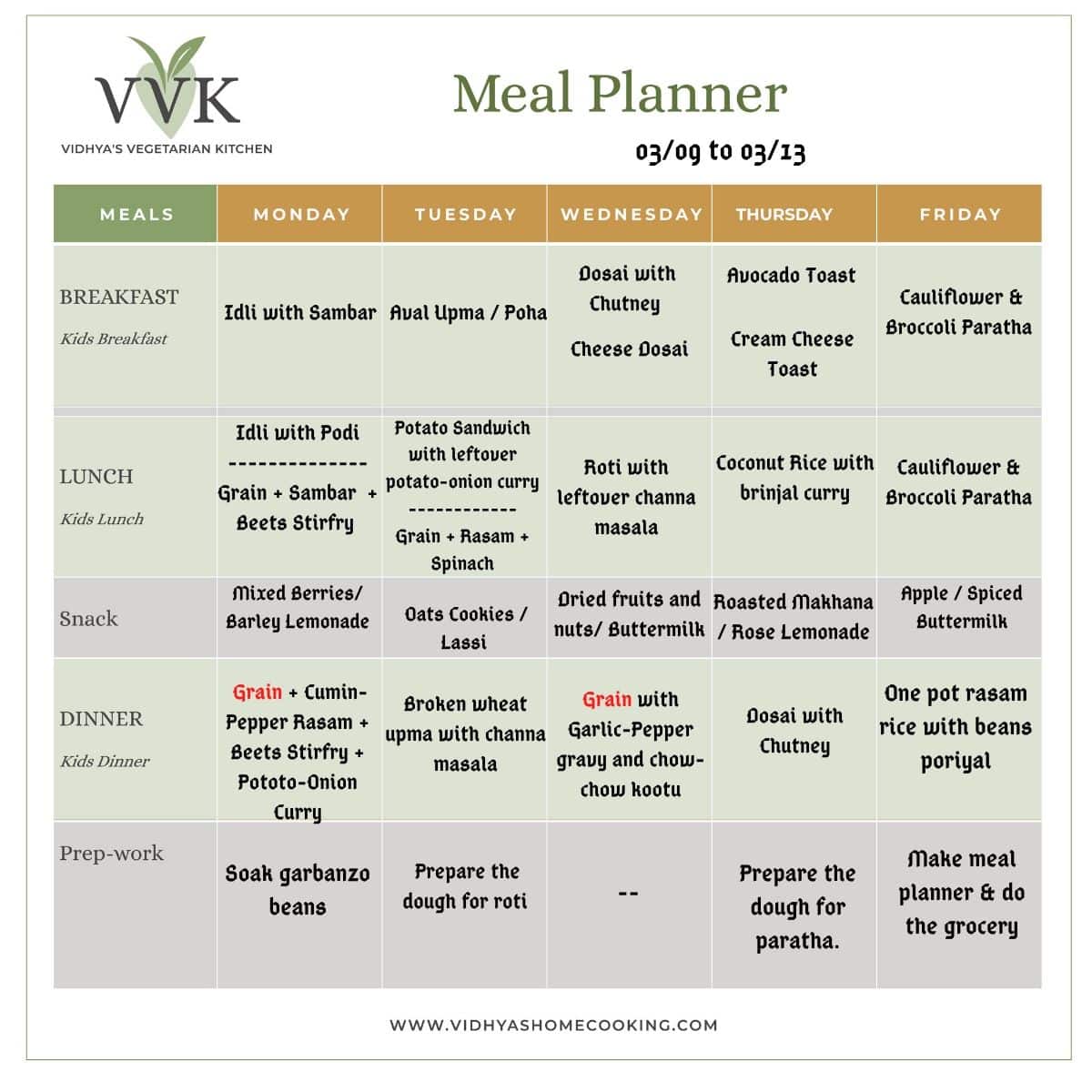 Meal-Prep
Chop all the required veggies.

Make sure you have sufficient yogurt for buttermilk and lassi.

Soak garbanzo beans and let it sprout for the chana masala or make sure you soak it the day before.

Prepare the idli/dosa batter. This week, I am planning to make the barley idli dosa batter. I can make the barley water for my lemonade and use the cooked barley for the batter.
Now here are details and the recipe links. I have highlighted the fruits and vegetables that I have used.
Monday:
Veggies – Mixed veggies (carrot + zucchini + brinjal) for sambar, potato, beets
Fruits – Mixed berries (raspberry, blueberry, and kiwi berries)
Tuesday:
Veggies – Potato and spinach, grated carrots, zucchini and cabbage for poha
Fruits – No
Wednesday:
Veggies – Bell Peppers. Carrots and cucumber for the chaat.
Fruits – Dry fruits (dates, figs, and prunes)
For breakfast, it is dosai with pressure cooker tomato chutney. (I am yet to share that recipe here)

Lunch is roti with leftover chana masala.

For the snack, it's dry fruits and nuts and buttermilk for us.

For dinner, it's poondu-milagu kuzhambu with chow-chow kootu.
Thursday:
Veggies – Brinjal
Fruits – Avocado
Planning to make avocado toast for us and creme cheese toast for the kiddo. I love to sprinkle some Trader Joe's chili-lime-pepper seasoning on my toast. For kiddo's one, I just spread some creme cheese on a toast and add some strawberries.

After ages, I am making coconut rice. I am pairing it with brinjal curry for our lunch.

Snack is roasted makhana with rose lemonade. I add rose syrup in my lemonade and call it rose lemonade. Nothing fancy.

For dinner, it's dosai with the leftover tomato chutney from Wednesday.
Friday:
Veggies – Beans, cauliflower, and broccoli.
Fruits – Apple
As always, it's a paratha Friday, and this week it's the cauliflower and broccoli paratha. We love to have our parathas for both breakfast and lunch.

Snack is apple and spiced buttermilk.

I am planning to make one-pot rasam rice and serve it along with beans poriyal. This time I am planning to take pictures and stay tuned for the recipe next week.
I hope this menu planner helps, and you all can draw some inspiration. If you have any questions, please leave a comment below. I will share the daily updates on my Instagram and my FB group. So stay connected!
Happy Cooking!