Nothing can beat the homemade food with love. Everyday cooking is a breeze when you have proper planning. Here comes my weekly meal planner for the upcoming week.
Meal Planner 1 – Feedback:
Thank you for your feedback about the last week's planner.
One main feedback was to add English names for the recipe, and I totally get it. My bad, I missed it last week, but this week you can find all the recipe names in English as well.
The other feedback was why no meal plans for the weekend. Weekends we follow a different routine. Some days we skip breakfast and prefer brunch instead. Also, we eat out on weekends. I am sure that's the case with most of us. Hence, I skip the weekend.
Did I follow my Meal Planner 1?
Except for two snacks, I pretty much followed my meal planner 1. I was planning to make kale chips with the freshly harvested kale from my backyard, but it didn't happen. Also, I ended up making roasted makhana on Monday and even Tuesday. So for Friday, I packed some apples for snacking. I updated the last week meal planner post with the pictures. Please do check it out.
My Cookbook | The Essential South Indian Cookbook
I am so excited to share that my new book, The Essential South Indian Cookbook, is coming out this October 2019! This book contains 75 South Indian recipes, including meat and seafood recipes. Thanks to Kat Green for taking care of the meat and seafood-based recipes. The recipes in this book will definitely let you explore the culture and the regional cuisines of South India. Right from idli, sambar, puttu, pesarattu, ragi mudde, vegetable curries, and gravies, I have it all. Let's not forget the meat and seafood dishes as well and oh yeah the desserts too. :-)
Preorder your copy today! Click here to preorder.
Advantages of Meal Planner:
Meal planners have a lot of benefits. Let me share a couple of advantages today.
We all have this billion-dollar question in our mind – what to cook for the next meal? If that's answered, half the cooking is complete. That's what precisely the meal planner does. You plan well ahead and don't need to worry about what to cook on the busy weekdays.
The meal planner helps with grocery planning a lot. Earlier, the moment I see fresh vegetables and fruits, I used to buy them. If I don't chop them during the weekend, I end up wasting most of the vegetables. With a planner, I buy only required vegetables. No wastage plus you save a lot of money.
If you want me to add my grocery list, please let me know in the comments. I will start adding them to this post as well.
Now to this week's meal planner for the week of August 26 to 30.
Disclaimer: This meal planner is specially designed based on my family likings. I have a 10-year old son, and he can handle spicy food. He cannot reheat his food, so I try to avoid certain foods that need to be heated. I pack the lunch in stainless steel containers, mostly Lunch Bots, and keep in an insulated lunch bag. It keeps the food warm. Last but not least, I do pack leftovers.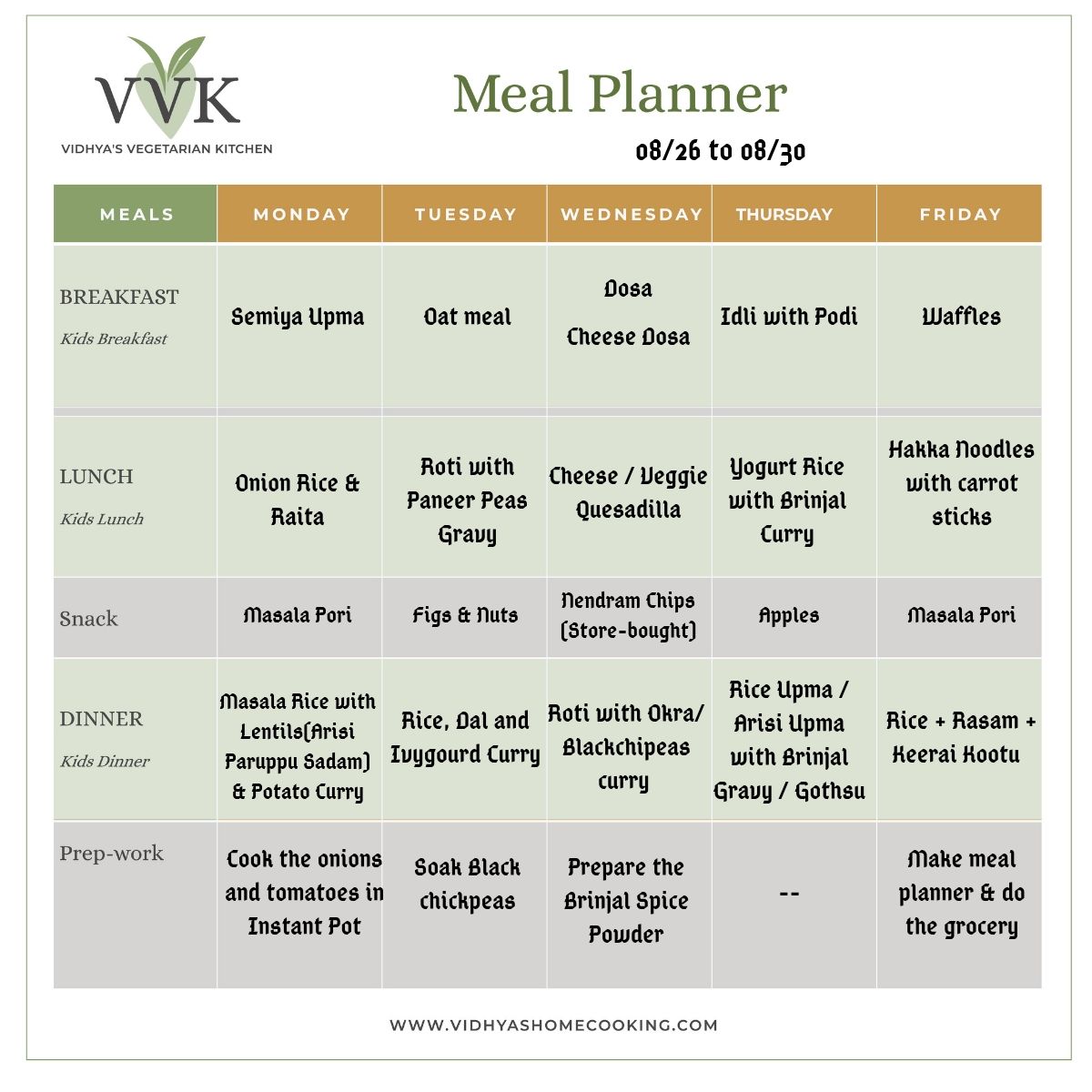 Before getting into day-by-day details, I will share about the prep-work that I do over the weekend, specifically for this menu.
Chop the ivy gourd/tindora and okra over the weekend.
Prepare the idli and dosa batter.
Everyday Menu Details:
Monday: Even though I have idli/dosa batter, I decided to make on Thursday. I don't want to follow a set routine. Please find the recipe links for Monday's menu below.
Tuesday: I do make my rotis with Rotimatic, and it stays good for lunch as well. I have been using it for almost 1.5 years now. The paneer gravy is very similar to my Instant Pot mushroom matar, but instead of mushroom, I am going with paneer. For dinner, I am planning to make simple dal (Kerala style Parippu curry) and ivy gourd stir-fry.
Wednesday: I am keeping it simple for breakfast and lunch. Kiddo loves jalapeno and mushroom quesadillas. So that will be lunch for all of us. Usually, I do all my recipe testings on weekends but these days weekends are hectic. So I am planning to try and test my new recipe okra and black chickpeas curry for the first time. I will keep you posted.
Thursday: I think I can call this Thursday as brinjal day. As you can see from the menu, I am planning to make brinjal gothsu and brinjal curry for dinner and lunch. Please find the recipe links for Thursday's menu below.
Friday: Friday's are always special, and this week I am planning to make some waffles for breakfast and kiddo's favorite Hakka noodles for lunch. Dinner is comforting rasam with some spinach gravy curry.
I hope this menu planner helps and you all can draw some inspiration. If you have any questions, please leave a comment below. I will share the daily updates on my Instagram and my FB group. So stay connected!