Welcome to the 20th day of baking mania. This recipe uses both conventional and microwave oven. Irrespective of diabetic and non-diabetic, portion control and a well-balanced diet is very important. We don't want to deprive ourselves and at the same time we don't want to over eat also. I love soups. It's easy to incorporate all the veggies and you get your sufficient vitamins and fiber in a single serving. I found these great articles about bell peppers and diabetic diet.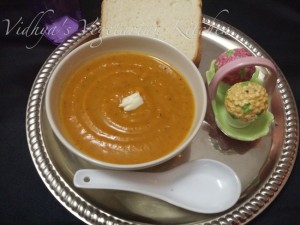 In this recipe I am using bell peppers which is rich in anti-oxidants and butternut squash which is starchy but at the same time it has a lot of fiber also. You don't want to starve yourself without starch. This soup is a make ahead soup and can be stored for up to a week. Having a soup in fridge always comes in handy.
Make Ahead Tips and Serving Tips for Kids :
Always roast the butternut squash and bell peppers separately. If you are planning to prepare soup for kids you can puree the squash first for the kids and then add the bell peppers.
After roasting you can puree them without adding water and refrigerate the puree. Just before serving take required quantity of the puree and add 1/2 cup to 1 cup water salt and pepper. Reheat and enjoy.
Roaster Bell Peppers and Butternut Squash Soup
Ingredients:
Colored Mini Bell peppers – 10 to 12
Butternut Squash – 1
Salt and Pepper to taste
Butter for taste
Steps:
The biggest step in this recipe is chopping the butternut squash. You can but the pre cut ones or for long time run I would suggest to invest in a good knife which make life so easy. Chop the squash into cube size pieces.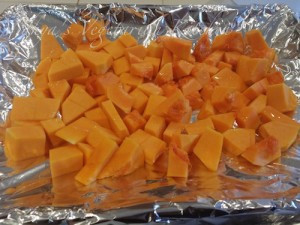 Slit the mini bell peppers into two.
Broil them at high temperature for 10 mts and then at low temperature for 10 minutes till you get a nice char on the top.
After removing it from the oven cover it with a foil or a plate to let the veggies sweat.(Adjust this according to your taste. If you don't like the charred taste, you can bake them too)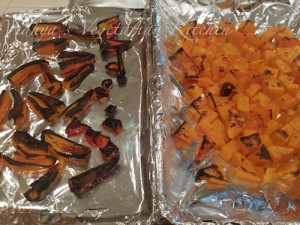 You can peel the skin from the bell peppers easily now.
Let it cool and puree them.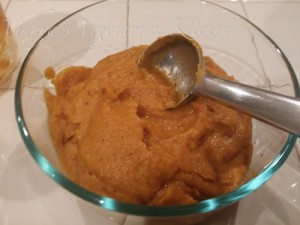 Add required amount of water, salt and pepper and microwave it for 2 to 3 minutes.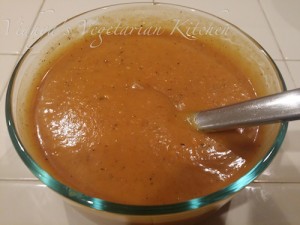 Serve hot with low fat butter or any spread or just enjoy it :-)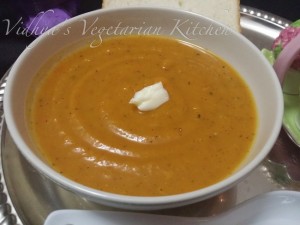 0