This week DFT theme is "Tex-Mex". I am bringing one more stew recipe but not with quinoa. But this stew is also loaded with protein. I always see ways to add protein into our diet. Being a vegetarian that is always a difficult. I have to keep doing my protein math at least for my kiddo. So coming to this recipe it is loaded with three different kind of beans (Black beans, pinto beans and Red Kidney beans) which are good source of protein and fiber. Also we add corn which gives the carbs and bell peppers and chili powder the other essential nutrients.This making it a complete balanced meal and diabetic friendly too. I prepared this without oil too.You can see the benefits of bell peppers and red chili powder here.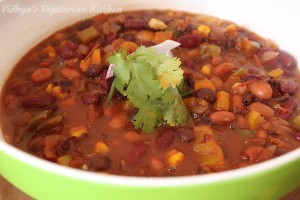 It is a simple recipe and can be served in different ways. We can serve it along with multigrain chips, along with tortilla, or just a plain stew topped with 1 tsp of cheese or with rice too. We love it along with tortilla. :-) I got a base recipe from a calendar cutting. (Yeah someone passed on healthy recipes 2015 calendar and this recipe was there) But I changed the spice levels and also couple of veggies. You can add any veggies that you like. Here is the recipe
Ingredients: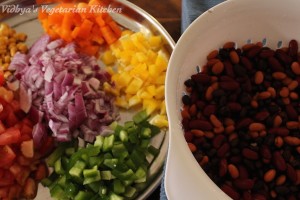 Pinto beans – 1 can
Red kidney beans – 1 can
Black beans – 1 can
Green bell pepper – 1 finely chopped
Other colored bell peppers – 1 cup finely chopped
Onion – 1 finely chopped
Tomatoes – 3 finely chopped
Corn kernel – 1/4 cup
Tomato sauce or puree diluted in 2 cups of water
Salt – 1 tsp
Cocoa powder – 1 tsp
Coriander powder – 1 tsp
Cumin powder – 1 tsp
Chili powder – 1 tbsp
Paprika – 1/4 tsp
Cayenne pepper – 1/4 tsp
Steps:
Wash and rinse the beans and keep it aside. If you not using the canned beans soak 1/4 cup of each beans overnight and pressure cook them.
Heat the pan and sauté the onions until translucent.
Then add the tomatoes and salt and cook till the tomatoes are mushy.
Now add all the bell peppers and corn and cook them for couple of minutes.
Add all the dry masalas including cocoa powder and mix well.
Now add the three beans and the tomato water and let it simmer for about 30 to 40 minutes until thickened.
That's it yummy Chili Sin Carne is ready :- )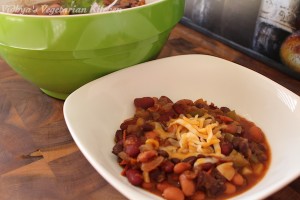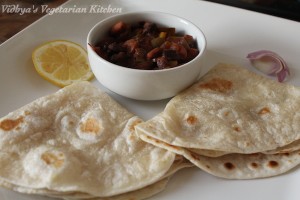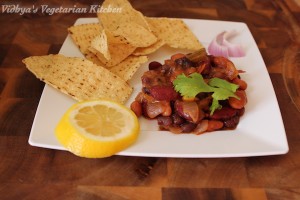 Disclaimer: I am not a nutritionist or dietitian. My knowledge and information is based on my research and reading from different resources. Please consult your doctor or dietitian before making any changes to your diet.
0