Here is a collection of payasam and sundal combo for the nine days of the Navratri festival! Enjoy this festive season with the sweet and savory combination.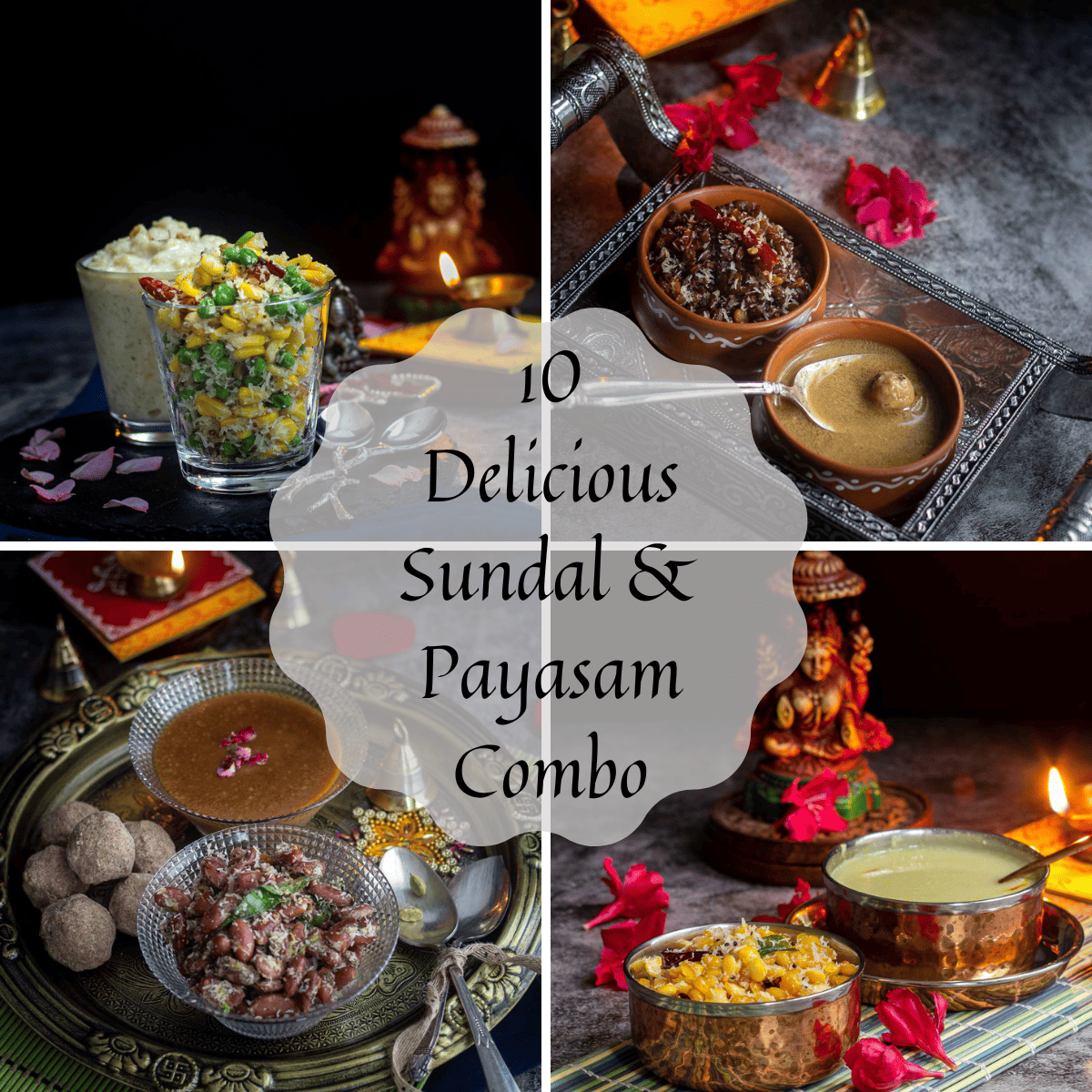 Jump to:
Navratri festival
Navratri is a Hindu festival celebrated enthusiastically in different parts of India. As I mentioned in my Golu post, it is the celebration of the victory of good over evil. Nava means nine, and Ratri means night. The famous festival is where we worship the Hindu Goddess Durga, Lakshmi, and Saraswati in their beautiful forms for nine nights. On the tenth day, the Vijaya Dasami, we offer a special pooja during the day, which marks the completion of the Navaratri festival.
In Tamil Nadu, many people keep Golu (display of dolls and God and Goddess figurines), and every day we make a sundal(savory legume dish) and a sweet dish as an offering to God.
During this festival, many people observe fasts and follow specific dietary restrictions. Sundal and payasam are popular dishes that can be enjoyed during Navratri while adhering to these dietary restrictions.
What is sundal
Sundal is a South Indian dish made from legumes like chickpeas, black-eyed peas, or lentils like chana dal. And sundal is flavored with coconut, green or red chilies, and curry leaves. You can also add mild spice powders to flavor it up. 
What is payasam
Payasam or kheer is a sweet Indian dessert made from milk/jaggery, sugar, rice, lentils, or sabudana. 
Should I make only a sundal and payasam combo?
While this combo is popular, you can make sweet and savory dishes. Instead of sundal, you can make no-onion, no-garlic variety rice like savory pongal, tamarind rice, coconut rice,sesame rice, lemon rice, etc. And instead of payasam, you can make sweet pongal, kesari, etc. 
Now, let me share the sundal and payasam combo without further ado. I hope it helps and you all can draw some inspiration. You can also check out my no-onion, no-garlic meal planner.
Navratri Special Sundal & Payasam Combo
Day 1
For day 1, I have black chickpea sundal and moong dal payasam.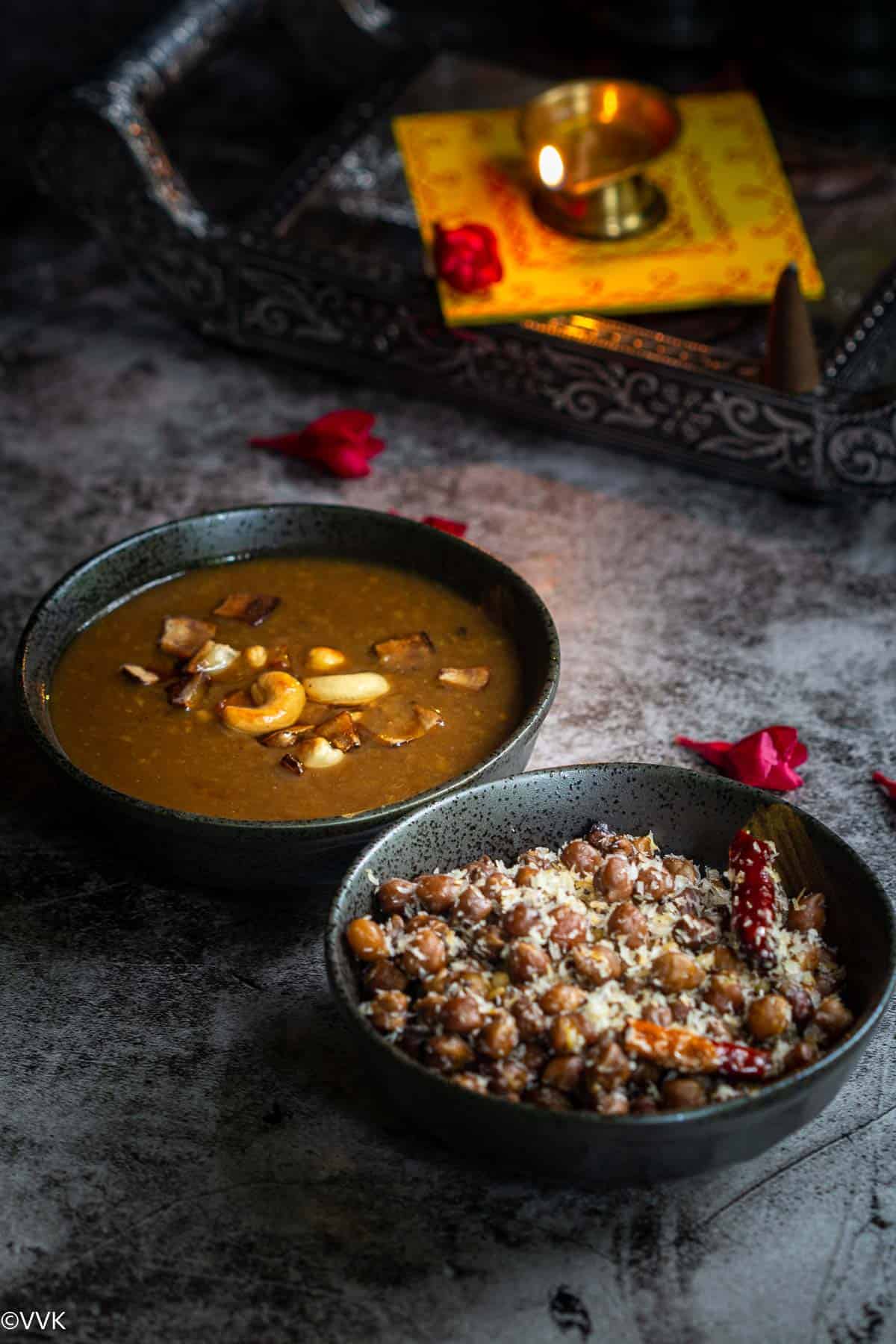 Day 2
For day 2, I have horsegram/kollu sundal and makhana kheer. (I will share the recipe soon.)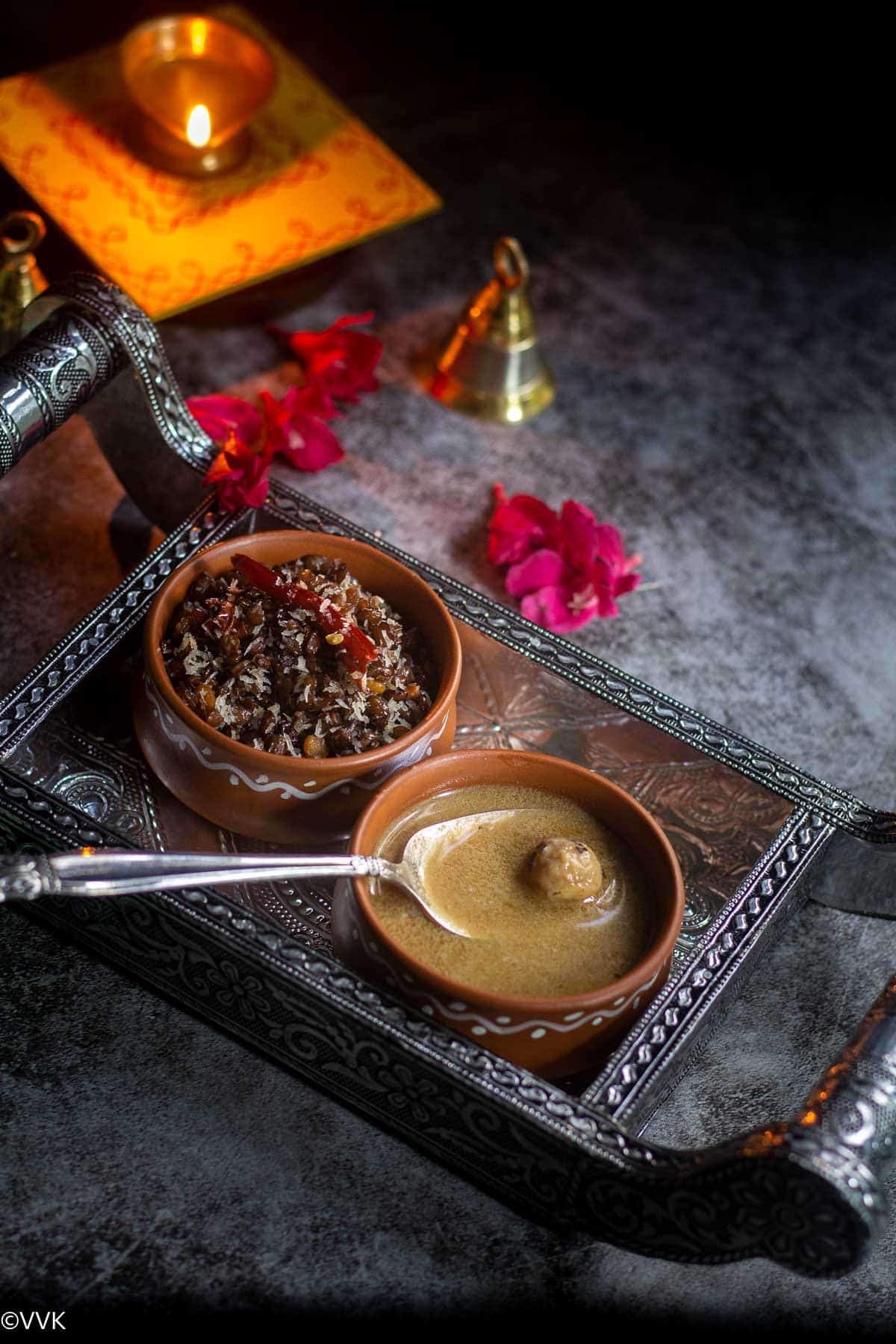 Day 3
For day 3, I have black-eyed peas sundal and mixed-nuts kheer.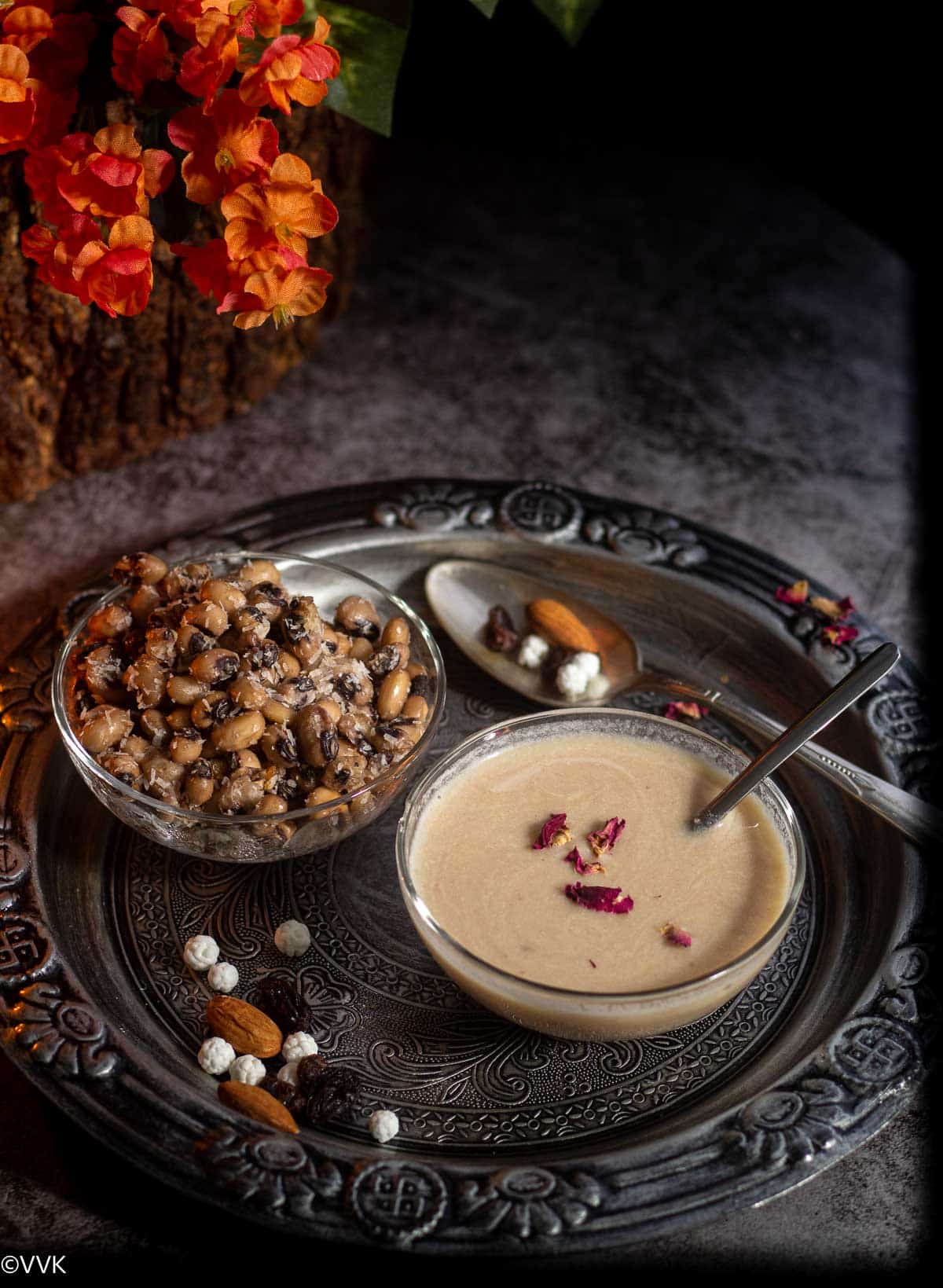 Day 4
For day 4, I have chana dal sundal and rava kheer.
Day 5
For day 5, I have no onion or peanut sundal, which is more like salad and aval payasam.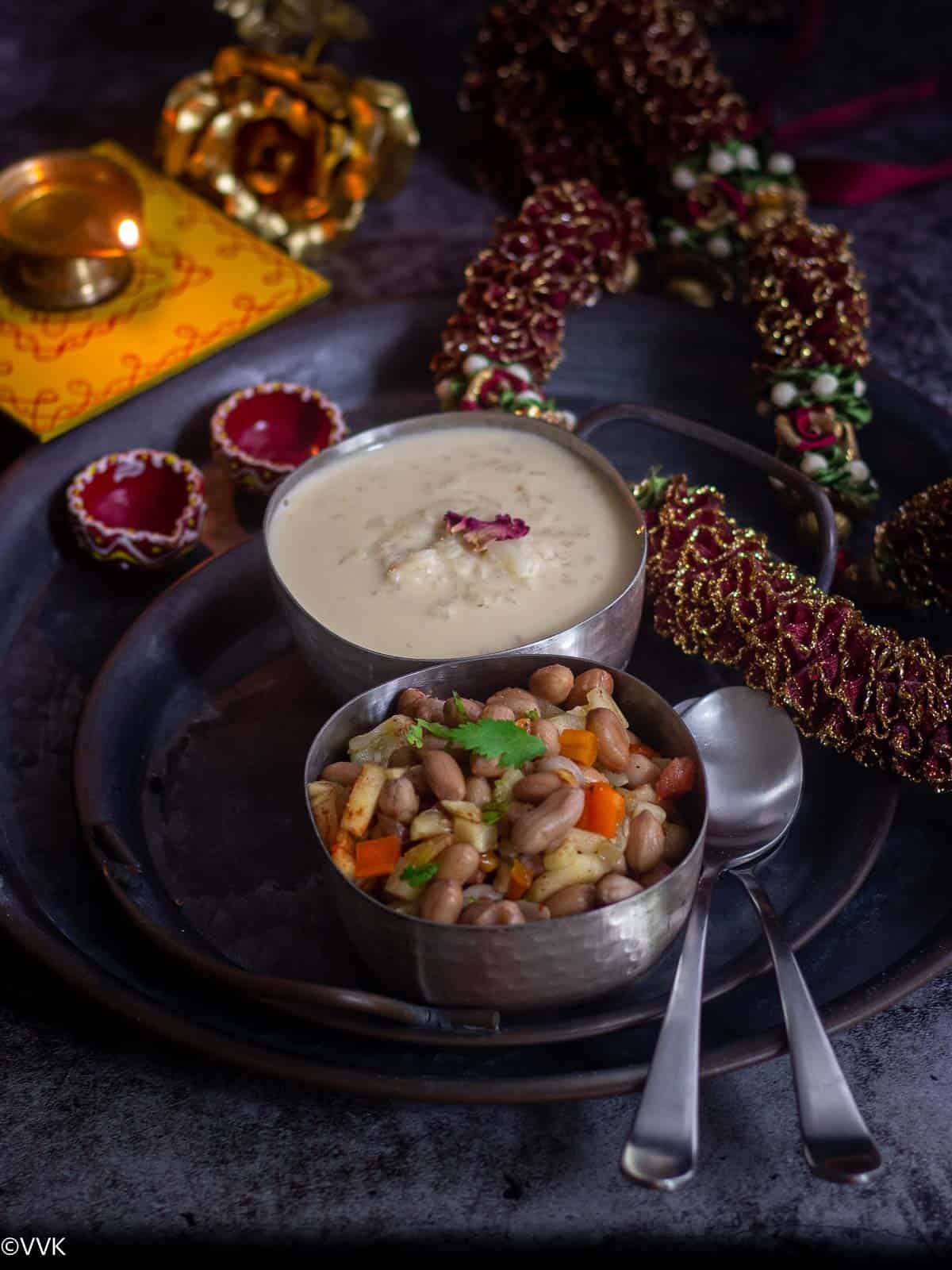 Day 6
For day 6, I have no onion moong dal salad with grated raw mango and carrots; I have semiya payasam for the sweet.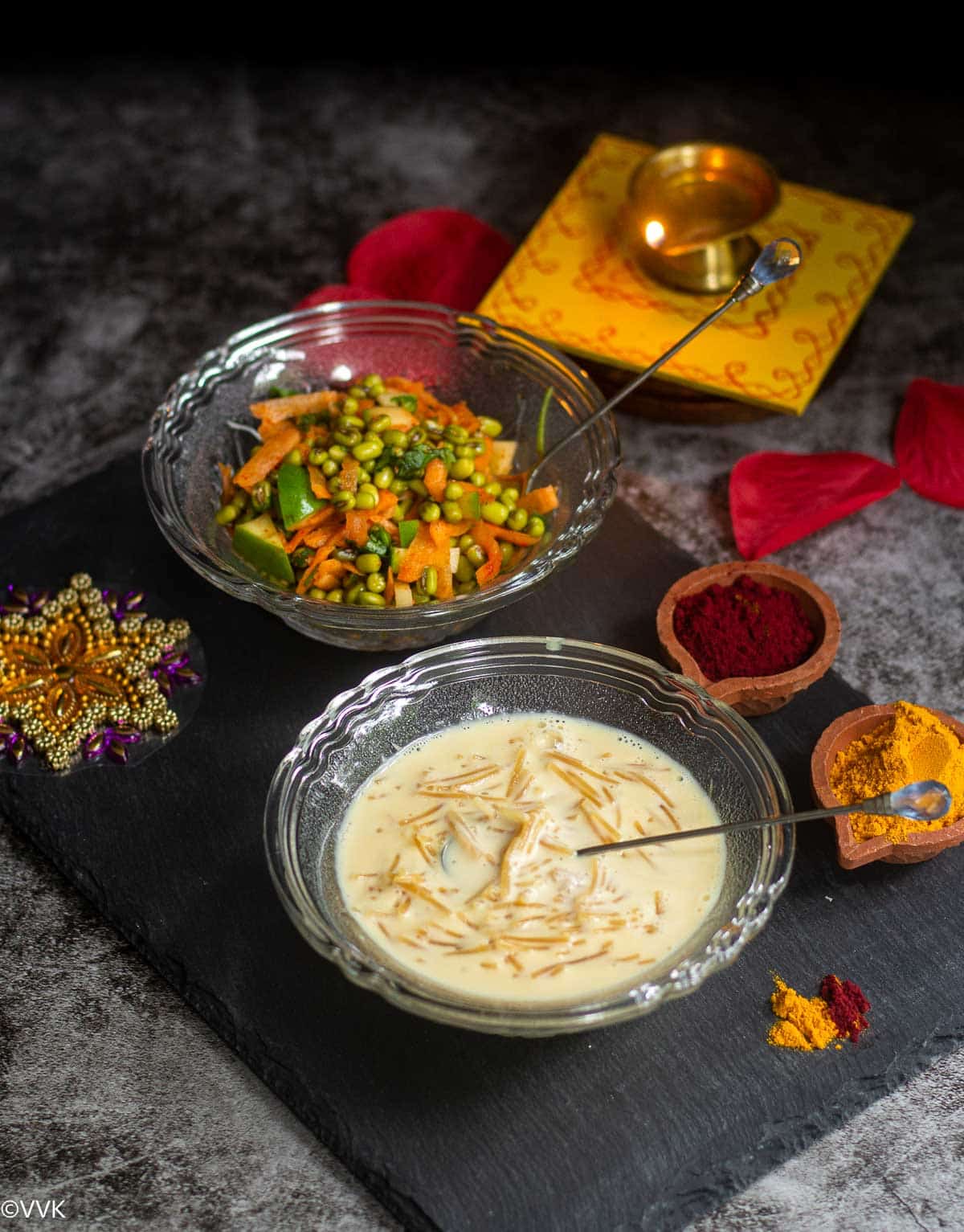 Day 7
For day 7, I have edamame sundal and palada pradhaman. I have the recipe in my book with store-bought rice flakes.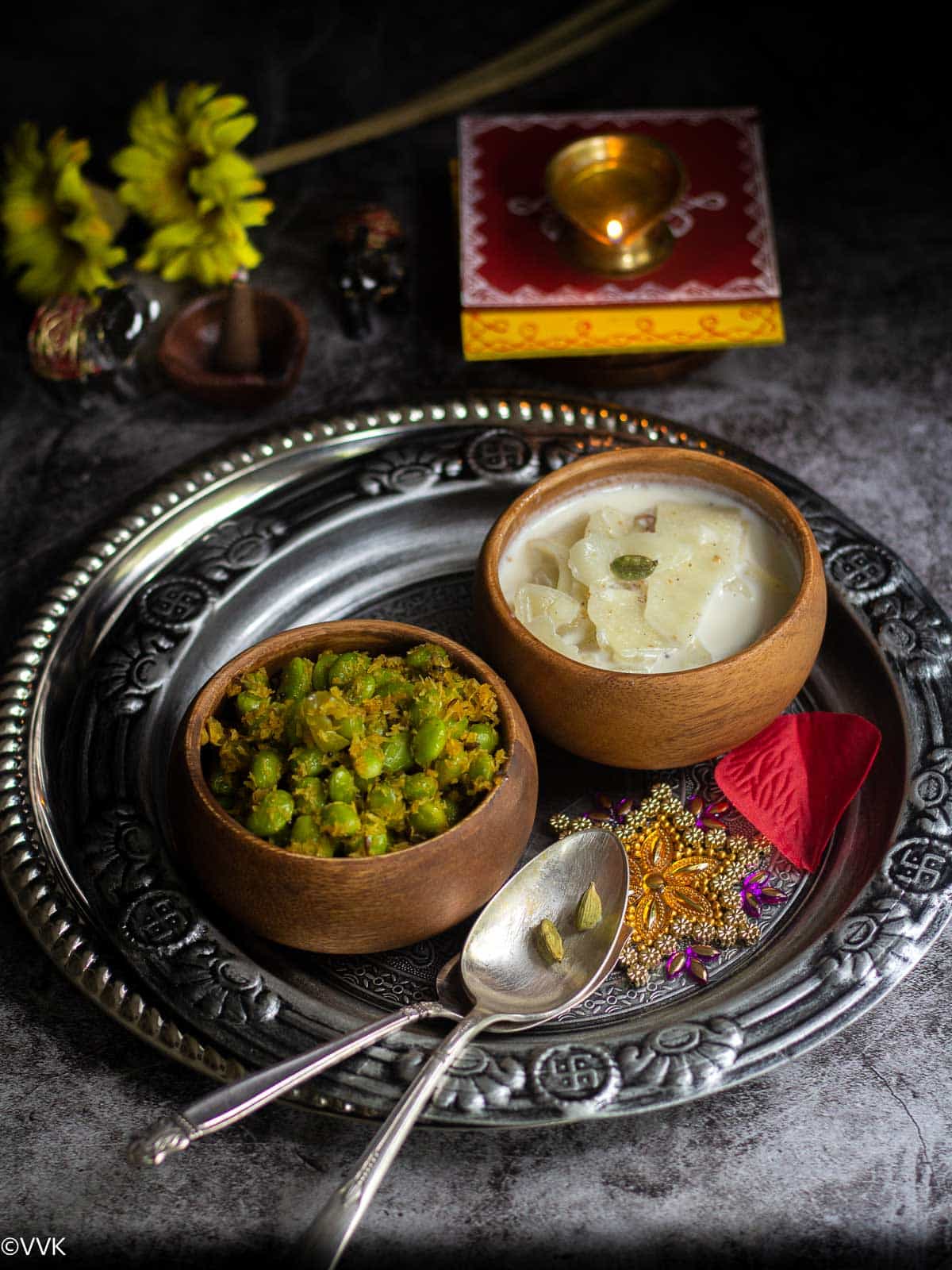 Day 8
For day 8, I have garbanzo beans sundal and sabudana kheer.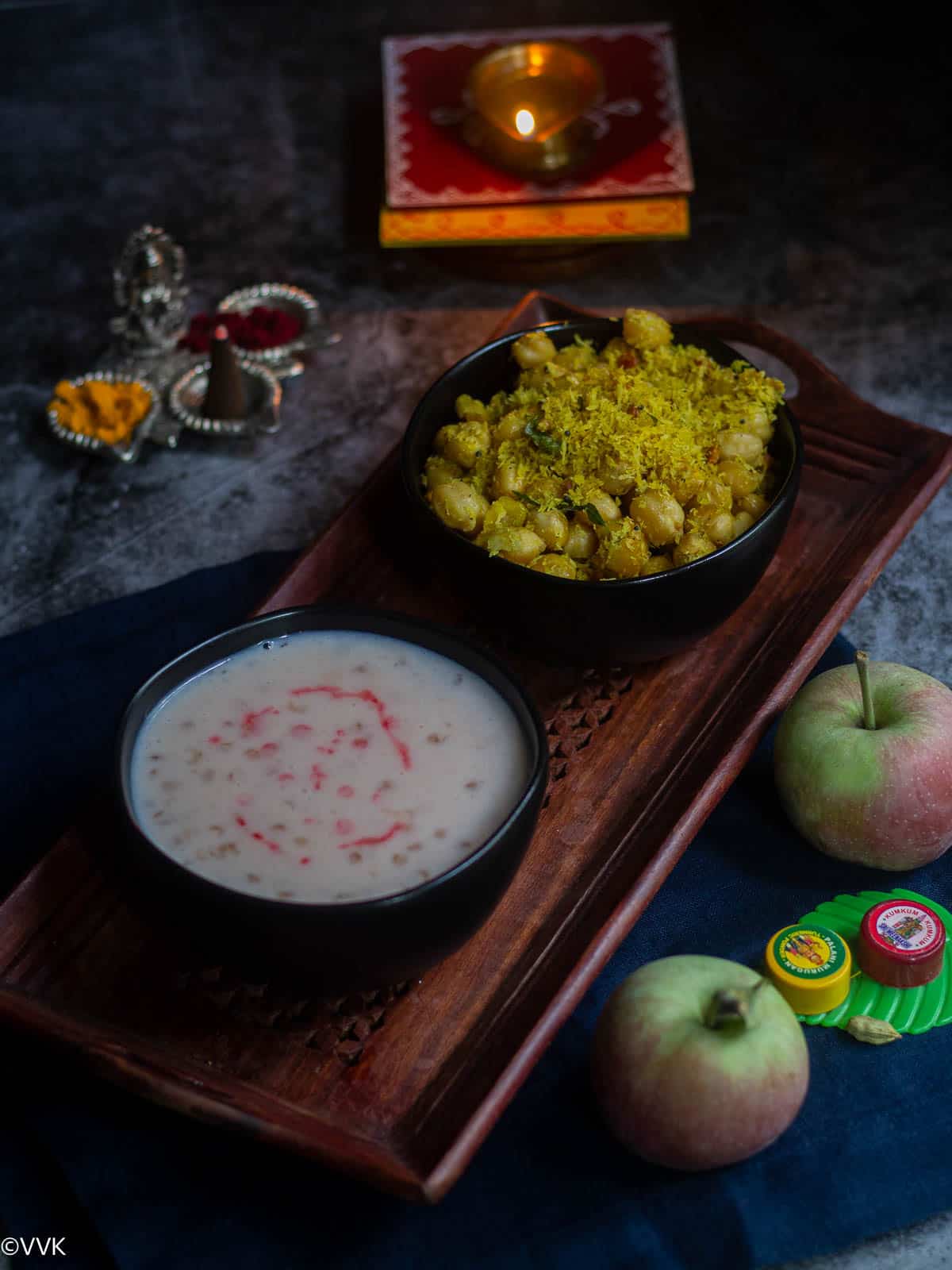 Day 9
For day 9, I have rajma sundal and millet thengai paysam. (I will share the recipe soon)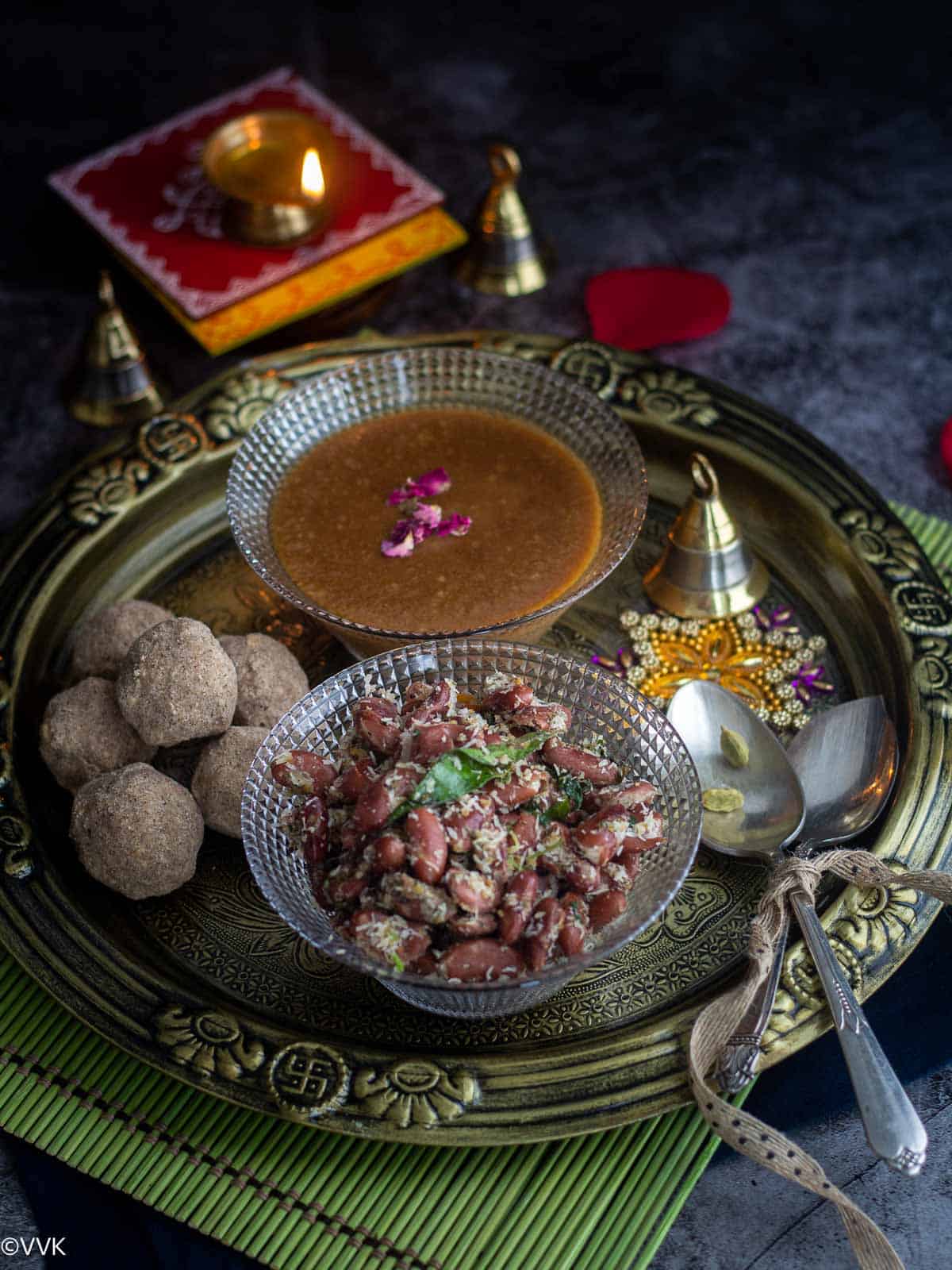 One more combo
Last but not least, I have one more combo if you are looking for some easy alternatives. I have some frozen corn and peas sundal and rice and walnut kheer made in Instant Pot.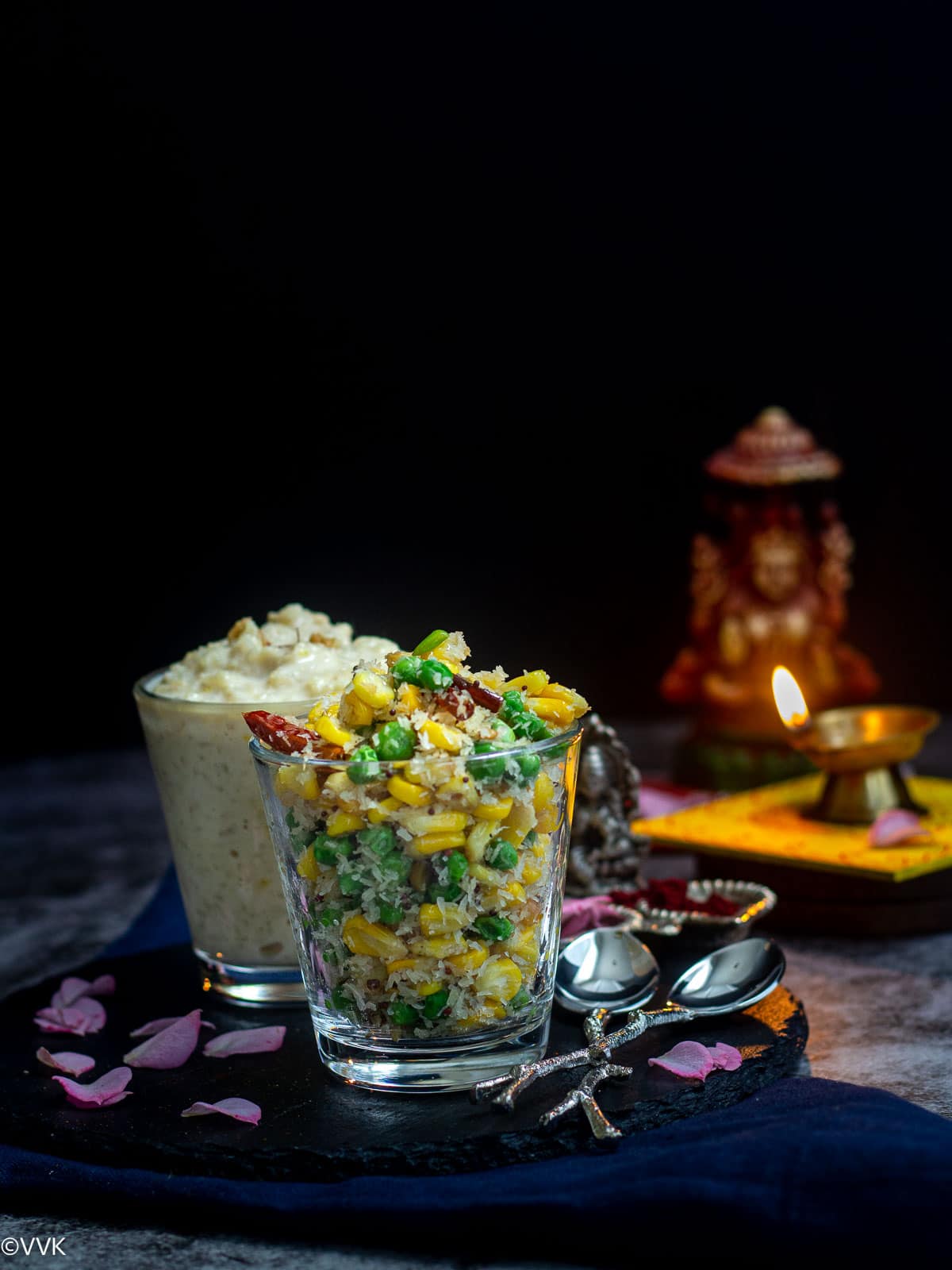 I hope this combination helps and you all can draw some inspiration. If you have any questions, please leave a comment below.