Coconut rice is one of the simple recipe to prepare during the busy weekday mornings. Its a simple yet filling and flavorful meal and perfect for lunch box too and for potlucks too. I love this either with chips or appalam or with potato curry. If the rice is ready, this recipe can be prepared within no time. I use both regular and coconut oil for the flavor. You can skip regular oil and use coconut oil completely. I have added peanuts in this recipe which can be replaced with cashews and make it more rich.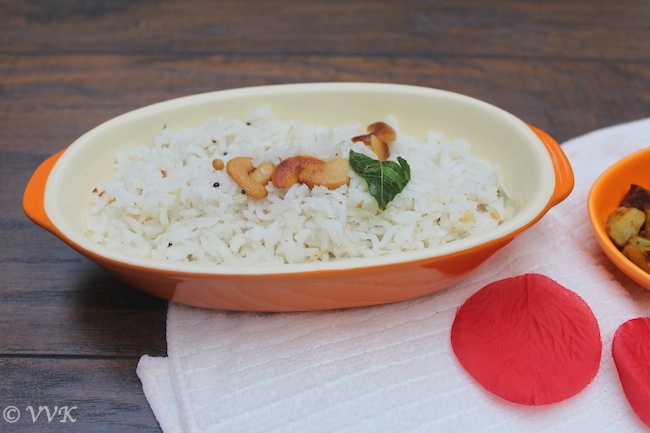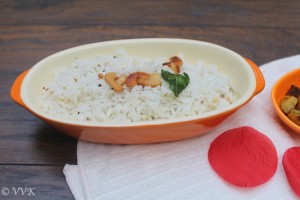 During Adi Perukku and during pongal kanu, we prepare variety rice. Puliodarai, lemon rice and this coconut rice will be there for sure in our household. Here is the simple recipe,
Ingredients:
Regular oil – 2 tsps
Coconut oil – 1 tsp (optional)
Mustard seeds – 1 tsp
Channa dhal – 1 tsp
Urad dhal – 1 tsp
Green chillies – 2 (finely chopped)
Hing – a pinch
Salt – as per taste
Peanuts or Cashwes– 2 tbsps
Grated coconut – ½ cup
Cilantro and curry leaves for garnishing
Rice – 1 cup (I used regular sona masoori raw rice)
Steps:
Cook the rice in your preferred way (Pressure cooker, rice cooker or microwave) and set aside. Make sure the rice is non-sticky.
Heat the kadai and add oil. Once the oil is hot add mustard seeds, urad dhal and channa dhal.
As the mustard seeds splutter, add hing, green chillies and peanuts.
Fry them for couple of minutes.
Now add coconut and salt and roast them in low flame for 2 minutes.
As the coconut turns light golden brown, turn off the heat.
Let the coconut mixture cool down for about 5 minutes and then add the cooked rice and coconut oil and let it sit for 5 minutes and mix well. Check for salt and if required, add salt.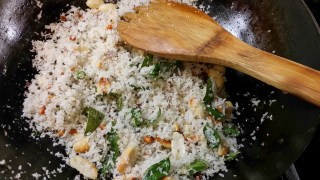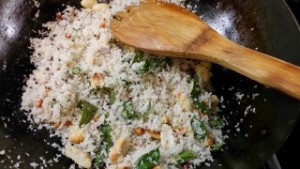 Garnish with cilantro and curry leaves.