Are you looking for inspiration for meal planning and prepping? Then you are in the right place. Here is my five-day Indian vegetarian meal plan, which includes breakfast, lunch, dinner, and one snack option!
PS – Substitute the rice/millet with grains of your choice.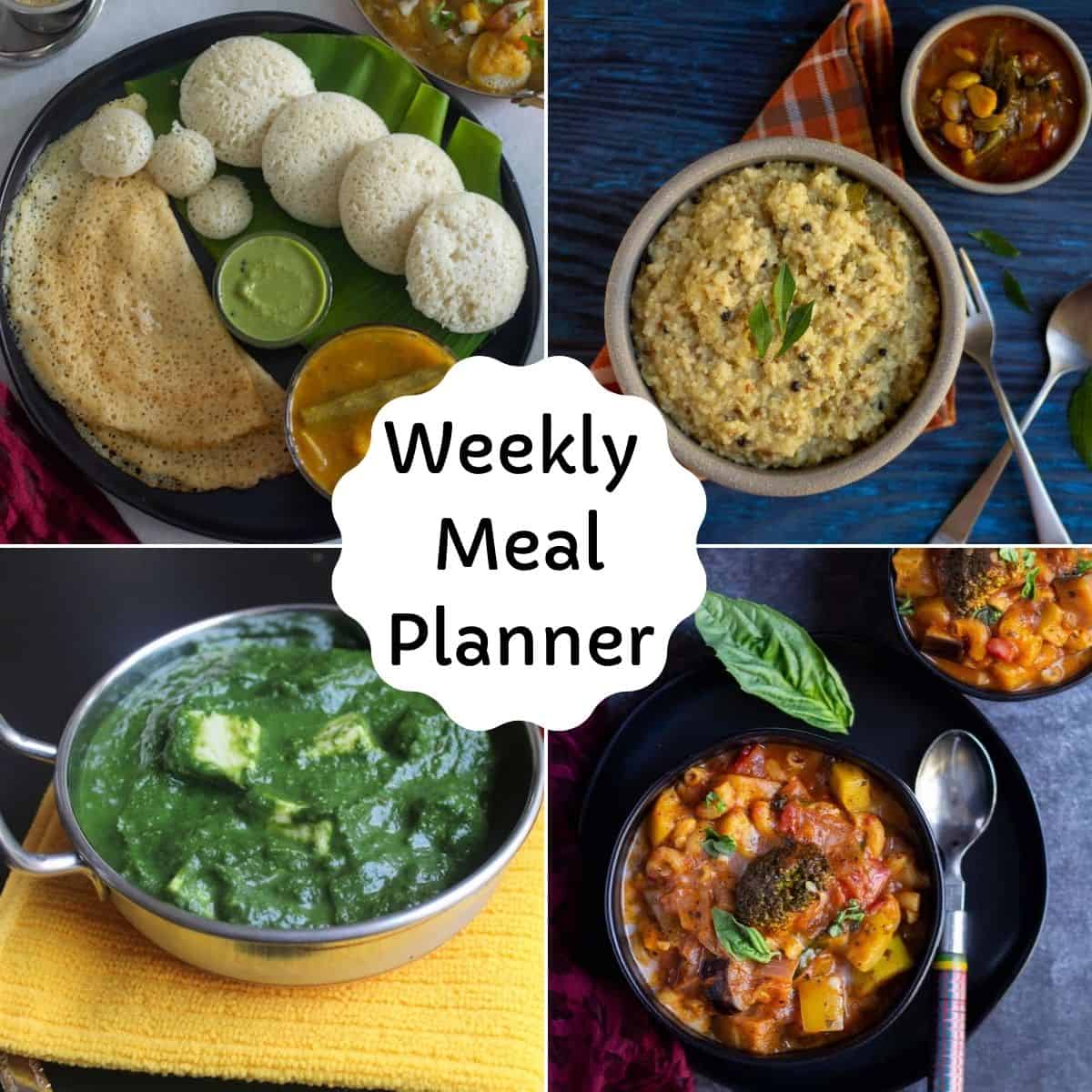 Are you new to meal planning and prepping or looking for new ideas?
Please check out all my previous meal planners. I have been sharing some meal planners for the past two years. I have shared over 25+ Indian vegetarian meal planners, and you can check them out all under the "meal planner" category. All meal planners are unique, and I am sure you can draw some inspiration. 
This week's meal plan:
I always share a five-day meal plan here on the blog, and I had explained the reason behind it in the last meal planner.
Like last week, I have a mix and match of north and south Indian food this week. I have some rajma and rice, pongal, paratha, palak paneer along with my staples – idli and dosa.
Also, I am relying on some leftovers this week. When I make rajma or chole, I try to make it a little extra to have it atleast for 2 to 3 meals.
Apart from rajma, I plan to make some bitter gourd relish/gojju, which I can pair with dosa, idli, or rice.
PS – I don't have few recipes from this meal planner on my blog. I will update them soon. But I will link up some similar recipes for your reference.
I have been answering a few frequently asked questions around weekly meal planners for the past few weeks. But this week, I have shared some tips for meal planning. I hope it helps. 
Five tips for meal planning and prepping
Before you start to plan the meals, check your schedule for the week and, depending upon the schedule, plan the meals according to your family's needs. 
I love leftover makeovers. For example, you use rajma and make a burrito bowl or burrito. You can use paratha filling as a sandwich filling too and make aloo frankie with the simple potato-onion curry. The possibilities are endless. Love your leftovers and see how you can repurpose them. On hectic days, I rely on my leftover makeovers a lot.
Stock up on the batters, sauces, chutneys, and pickles that you and your family love. It could be homemade or store-bought. I always make sure I have idli dosa batter, yogurt, nut butter, relishes, pickles, pasta sauce. These pantry staples are my backups when I can't cook as planned. 
Plan your dishes so that it is balanced. Let me be honest here; I still struggle with that. Even though I make sure to include all veggies, but there are weeks where I can't. I usually add hemp seeds, chia seeds, nut butter to our toast or smoothie or porridge when it comes to protein. And I do add nuts and hemp seeds in our chutneys. 
Try to rotate the grains and bring in one or two new recipes. Make sure you plan those recipes well ahead and keep the ingredients ready. 
I hope this helps. If you have any particular questions, do let me know in the comments.
Without any further ado, here is this week's meal planner.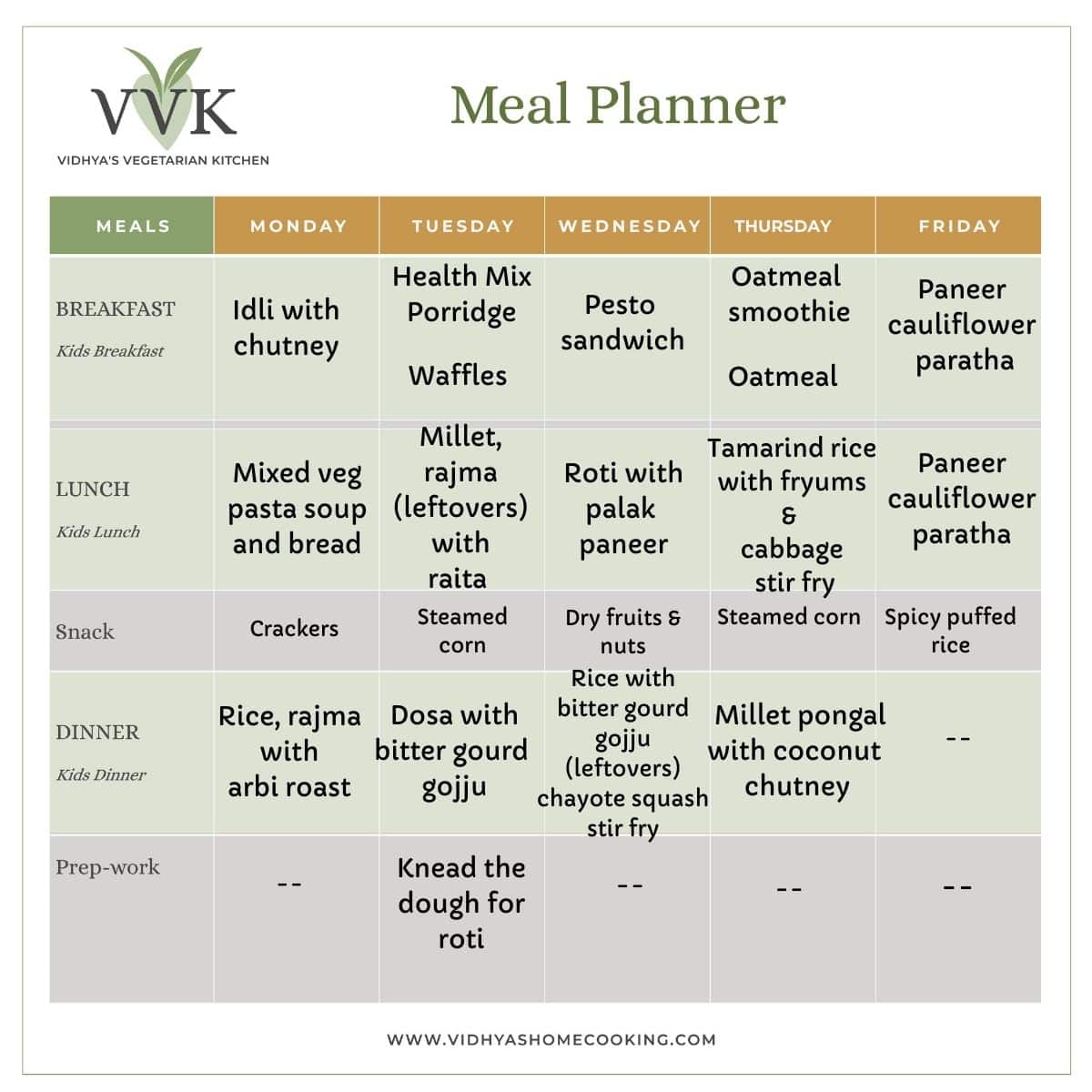 Meal-Prep-
Chop all the required veggies.
Prepare the idli-dosa batter.
Make sure you have yogurt and other condiments required for this week.
Soak the rajma.
I always knead the dough the previous day. But you can knead in bulk and refrigerate.
Make some tamarind rice paste during the weekend, or opt for an instant one.
Disclaimer: This meal planner is specially designed based on my family's likings. I have a 12-year old son, and he can handle spicy food. He cannot reheat his food in school, so I try to avoid certain foods that need to be heated. I pack the lunch in stainless steel containers, mostly Lunch Bots, and keep it in an insulated lunch bag. It keeps the food warm. Last but not least, I do pack leftovers.
Without any further ado, here is this week's meal planner.
Now here are the details and the recipe links.
Recipe Links Indian Vegetarian Weekly Meal Planner
Monday Menu
Tuesday Menu
Breakfast – Health mix porridge for us and for kiddo; I am planning to make waffles
Lunch – Leftover rajma with millet and raita.
Dinner – Dosa with bitter gourd gojju. I am planning to make bitter gojju more like wild lemon gojju.
Wednesday Menu
Breakfast – Pesto sandwich
Lunch – Roti with palak paneer
Dinner – Rice with leftover bitter gourd gojju with chayote squash stir-fry. I don't have chayote squash stir-fry on the blog. You can check my green beans stir-fry. I am planning to make it more like that.
Thursday Menu
Friday Menu
Breakfast – Paneer and cauliflower paratha. I don't have this combination on my blog. But I had tried this before and shared it on Instagram. I will soon share it here as well.
Lunch – Paneer and cauliflower paratha.
I hope this menu planner helps, and you all can draw some inspiration. If you have any questions, please leave a comment below. I will share the daily updates on my Instagram and my FB group. So stay connected!
Stay Safe & Happy Cooking!
Vidhya