Here is a festive special lunch menu that we prepare for Garuda Panchami with all the delicacies, including payasam, vadai, chigali, and akki tambittu.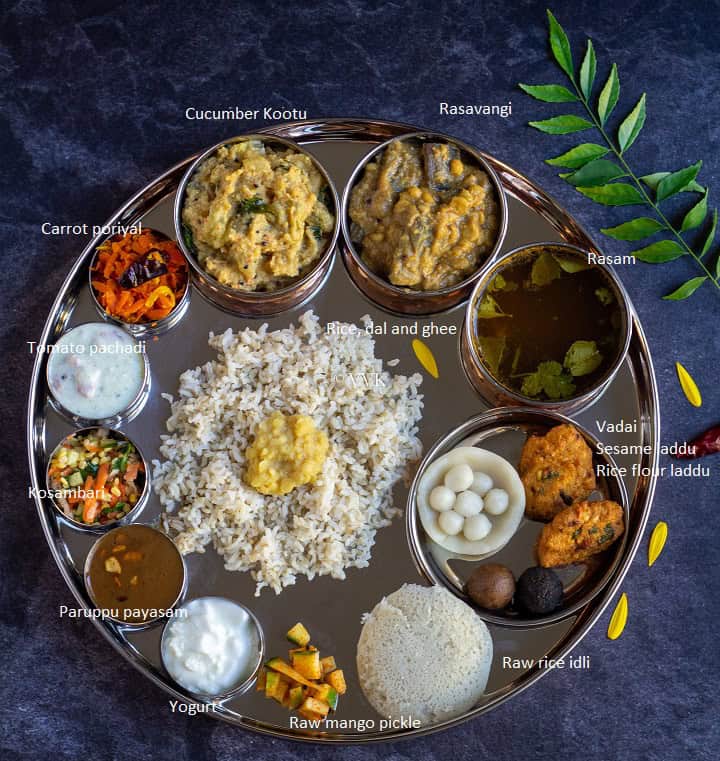 Disclaimer – Like the postpartum diet, every family has their own set of the lunch menu for these festivals. I am sharing what we do in our household. Also, depending upon the time situation, especially if it falls on weekdays, I try to modify the menu and plan them. Even in this one, I have skipped kozhukattai. :-)
Our habbada menu & what I do-
"Habba" is a kannada word meaning festival. And in our family, we celebrate Aadi Amavasya, Garuda Panchami, Mangala Gowri, Varamahalakshmi vratham, Gowri habba Vinayaka Chaturthi. Of course, Avani avittam is also there. In our family, we don't follow Naga Chaturthi.
And for all these festivals, we need to make the below dishes and the other dishes like sambar/rasam/curry/gravy all without onion and garlic.
Kozhukattai | Sihi kadubu | Sweet modak
Chigali | Sesame seeds laddu
Akki tambittu | Rice flour laddu
Raw rice idli
My mom and my MIL make this thali effortlessly; I struggle especially on weekdays as I need to prepare and pack the lunch before 8 AM. So I tend to skip a few like kozhukattai and vadai mostly. The point is, I don't strictly follow the menu. :-)
I usually make the chigali and tambittu the day before, and it makes it easy. I also make a variety-rice or bisi bele baath on these festive days as I can pack them for our lunch.
But today for this thali, I made an elaborate meal but skipped kozhukattai as I mentioned before.
Garuda Panchami & why we celebrate-
The ashada or the aadi month is full of festivals, and we celebrate the Garuda Panchami on the Panchami tithi (day) that falls after aadi Amavasya.
There is a small story behind this, and we recite this story as a part of the pooja. Here is the gist of the story.
There was a family with seven brothers and one sister. The brothers were farmers, and the sister used to take them food every day. One fine day, she makes some gruel and keeps the pot open. At the same time, an eagle catches a snake and flies in the sky. The snake omits some poison, and it falls in the gruel pot.
The sister, without realizing, carries them and serves the gruel to her brothers. Upon drinking, they become unconscious, and the sister panics and cries. At that time, Lord Shiva and Goddess Parvathi appears and asks her to do the Naga pooja. She duly does, and she drizzles the milk that she used for abishekam and neivediyam on her brothers. They regain their consciousness and come back to life. 
For the sake of our brothers well being, we do this pooja every year and worship Nagar (Naga gods). 
In some version of the stories, they say six brothers and one sister, and in some version, they say seven brothers and one sister. We also make a small rice flour bowl and seven small balls, signifying the brothers and sisters.
Rice bowl with dumplings-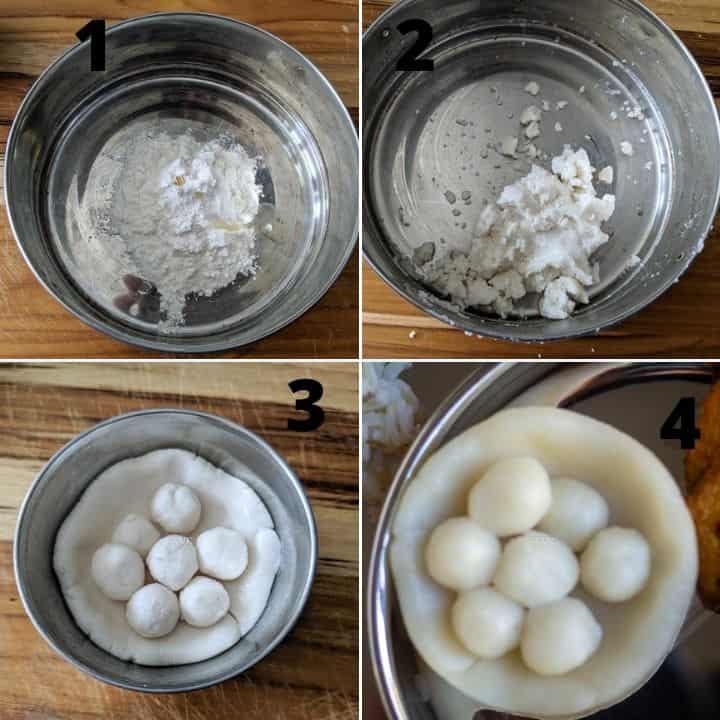 I take ¼ cup of store-bought rice flour and add a pinch of salt and oil. Add little water and form a dough.
Then I make seven small balls like below.
I grease a bowl with oil and use the remaining dough and shape it like a bowl by pressing the dough along the bowl edges.
Now place the seven balls inside, and I steam it along with the idli.
Garuda Panchami Lunch Menu
Except for the raw rice idli (I will be posting it soon) and akki tambittu (coming as part of another thali), you can find all the other recipe links below.
PS: Follow me on Instagram or join my Facebook Group for more gardening and recipe updates. If you try these Garuda Panchami recipes, please don't forget to comment and rate this recipe. If you have any questions, please leave a comment, and I will get to it asap.  Make sure to follow me on my Pinterest for more healthy and delicious ideas!
Check out the Blogging Marathon page for the other Blogging Marathoners doing BM#116
You are invited to the Inlinkz link party!Click here to enter