A Navratri-special 5-day weekly vegetarian meal planner with more "no onion, no garlic" recipe options! Easy and adaptable recipes for your Navratri fast.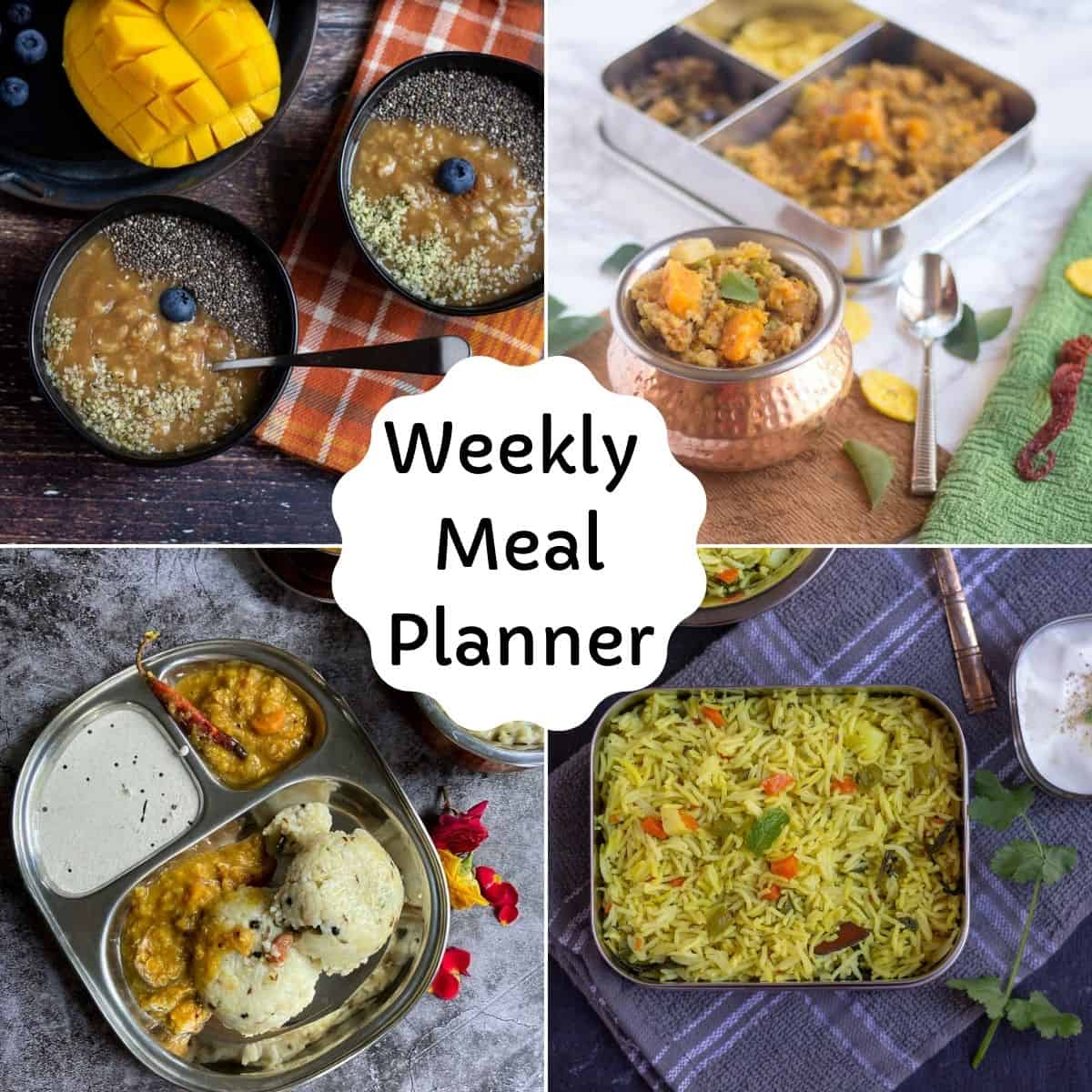 Are you new to meal planning and prepping or looking for new ideas?
Check out all my previous meal planners. I have been sharing some meal planners for the past two years. I have shared over 32+ Indian vegetarian meal planners, and you can check them out all under the "meal planner" category. 
This week's Navratri-special meal planner and prep work!
Even though Navratri starts on Oct 7th Thursday, I opted for no-onion, no-garlic recipes on the other days. Wednesday is the new moon day/Amavasya, so I went with kheer and sundal on Wednesday. You can easily customize these recipes as per your preference.
In our house, we typically make sundal (bean/legume stir-fry) and a sweet as offering to God, and I mostly make jaggery-based kheer or some quick laddu or halwa. I haven't shared some sweet recipes on my blog yet, but I will do so soon. 
We don't do fast during Navratri and we don't have any restrictions on grains or vegetables. But we do follow a no-onion, no-garlic diet. We do include legumes, beans and as you can see I have included brinjal too. Modify the recipes as per your customs and traditions. 
You can easily make the main course dishes with buckwheat, barnyard millet, and paratha with rajgira flour or with the grains allowed during Navratri. 
Let's see the prep work in detail.
Idli batter: This time, I am making my regular idli batter and using it for Monday dinner and Tuesday breakfast. 
Soaking the beans: You can either soak them in advance during the weekend and refrigerate or soak them the previous night. I plan to soak the garbanzo beans for Tuesday's pulao and soak the remaining beans the day before. 
Cook the toor dal: I am making sambar for Monday dinner; either cook the lentils and freeze them over the weekend or make sure to cook them on Monday morning. 
Chopping: Chop the required vegetables. As I have to make kheer and sundal, I am opting for easy-to-chop vegetables like brinjal, zucchini, cucumbers. So you can chop them just before cooking.
Thursday: Make sure to knead the dough for paratha on Friday, and if time permits, I make the filling as well. The recipe is not on my blog, but I will share it soon. 
Without any further ado, here is the Navratri-special meal planner. Please check the recipe links below. Follow me on my Instagram to see how I pack the lunch for kiddo every day and new recipes and everyday meals.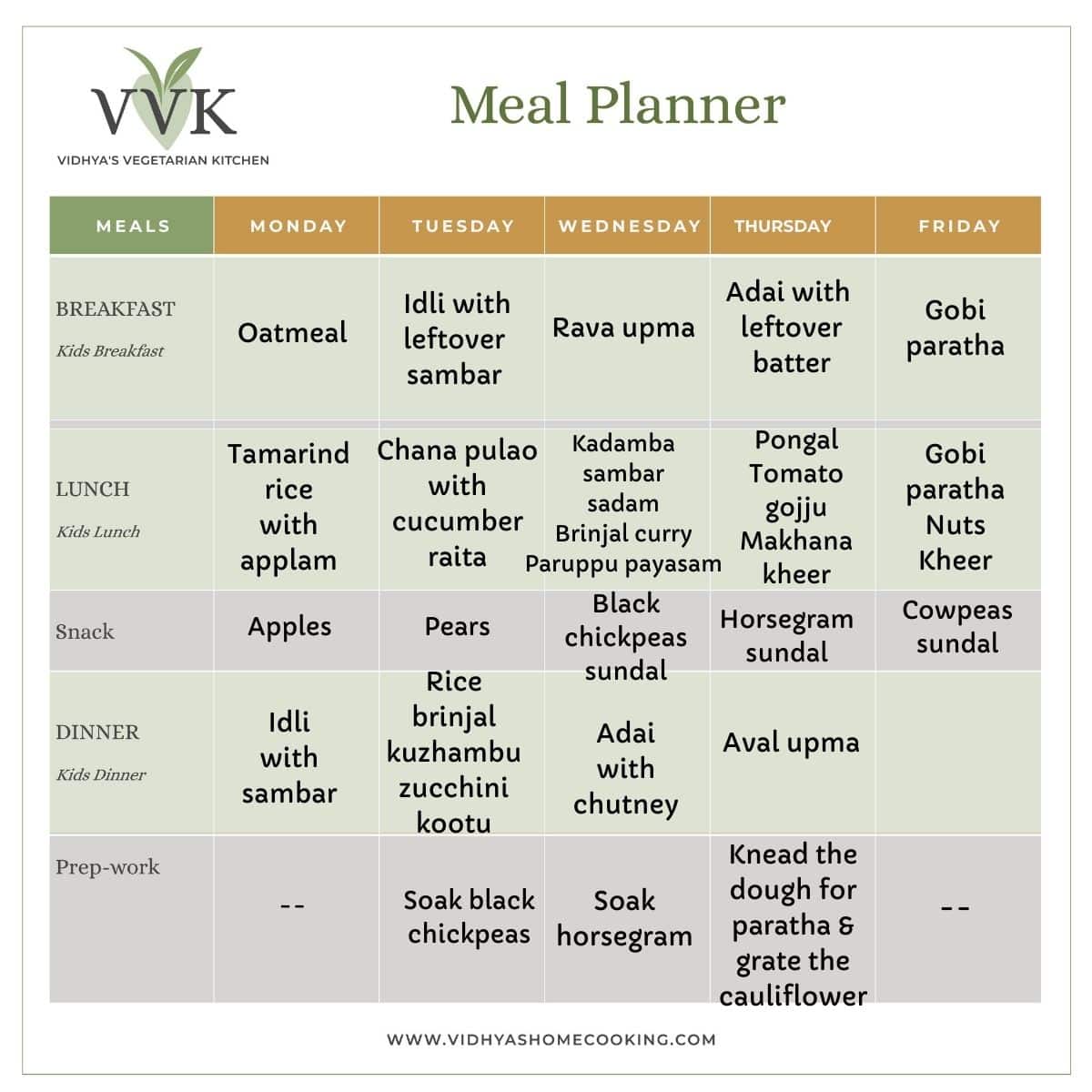 Monday Menu
Tuesday Menu
Breakfast – Idli with leftover sambar
Lunch – Chana pulao with cucumber raita
Dinner – Rice, brinjal kuzhambu, and zucchini kootu. The blog version contains onion, but you can skip the onions and make the kootu and kuzhambu. 
Wednesday Menu
Thursday Menu
Friday Menu
Breakfast – Gobi paratha (I am yet to share this paratha recipe on my blog)
Lunch – Gobi paratha
Dinner – Rice, rasam, and potato curry.
I hope this menu planner helps, and you all can draw some inspiration. If you have any questions, please leave a comment below. I will share the daily updates on my Instagram and my FB group. So stay connected!
Stay Safe & Happy Cooking!
Vidhya